Google Cloud WordPress hosting may interest you if you're ready to move your site to the cloud. There are many benefits to using this platform, including increased site speed and reduced costs. However, launching your WordPress website on Google Cloud for the first time can be intimidating. It's easy to be intimidated by Google Cloud. However, this isn't necessary.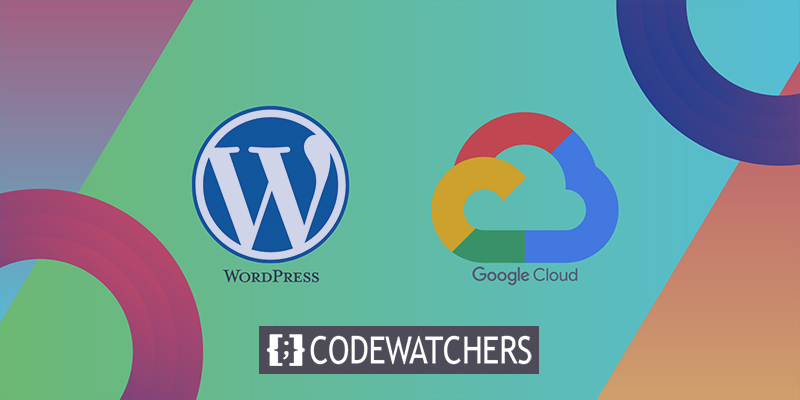 You may learn more about Google Cloud hosting in this guide. After that, we'll show you how to set up WordPress on this server.
What are we waiting for?
Google Could Hosting
Google Cloud hosting is a service that runs on top of Google Cloud. An external server will hold all of your WordPress blog's content and files. Visitors to your site will receive stuff from the cloud practically immediately:
Create Amazing Websites
With the best free page builder Elementor
Start Now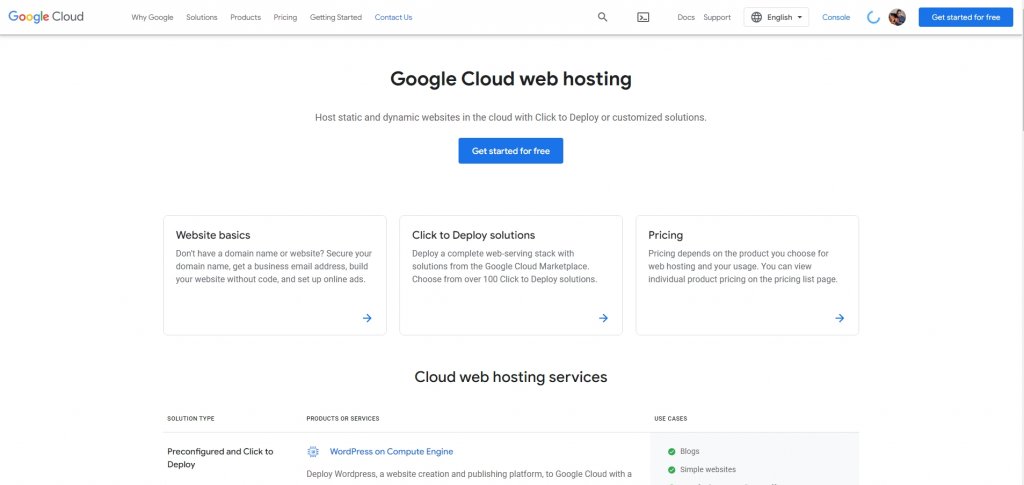 The "pay as you go" strategy is used by Google Cloud WordPress hosting. In place of a monthly or annual subscription, you'll pay only for the materials and services that you use. As a result, using Google's hosting can save you money in the long run.
Additionally, cloud hosting might have a significant impact on the performance of your website. In order to deliver material fast and securely, Google offers a variety of Network Service Tiers. Your website will be available at all times thanks to its exceptional uptime and availability.
There are a few things you should know before using Google Cloud hosting rather than a more traditional service provider. There are also a lot of customization options in the Google Cloud console. But if you're willing to put in the time and effort, you may create a hosting solution that's tailored to your specific requirements.
Installation Process
Sign up for a Google Cloud account first. If you're a new customer at the time of this writing, you'll get a $300 credit toward your hosting. However, if you don't use this credit in the first 90 days, it will be gone.
One-click The easiest way to get a site up and running on Google Cloud is to use WordPress. Google says this is a good idea if you have a simple blog or website with low to medium traffic.
Start a New Project
When you start a new project from your Google Cloud console, you'll need to choose a name for it. Select from… is a drop-down menu at the top of your dashboard. You can choose New Project: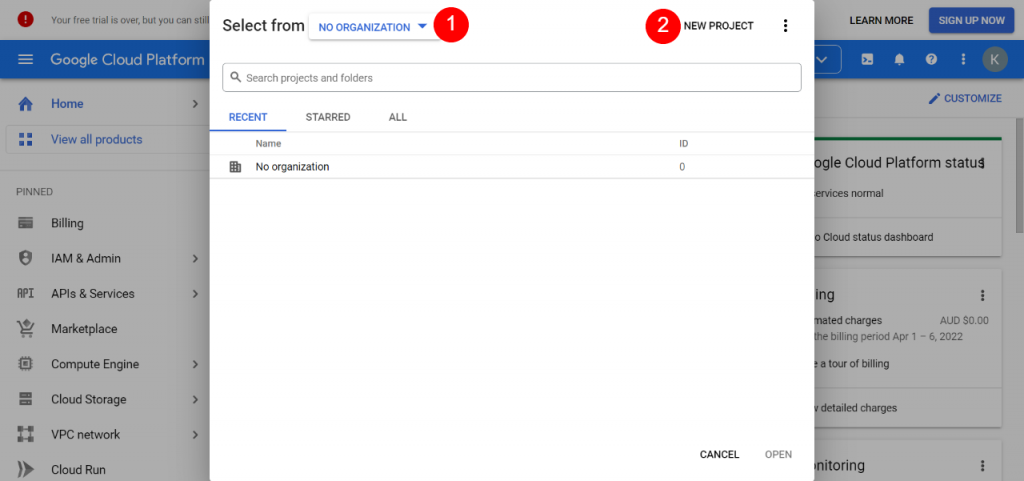 If you start a project, you'll need to give it a name, pick a group to work with, and pick a place. It's then time to start making things: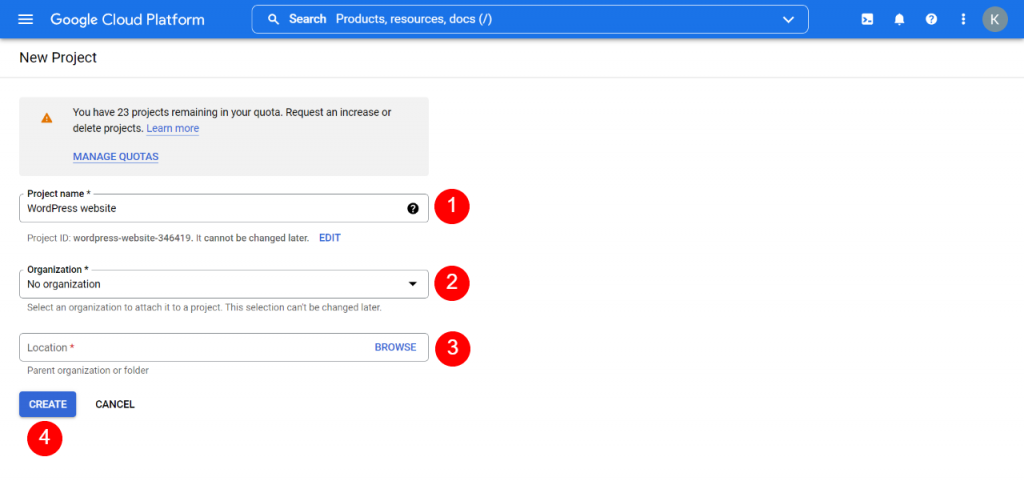 Google Cloud is now going to start a project for your WordPress site, and it will do this. Every time you go to the Google Cloud console, it will take you right to this project.
Install WordPress
Next, go to the left-hand menu and click on Marketplace.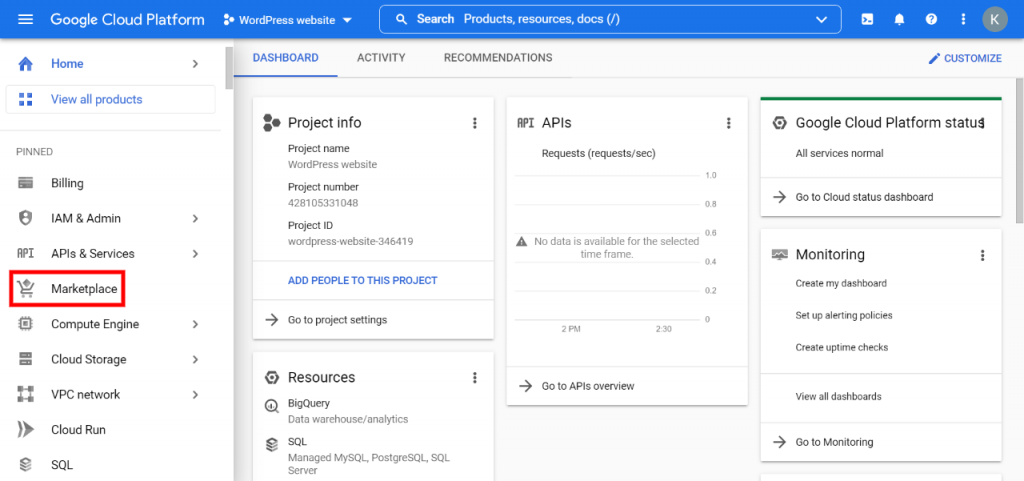 WordPress is in the search bar. Type "WordPress" into the search bar and hit your Enter key. Then, choose one of the options from the list that has been filled in. WordPress is the most simple option, but there are also multi-site and other server configurations. We'll be using WordPress.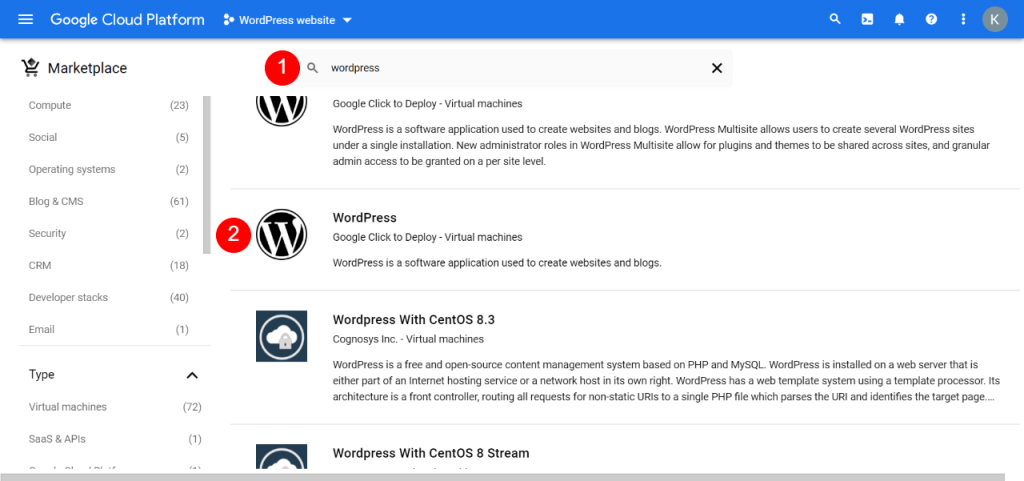 You'll now get a quick look at this installation option. Later, you can change how your deployment is set up. Press the "LAUNCH" button now: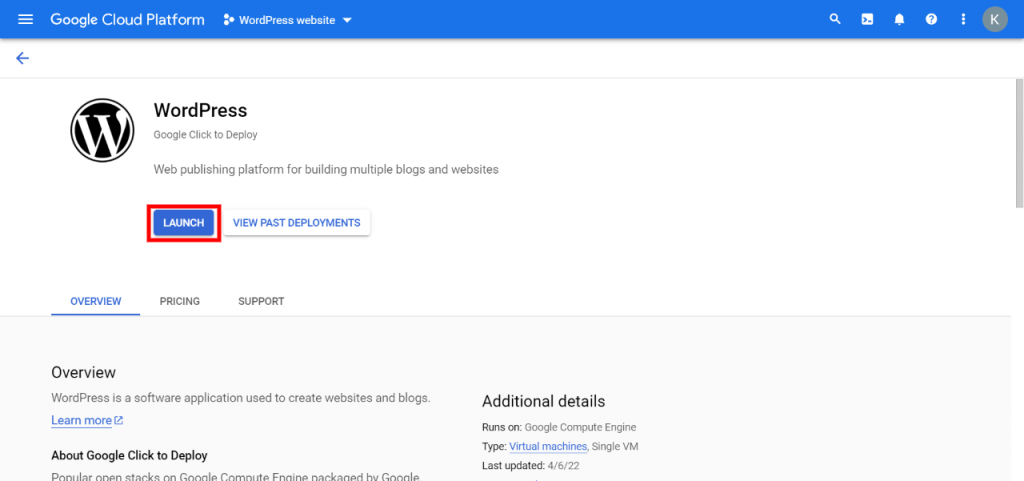 Once you do that, Google Cloud will be able to start up your WordPress site. Hit the "Enable" button and wait a while: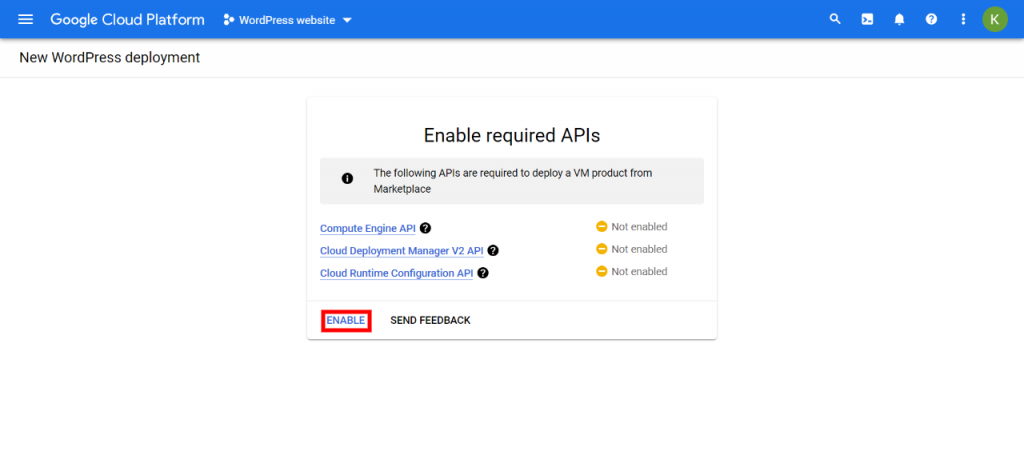 Once the APIs have been successfully installed, you will be able to customize your deployment by clicking on the link provided on the success screen.
Customize The WordPress
Customize your Google Cloud hosting deployment on the next page. The following are some examples of the options available: geographical region, VM series, and machine type.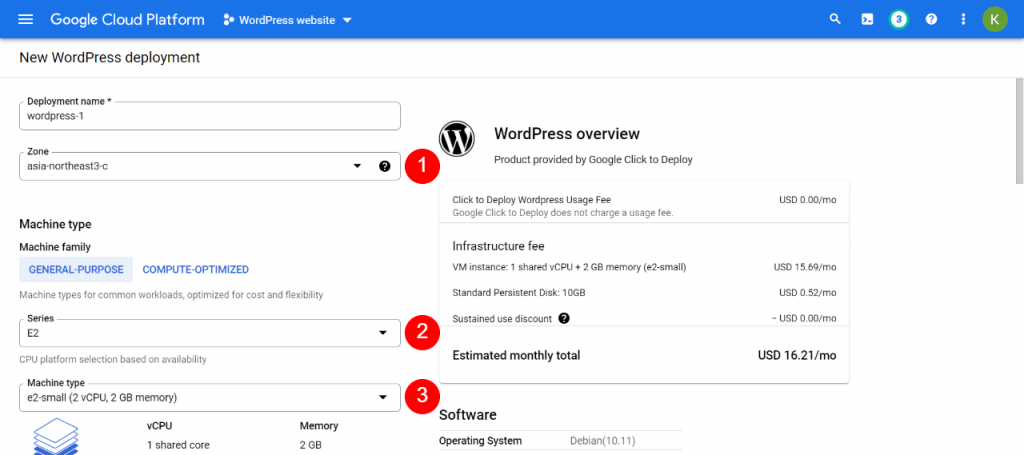 We recommend that you choose a location that is as close to you as possible so that your content can be served by Google Cloud quickly. We recommend looking at several machine models and types, as well, to determine which ones fit your budget. Having a more powerful server architecture may be able to scale better at a lower cost than a less powerful design.
The price on the right side of the screen will rise and fall as you make adjustments. Install phpMyAdmin and HTTPS Enabled should also be selected farther down the page. Using the following options, you may make database management easier while still ensuring that your site is HTTPS secure: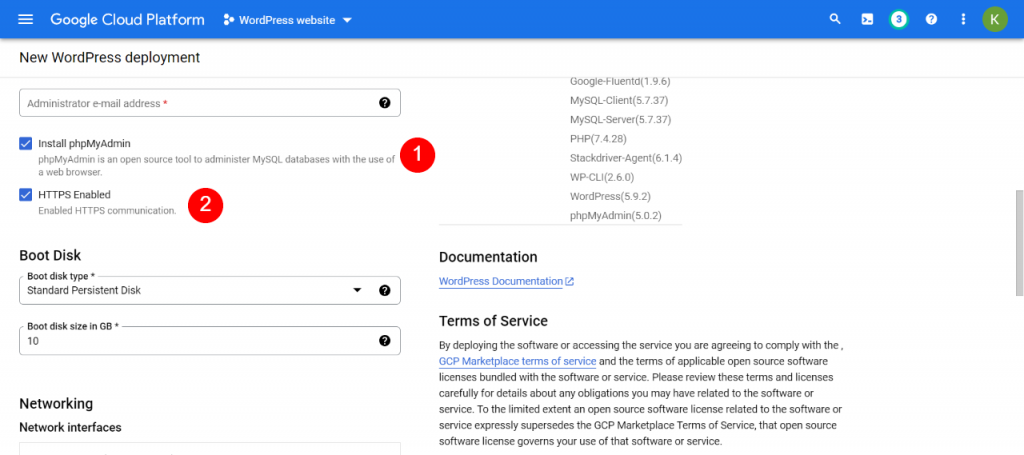 You can also change the type of boot disk, the number of network interfaces, and the firewall settings. Once you've made your selections, click the DEPLOY button to finalize the process.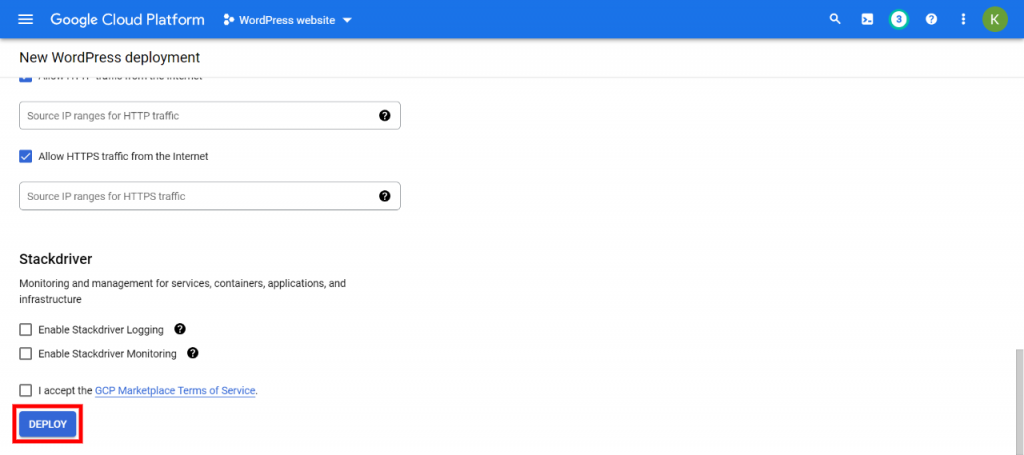 Your WordPress website will be ready to go in a few moments. You may now access your site's data by clicking on LOG INTO THE ADMIN PANEL on the right side of the page.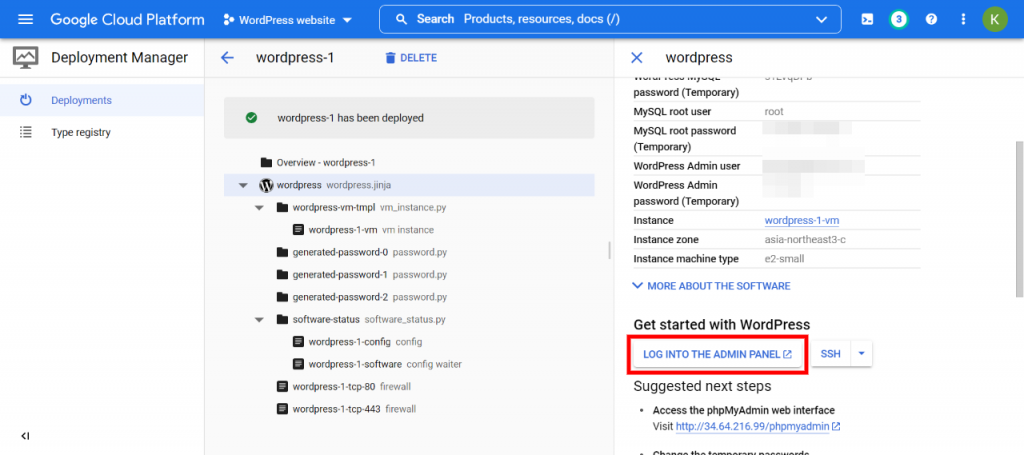 Finally! Google Cloud web hosting has been activated for your WordPress site. Give it a few minutes if you're having trouble loading your admin panel. It should be up and running in a reasonable amount of time.
For further Google Cloud Networking services, such as CDN or LB, you can join up at this point. By using these services, you may further improve the performance and user experience of your WordPress site.
Install WordPress on Google Cloud Using Cloudways
Additionally, your hosting company may provide Google Cloud Hosting as an option via the company's own control panel. Some providers, like Cloudways, let you select the data centers in which you want to host your website.
With the Cloudways dashboard, you'll be able to administer your site and take advantage of Google Cloud's infrastructure: The next step is to choose your WordPress version and then Google Cloud Platform after you sign up for Cloudways.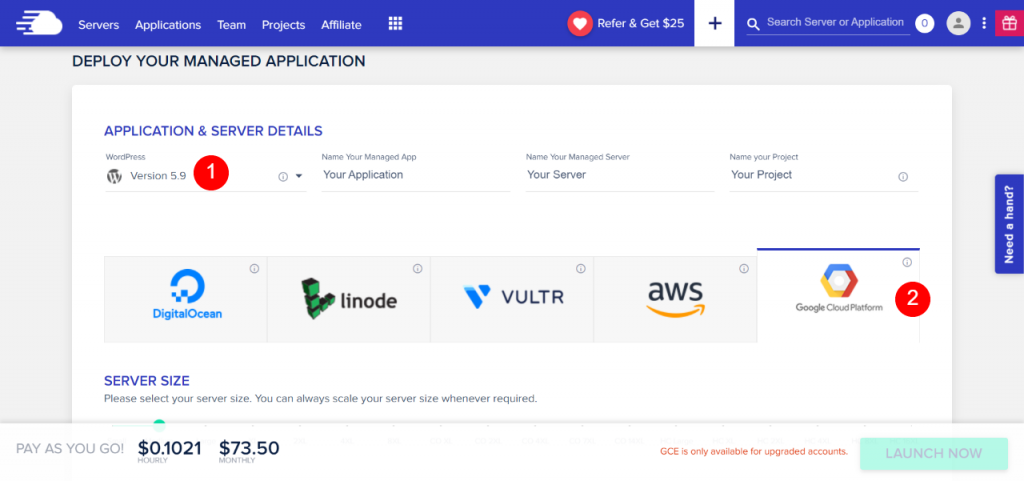 As we did above, we'll show you how to change the size of your server, how much bandwidth it has, and how much space it has. It's also possible to choose a server location that is close to where you live or work.
People who sign up for our Divi hosting with Cloudways can use Google Cloud WordPress hosting that's made for Divi.
Wrapping Up
Google Cloud can help you store your data and run your WordPress website on a server in the cloud. Users will have a better experience on your site if you use this platform. Google Cloud hosting is also very flexible, so you can choose the virtual server specs, the data center location, or the software that runs everything behind the scenes.