TikTok is a social platform based on Videos, that is gaining more and more attention. Indeed, the latter made its appearance in 2018. It is an application that is primarily aimed at young people, but it still remains in tune with the times. The goal is simple: each user can create and post of short videos of all types: dance videos, humorous videos, cover songs, etc.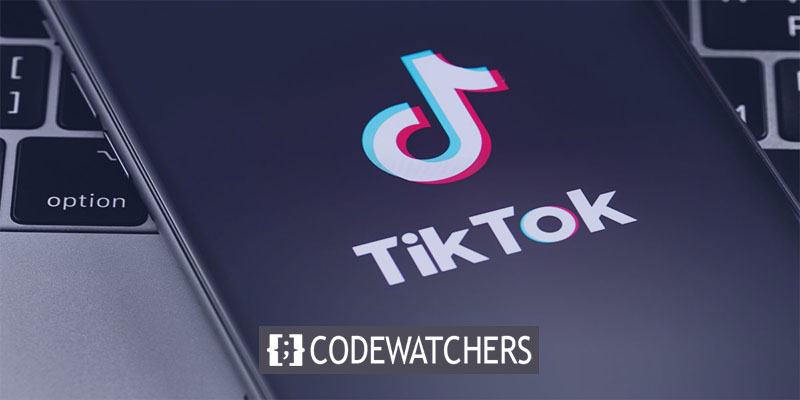 At present, it is a platform that has a very large audience since it has not less than 500 million active users every month that you can easily find. As such, it is a practical tool that you can use with WordPress, in particular by integrating your Tiktok publications into your WordPress content. But how to do it?
This can be done mainly in two ways: by configuring manually, or by using WordPress plugins.
How To Integrate TikTok With No Plugin
This method is considered to be the easiest way to embed any TikTok video on your WordPress site. Simply copy and paste the URL into your post or onto your WordPress page.
Create Amazing Websites
With the best free page builder Elementor
Start Now
First, you need to copy the URL of the TikTok video you want to embed by visiting it in your browser. Next, you need to edit the post or page where you want to display the TikTok video. On the post edit screen, simply paste the URL in the content area.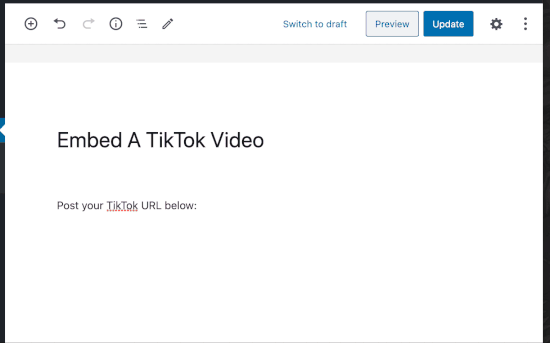 As soon as you paste the TikTok link, WordPress will automatically load a preview of it in the post editor. You can now save your post or page and visit it to see your TikTok video in action.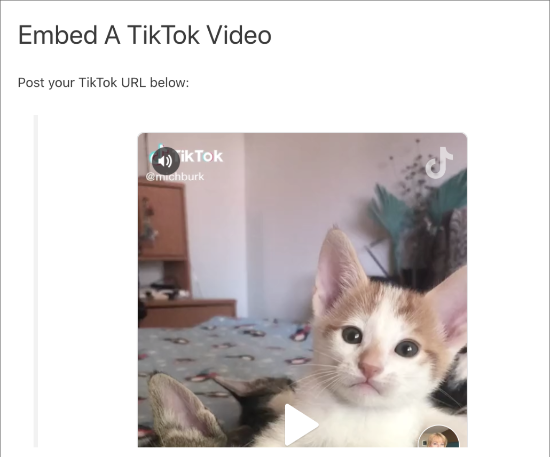 You can also accomplish the same thing by using the TikTok block. On the post edit screen, click on the (+) to add a new block and then search for 'TikTok.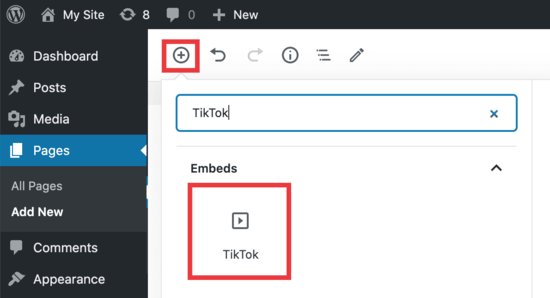 Next, insert the block in post editor and then paste the TikTok video URL into the block settings. WordPress will automatically load a preview of the video. You can also insert TikTok videos into your WordPress site's sidebar by using WordPress widgets.
Simply go to the Appearance » Widgets page and add the 'Text' widget into your sidebar.
After that, go ahead and paste the TikTok video URL into the text area. WordPress will now automatically display a preview of the TikTok video in the widget area.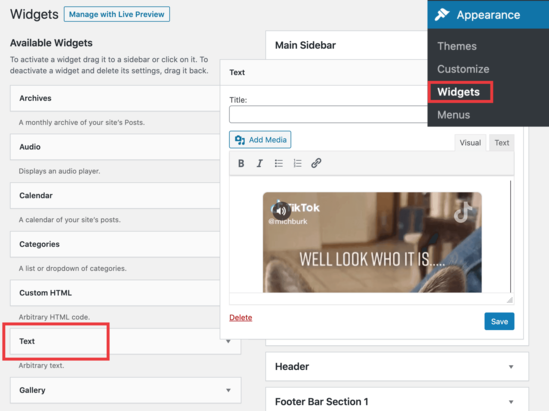 Don't forget to click on the Save button to store your widget settings.
While this method allows you to easily embed TikTok videos in WordPress, it doesn't automatically display your latest TikTok videos. For that, you'll need a plugin.
How To Add TikTok Videos On WordPress Using Plugins
There are many plugins that will help you integrate TikTok on your WordPress site. We are going to take a look at 4 of them (some free others premium).
Embed Block for TikTok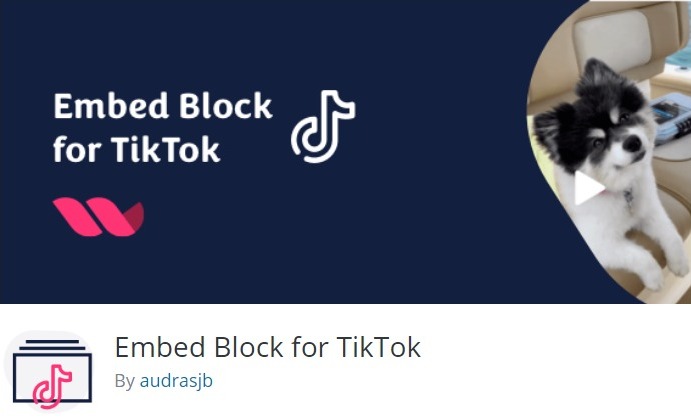 It's a pretty easy-to-use WordPress plugin. It simply allows you to have TikTok on your site and therefore to use it quickly and easily. Note also that you can easily insert a TikTok video directly into your articles, which is quite practical.
Key Features
TikTok Bloc For Gutenberg
Compatible with Classic Editor
Highlight videos
Free WordPress Plugin
TikTok Feed - WordPress Plugin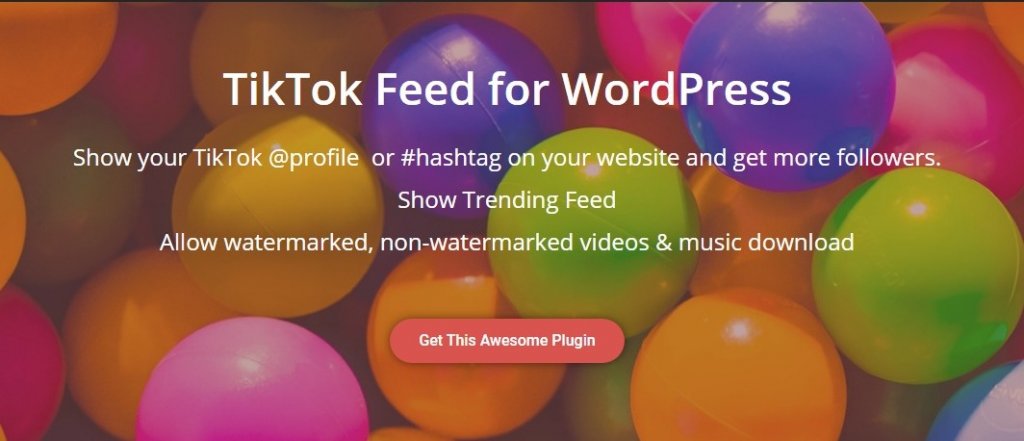 TikTok Feed is a premium WordPress plugin to create a stunning gallery of TikTok videos for any user, hashtag/challenge, Music, or Trending feed.
With 40+ shortcode options to adjust the feed to suit your need, the plugin comes with an interactive shortcode generator tool to play with and preview the output with the changes. You have 3 different display modes for the headers. Default, Card, and Compact mode.
This plugin gives you full control over the feed gallery. Open the feed video in a popup with arrow keys navigation or redirect visitors to the TikTok video page.
Key Features
Easy Installation
Translate Ready
Avaiable Shortcodes
Display Feed by Username
Display Feed by Hashtags
Shortcode Generator
RTL Ready
Color Customization
Font Customization
Filter Video By Trending
QuadLayers TikTok Feed This WordPress plugin helps you integrate the TikTok feed of @ids or #tags inside your WordPress site.
You can add a TikTok video feed directly to your WordPress site. Concretely, the latter is updated automatically. Once the plugin is installed, you have nothing to touch!
QuadLayers TikTok Feed still gives you the ability to customize the display layout, choosing between gallery or carousel for the free version.
Key Features
Simplifies video upload
Helps to keep updated your site
Multiple TikTok feeds
Responsive Design
Compatible with any theme
Built-in customization options
TikTok feed plugin for WordPress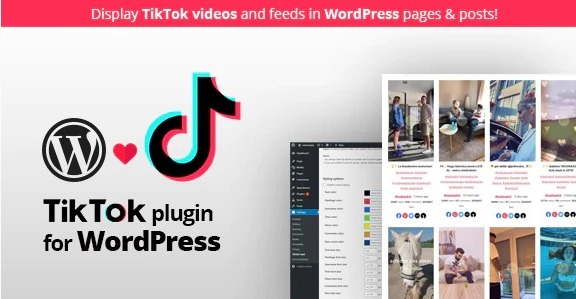 This WordPress plugin uses TikTok Unofficial API and allows you to display various TikTok feeds, using a simple shortcode, in every single page, post, or WordPress custom taxonomy. It allows you to show TikToks based on specific profiles/hashtags or trending items, in order to create feeds with a limit of 20 items per shortcode and 6hr cache.
You also have a responsive design based on Bootstrap columns, which adapts as per e-reader's screen dimensions and can be configured dynamically in the shortcode. Moreover, it includes a plethora of style-based configurable options for its output
Key Features
Easy to install
Display various TikTok feeds
Compatible with Gutenberg.
Shortcode ready
Filter based on hashtags
Filter based on trending videos
Summary
We hope this article has helped you learn how to embed TikTok videos in WordPress. We have been able to explore many solutions that can help you in this regard.
If you've liked this post, don't hesitate to share it on social networks or to follow us on Twitter and Facebook.