With the risk of covid-19 increasing day by day, more meetings are moving online and with these meetings there comes a management challenge. Google, Microsoft and Zoom have been the leading market warriors capturing the needs of people doing virtual meetings.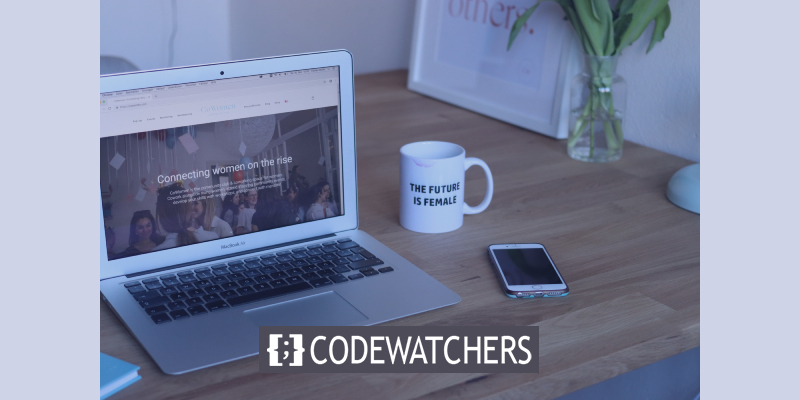 While all of them have a different focus and different markets to target. For WordPress users, it is not necessary to use third-party services because they can also have this option on your website. WordPress event calendar plugins have also started altering their features to fit within this new life. Let's move ahead and discuss some of the challenges that you can face with virtual meetings.
What To Keep In Mind When Hosting Virtual Events
Well, there isn't a thing that doesn't offer challenges and just like that, online events bring some challenges too. Here are some of the things that you will need to keep in your mind when you think of hosting events virtually.
Meeting Links
When you host a meeting on any of these virtual meeting platforms they generate a link to be further sent to the participants of the meeting. This link is used to join the meeting.
Create Amazing Websites
With the best free page builder Elementor
Start Now
While meeting links can be very difficult to handle, Zoom security guidelines have been teaching organisations to carefully deal with links. These lines are only to be shared with those who can be trusted and are confirmed attendees.
Time Zones
When hosting a virtual event it is always important to consider the difference in time zones. Imagine that you are hosting a virtual event in New Zealand for the attendees of Capetown or imagine being in the Middle East hosting a meeting for the participants in New York.
Unlike physical events where the time is always local, for virtual events their needs to be an event calendar that deals with the complexities of time zones.
Hybrid or Online Coverage
Events can be online, physical or hybrid. Hybrid events are ones where some people can attend the event physically while some attend it virtually. Also, there are events that might be in person but offer live streams online.
In such a situation there needs to be an event calendar that manages both types of participants, such as in-person attendees must not receive the meeting link and on the other hand, online attendees must not receive the meeting tickets.
5 Best Online Event Calendar Plugins
We have listed down the 3 Best Online Event Calendar Plugins that you can use to plan out your virtual meetings.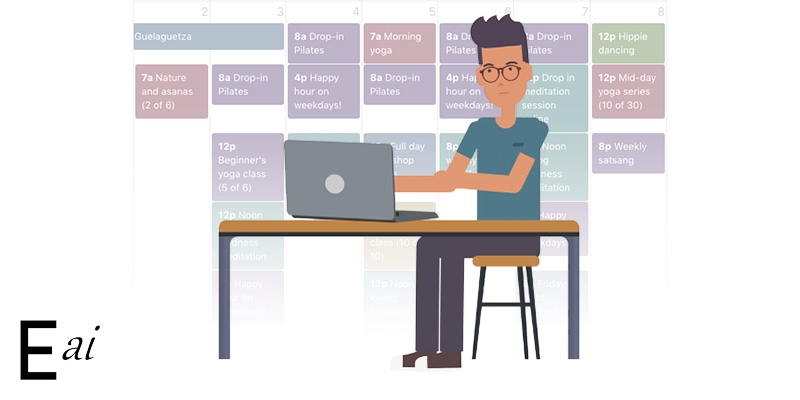 EventAgent.ai is a newly released Event Calendar plugin while has additional AI support to promote your events. Its distinctive and helpful features conclude an amazing virtual planning experience for your events.
It is equipped with all the basic to advanced features for online and hybrid events. It automatically detects the visitors' timezone and shows the events' time in their local time while the in-person events' time is shown in the local time of the venue. It is a package of all your needs related to virtual events. The Events Calendar is one of the most commonly used WordPress plugins for planning out events. It has special addons for virtual events and other tasks which make this plugin more flexible.
It is a complete package for all your needs when planning an event such as email marketing for virtual events or ticketing and sales management for in-person events and so on. Modern Event Calendar is another option to use when planning out your events. The plugin offers both a free and a paid premium version of the plugin. It is primarily focused on the reach of online events.
Modern Events Calendar comes with SEO techniques to make your online events easy to find on the search engines. Google has released a new schema for online events that directs the visitors directly to the link of that event. This plugin can help your event reach out to more attendees.
EventON - WordPress Event Calendar Plugin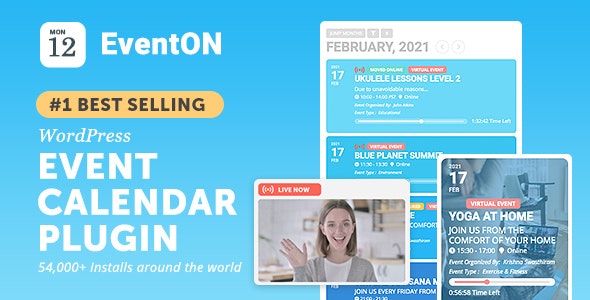 EventON Event Calendar for WordPress is a beautifully crafted event calendar plugin that offers a minimal clutter-free design. The design of the plugin is modern and fits almost any WordPress theme.
EventON comes with 200+ useful features such as highly customizable repeating events, multiple event images, unlimited event creation, various calendar layout designs, event locations and organizers, and advanced features like multi data types and language corresponding events and etc.
Key Features
Supports single and multiple day events
Create single day events
Create events without end day or time
Create all-day events
Duplicate events in wp-admin
Exclude certain events from the calendar
Span events until end time while hiding end time
Set event location image
Set location by latitude longitude
Save locations and re-use them for events
Set event organizer contact information
Save event organizer for re-using in events
Learn more about the event link support
Various options for how a user can interact with the event
Use universal time
Schema SEO content support for calendar events
Stachethemes Event Calendar - WordPress Events Calendar Plugin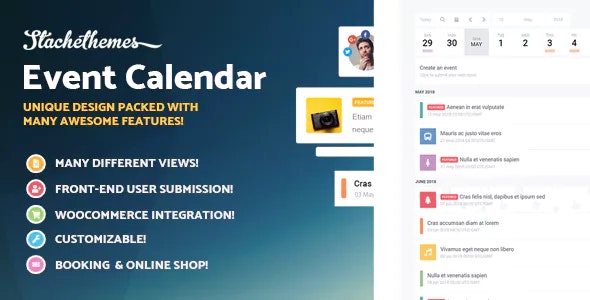 Stachethemes Event Calendar has a unique approach to the classic event calendar concept. With a fully responsive and modern design, this WordPress Event Calendar Plugin will display your events in easy to read and navigate way. The plugin is packed with a rich arsenal of features and options to help you create fully detailed and informative events quickly and easily!
Key Features
Buddypress Support
Sidebar Widget
Elementor Builder Integration
Ticket QR code scan
Allow users to create paid events from the front-end.
Collect RSVP
New sharing options: Messenger, WhatsApp, and Viber
CSV Import & Export
Open Event in Modal Window
Create Custom Event Submission Forms
Edit Events from the Front-End
Add Custom Icon with PNG
Add Date Instead of Icon
Add Image Instead of Icon
Add New Icons from Font Awesome
New Icon Interface
Color Themes
Organizer Information
Event Coming Soon Page
Event Categories
Show/Hide Category Tags
E-Mail Event Sharing
WPML Support
Booking System
Until the world is free from Covid-19, we might be in this bubble of online events and zoom meetings. While this has been both a curse and a blessing as some organisation have grown to a greater extent while some have lost their consumers. All we hope is that these plugins help you restore your consumers and bring you new ones.
That's all from us for this tutorial. Join us on our Facebook and Twitter to get updated about our tutorials.