Do you want to create exclusive material on your WordPress blog for your Patreon supporters? Do you want to reward your devoted followers with exclusive access to premium content? Do you want to create a secret community of patrons on your WordPress site who can communicate with you and each other?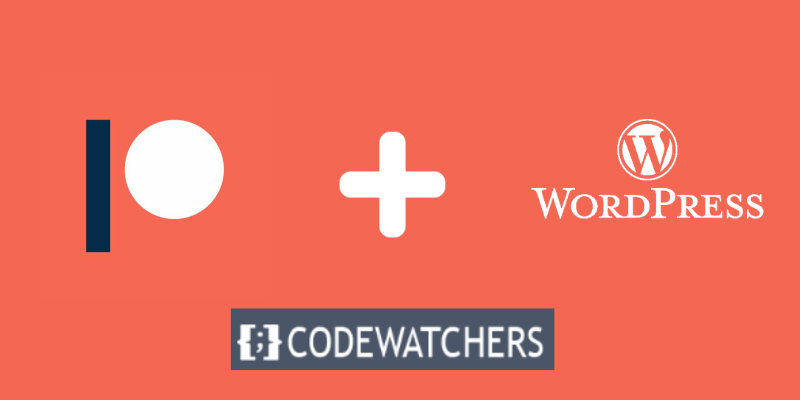 If you answered yes to any of these questions, then this blog post is for you.
You can entice visitors to join your Patreon and boost your income by offering Patreon-only material to your website. It's also a terrific method for encouraging Patreon users to visit your website, which will improve traffic and revenue.
In this article, I'll teach you how to use the Patreon Plugin Pro to limit content on WordPress to Patreon members.
Create Amazing Websites
With the best free page builder Elementor
Start Now
But before we get into the details, let's first understand why you might want to restrict content on WordPress to Patreon members.
Why Restrict Content on WordPress to Patreon Members?
Patreon is a site where creators can be compensated by their followers for creating and distributing content. It is an excellent method to monetize your passion and talent while also connecting with your audience on a more personal level.
By restricting WordPress content to Patreon members, you may provide them with various perks that will make them feel special and valued, such as:
Exclusive Content: You can develop exclusive material for your patrons, such as behind-the-scenes, lessons, tips, previews, additional materials, and so on. This will make them feel more invested in your success and more involved in your creative process.
Early Access: You can provide your patrons with early access to your content before it is made available to the general public, such as new episodes, chapters, songs, videos, and so on. This will increase their excitement and sense of luxury at being the first to see or hear your content.
Feedback and Input: You can solicit feedback and input from your customers on your material, such as ideas, comments, queries, and opinions. As a result, they will feel more appreciated and respected as a part of your creative process.
Recognition and shout-outs: You can recognize and thank your patrons for their support by stating their names, showing their logos, showcasing their remarks, and so on. This will make them feel more valued and recognized for their contribution.
Community and engagement: On your WordPress site, you may build a private community for your customers where they can connect with you and each other by commenting, liking, sharing, chatting, and so on. They will feel more connected and engaged as a result of this.
By offering these benefits to your patrons, you can increase their loyalty and retention, as well as attract new patrons who are interested in joining your exclusive club. You can also increase your revenue and income by setting different pledge levels and tiers for accessing different types of content.
How to Create a Patreon Account for Your WordPress Website
Before you can restrict content on WordPress to Patreon members, you need to create a Patreon account for your WordPress website. Here are the steps you need to follow:
Visit the Patreon website and click on get started. Sign in if you already have an existing account, or sign up if you want to create an account for the first time.
You can now type in your email address and create a password. If you prefer, then you can also register using your existing Google or Facebook login.
Follow all the onboarding screen instructions and go ahead to customize your Patreon page.
When you are satisfied with the appearance of your Patreon page, you can add it to your WordPress website.
How to Connect WordPress to Your Patreon Account
You must connect your Patreon account to your WordPress website using the Patreon WordPress plugin after you have made one.
Using Patron Plugin Pro is the simplest method to generate Patreon-only content. This plugin lets you restrict access to select pages and posts, as well as all content from a specific tag or category.
You can also schedule the locking and unlocking of content. This enables you to create free trials, automatically drip content, and do other things.
You must first install and activate Patron Plugin Pro. If you need assistance, please visit our instructions on installing a WordPress plugin.
After activation, you must link the plugin to your Patreon account. To do so, navigate to Patreon Settings > Patreon Settings and then click 'Connect site'.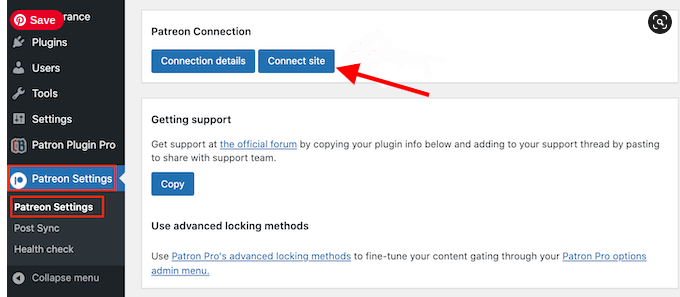 On the next screen, you need to click on 'Let's start!' You will need to develop an OAuth client to link Patreon to your WordPress website.
If you agree, then click the 'Allow' button.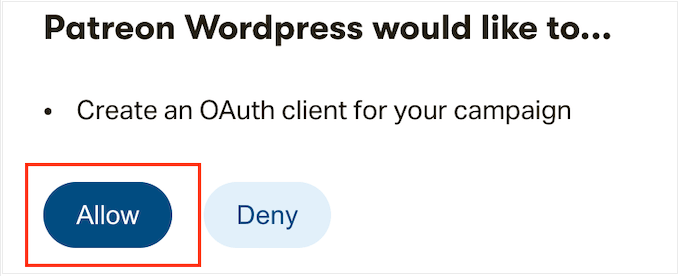 If asked, provide your Patreon account login information.
Patron Plugin Pro will return you to the main WordPress dashboard after a few moments. Your Patreon account has been linked to WordPress.
Before restricting any content, check the plugin's settings by navigating to Patreon Settings > Patron Settings.
How to Restrict Content on WordPress to Patreon Members
Now that you have connected your WordPress site to your Patreon account, you can start restricting content on WordPress to Patreon members.
The most straightforward method for creating patron-only material is to restrict access to entire content kinds, categories, or tags. For example, you may restrict access to all content with the 'Patreon' tag.
Simply choose 'Patreon Plugin Pro' from the left-hand menu and then the 'Content Locking' option. On the screen, you will see various tabs which you can click to toggle open. Click on the ''Make post types Patron only' tab.
After that, Open the 'Select Post Type' option and select the content type you want to restrict, such as a page, post, media, or another. Then, in the new 'All' dropdown, select whether you want to limit this content type by format or by categories and tags. Depending on your choice, you will gain access to additional settings. For example, if you select 'Tag', then you will need to choose the tag you want to make Patreon-only.
Finally, enter the 'Select how to lock' option and select how you want the material to be locked and unlocked. 'Lock all postings of this type' is the simplest option. You can, however, lock the most current sample of this content while leaving the earlier content as a preview for non-members.
You can also unlock or lock content after a set number of days. This enables you to provide Patreon members with unique early access.
You can also use this feature to establish a free trial. For example, you could make your most recent online course free to non-patrons for the first 24 hours. This can generate excitement for the launch while also enticing people to join your Patreon so they don't lose access after 24 hours.
You will see some extra possibilities based on your pick. Then you will be required to enter a minimum amount (in $) for membership. When you are satisfied with your setup, click on 'Add post type to gating.'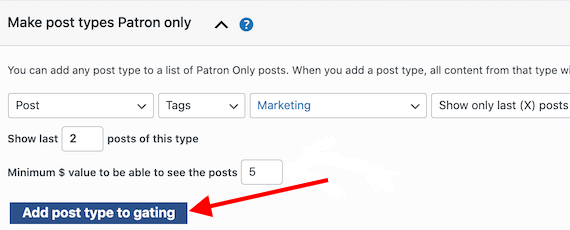 To lock in more content, simply repeat the steps outlined above. When you're finished, scroll down to the bottom of the screen and select 'Save.'
Conclusion
That's it! You have successfully learned how to restrict content on WordPress to Patreon members using the Patreon Plugin Pro. Now you can create exclusive content for your Patreon supporters on your WordPress site and reward them with access to premium content and a private community.