Do you want to give your WordPress blog emoji support?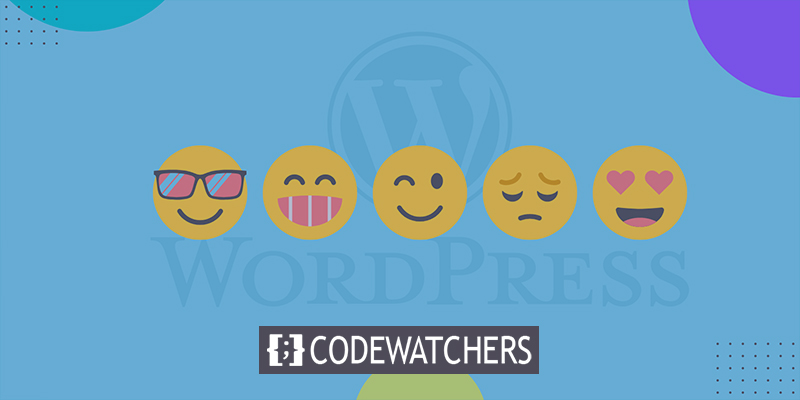 Emoji support is already embedded into WordPress, making using them incredibly simple. Emojis can be used throughout WordPress without the need to install any other plugins.
We'll demonstrate how to utilize emojis in WordPress quickly and efficiently on various devices in this article. This trick will help you even in cloud-based Websites like Elementor.
What are Emojis?
Emojis are small, tiny graphic icons that can be used alongside text to convey feelings and other sentiments. Emojis evolved from the way that online communications represented facial expressions in the text. Smileys were text and punctuation representations of facial expressions that were utilized in the early days of the internet.
Create Amazing Websites
With the best free page builder Elementor
Start Now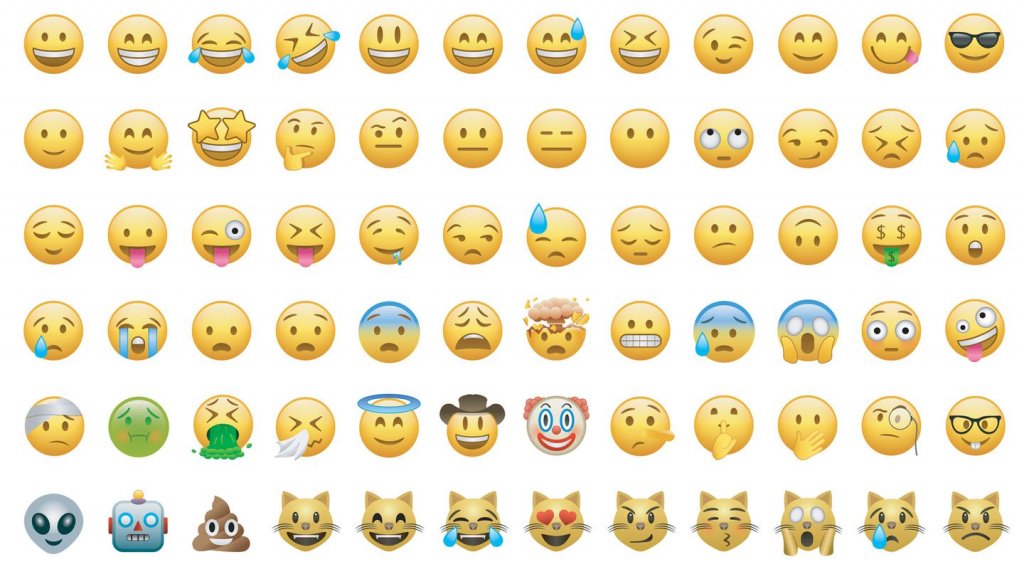 This eventually developed into graphical illustrations of those expressions. They went by several names, including Twemojis, Emoticons, and Emojis.
In WordPress 4.2, support for contemporary emoji characters was included. Before that, adding emojis to your WordPress website required using a separate emoji plugin.
So let's examine how to add emojis to WordPress now.
Use Emojis On Windows
To add emojis, simply modify the post or page where you wish to do so. Click on a text area in the WordPress content editor, and then on your keyboard, press Windows +. (Period).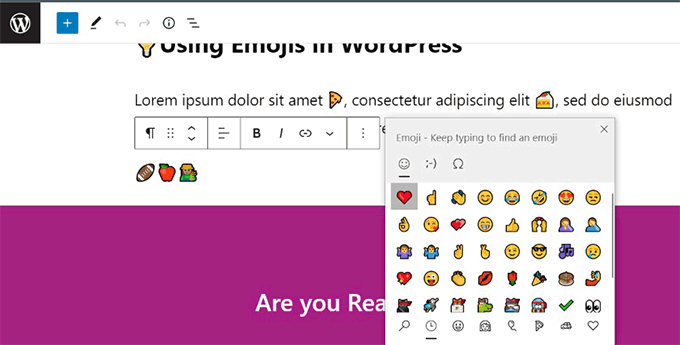 Emojis will appear in a popup window as a result. Emojis can be found by searching for them or by browsing them. When you have located the desired Emoji, click to add it to the text box.
Use Emojis On Mac
The article, page, or any other text edit section on your WordPress site has to be updated once more.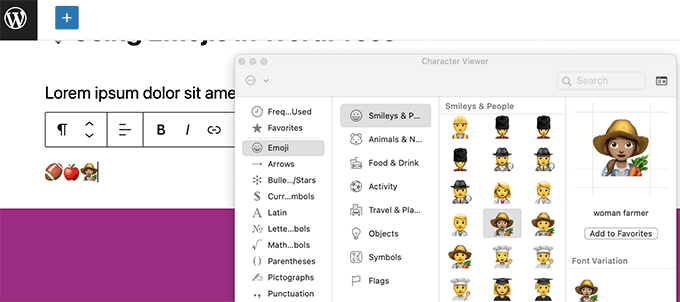 Click to place the cursor inside a text box, then simultaneously hit the Command, Control, and Space keys.
With this, a popup will appear where you may explore and search for emojis. You must double-click the desired emoji after finding it in order to add it to your text.
Use Emojis On iOS & iPad
You may quickly switch to your device's emoji keyboard to add emojis if you are using an iPhone or iPad to edit your WordPress website.
Just sign in to WordPress using an iPad or iOS smartphone. Tap on a text area when editing the post or page where you want to utilize emojis. The native keyboard will now show up on the screen.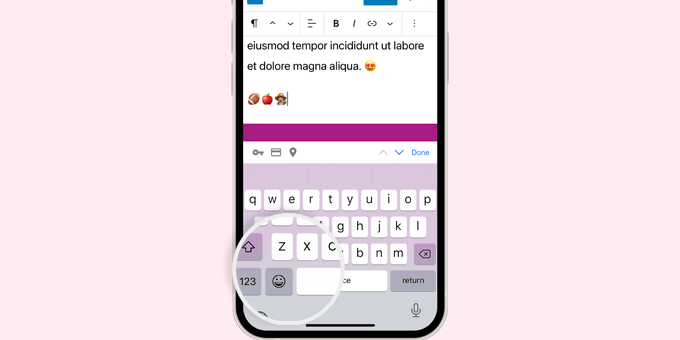 To access the Emoji keyboard, touch the Emoji button right now. Emojis you can use will be displayed on your device.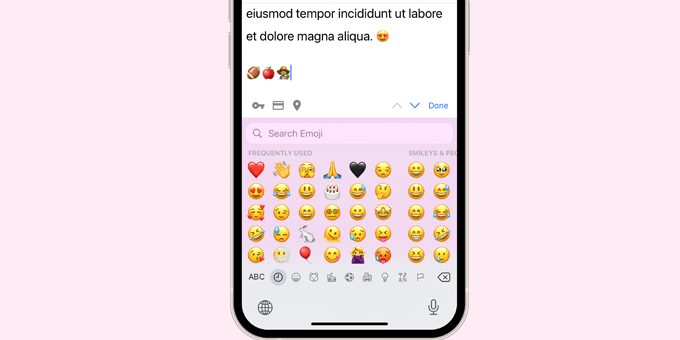 Emojis can be found by category or by searching for a specific icon. Simply tap to add the emoji to your post once you've located it.
The ABC button can then be tapped to return to the text keyboard.
Use Emojis On Android
Emojis are also supported natively by Android tablets and smartphones.
If you wish to use emojis, simply edit the relevant WordPress post or page. The native keyboard for your smartphone will show when you tap on a text area on the edit screen.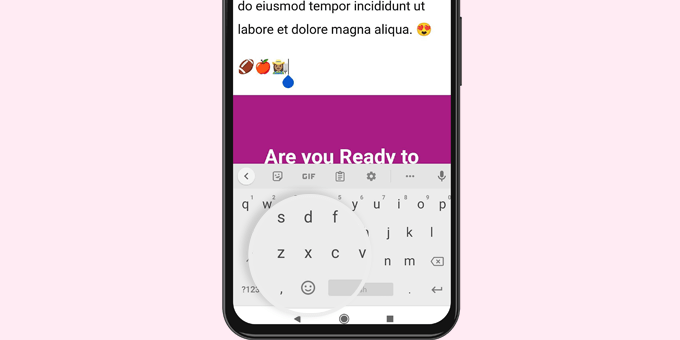 To access the Emoji keyboard, tap the Emoji button on the keyboard.
Now the emoji keyboard will appear, where you can browse or search for the emoji you want to add.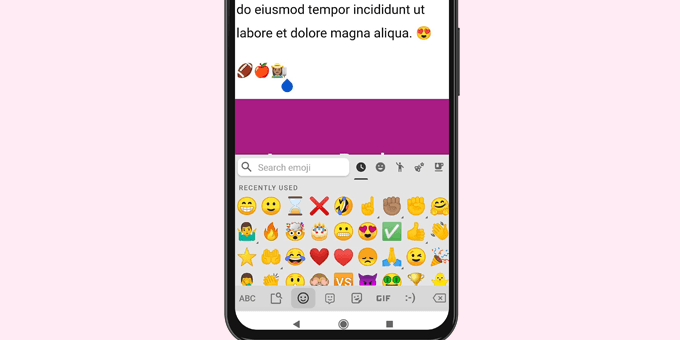 To add an emoji to your WordPress article, just tap on it.
By tapping the ABC button, you can return to the text keyboard.
Wrapping Up
Hopefully, this article will help you to add emojis to your website. Actually, emojis can make a blog more engaging and attractive. However, if you don't want to use them, you need to use Disable Emojis plugin. A plugin is required for this task because WordPress by default, has this system, so if we want to change anything that is built-in, we can do this with a plugin's help. May these tips come to your aid, and you can share them with your friends too!