Want to save time while increasing the quantity of your best work? Try out GetGenie, a full-featured AI assistant for content writing, and use its cutting-edge functions to quickly generate material of any kind. Let's take a closer look at its cutting-edge capabilities, AI-driven content, and SEO helper, and snag a special deal in the process!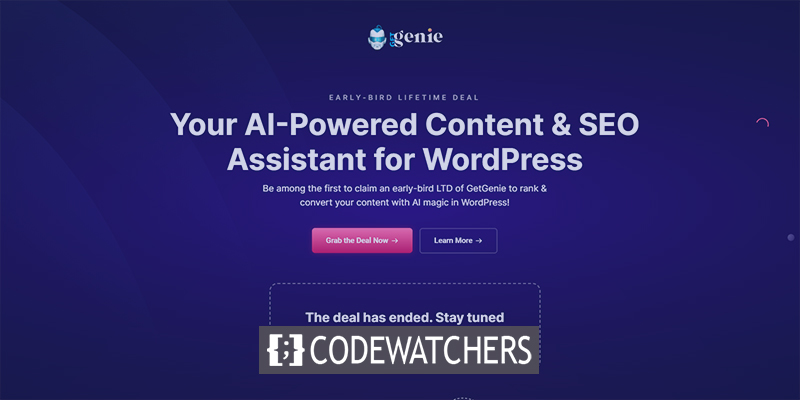 GetGenie is not meant to take the position of human content creators or marketers, but rather to improve content quality in less time. GetGenie can help you out when you need to produce a lot of material that requires extensive investigation. Make use of it to boost your site's visibility in search engines and draw in more visitors. Making interesting material in a hurry is tough. However, this is entirely feasible with the GetGenie WordPress plugin.
What's the Point of Having an AI-Driven Content Assistant?
As a group, we feel conflicted about the process of making new materials. It's everyone's responsibility to contribute to the blog's concept development, marketing pitches, documentation, video scripting, etc. We have a short window of opportunity to produce material that will resonate with our audience and grab their attention, and we must use every ounce of our imagination to do it.
Unanticipated problems may arise throughout this procedure and put the entire output at risk. Constantly producing new material may seem like a chore, but thanks to AI, you can increase your output without sacrificing enjoyment. Let's look at the ways in which an AI-driven content assistant might aid you in this endeavor.
Create Amazing Websites
With the best free page builder Elementor
Start Now
Save a Good Time: Reduce Your Content Creation Time Vastly Time spent on content creation can be reduced, whether you're writing a blog post, email, landing page, subtitling a video, responding to a survey, or filling out a form. Using an AI-driven content assistant will speed up the process of finding relevant keywords to round out your paragraph. Writers across the board are putting in long hours to provide useful content that will appeal to a wide audience. This process can be simplified and streamlined with the help of an AI-powered content assistant.
Create A Solid Strategy: Build a Reliable Content Plan: The benefits of using content assistants powered by artificial intelligence (AI) are often discussed in conjunction with the need to have a sound content plan. Instead of spending time and energy on SEO-optimizing low-quality resources, a comprehensive content assistant will free you up to concentrate on developing an effective production plan. The use of AI-based tools in the copywriting process can help improve productivity, simplify content strategy, and boost the return on investment.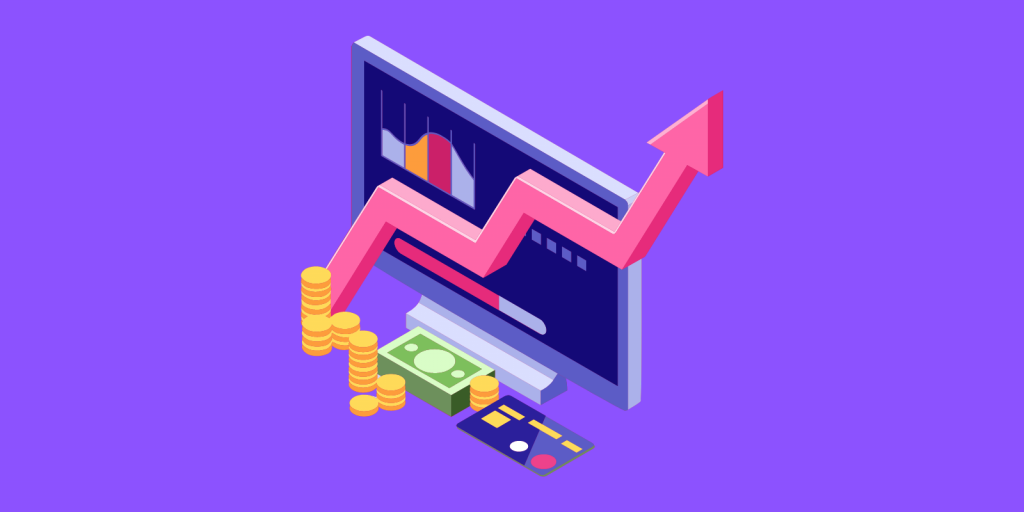 Increase Leads and Conversions: Did you know that content marketing may generate three times as many leads as traditional marketing? It can also increase conversion rates by an incredible 200%! A content assistant driven by AI will provide you with tools to help you generate ideas and organize your thoughts before you begin writing. Due to the fact that content creation is one of the most important aspects of any marketing strategy, increasing your output by 50% will result in 100% more leads for your company.
Gather Access to Trustworthy Materials: To build an AI-driven content assistant, we combine data from a wide variety of sources. You can use these tools to produce content that normally would need extensive investigation. Most well-researched essays need a lot of time spent reading and researching. When everything you need is in one location, why wouldn't you take use of an AI content assistant?
How to Overcome Writer's Block: The major reason copywriters should immediately begin adopting AI tools is their capacity to help overcome writer's block by providing endless ideas. There is nothing more frustrating than sitting down to write and coming up empty. Artificially intelligent copywriters can guide the way in no time.
These are just a few of the many advantages offered by content helpers driven by artificial intelligence. Here we'll look at some of the tools available to WordPress users to help speed up the creation of content.
Introducing GetGenie
With the help of natural language processing (NLP) and artificial intelligence (AI), GetGenie is designed to be a one-and-done replacement for any existing content assistant plugin in WordPress. XpeedStudio, the developers of this innovative plugin, have put in countless hours of labor to ensure that it will be widely used in the field of content production.
The goal of introducing GetGenie is to facilitate the creation of engaging and potentially conversion-boosting content for WordPress users utilizing content marketing tactics in the lowest period of time possible.
Exclusive Features By GetGenie
First, of its kind, GetGenie is artificial intelligence (AI) assistant plugin for WordPress that will save writers and bloggers a ton of time. With GetGenie's assistance, you can easily produce content that search engines will love, and your site will show up higher in the results. Let's check out the features of this plugin down below:
SEO Optimized Content
GetGenie's blog wizard is a step-by-step process that allows you to do anything from researching keywords to publishing your first blog post. If you want to study the keyword "coffee beans," for instance, you can place it in the appropriate section and provide background information about the term.
There is also an option to switch to "SEO Mode" and select specific regions for which results should be displayed. The best part is that the level of inventiveness may be adjusted to your liking, allowing you to choose the outcomes you want. Following these procedures will give you a search engine-optimized title.
A comprehensive keyword report can be viewed by clicking the "Analyze Keyword" button. Where you may find monthly breakdowns of search volumes, competition, click per cost, and more. In the same way that other keyword tools do, it will also recommend related terms. Find answers to frequently asked questions, analyze your competition, and conduct keyword research, all with this handy tool.
The beginning of your blog's introduction does not have to be the only thing you write there. Then, a blog plan tailored to your specifications will be developed. That way, you can quickly begin posting on your blogs. You have completed your keyword research, thought up a catchy blog title and introduction, and planned out the blog in detail.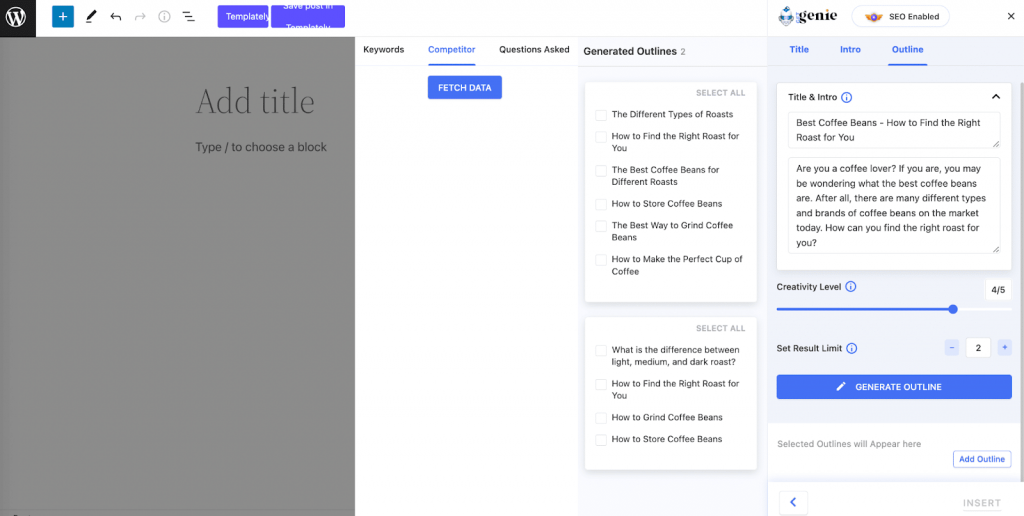 GetGenie's Content Score provides an in-depth SEO rating, highlighting problem areas so you can fix them. Similar to how you would look for information, you can search for terms there.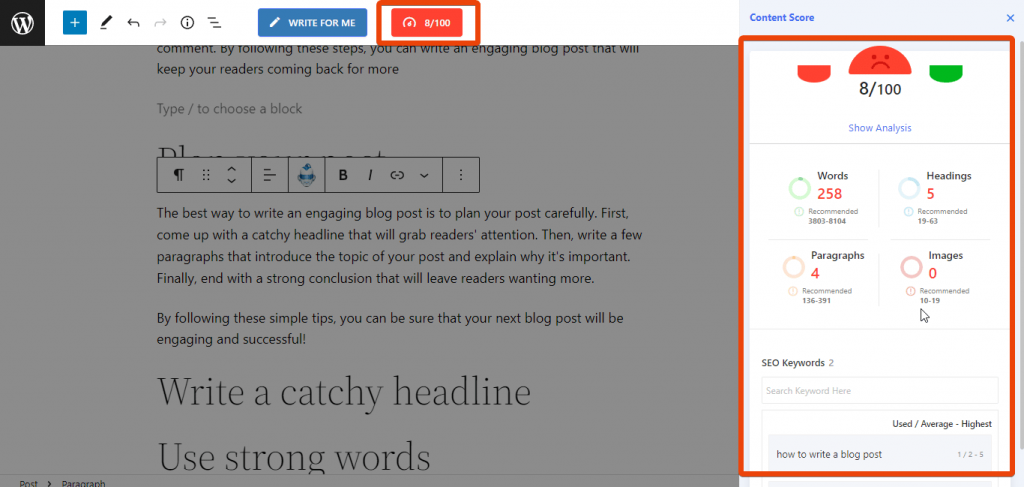 GetGenie Templates 
You can use the 10+ criteria available in GetGenie's templates to generate a wide variety of SEO content for your site. First, let's take a closer look at the many sample documents we have at your disposal.
Collection of Lists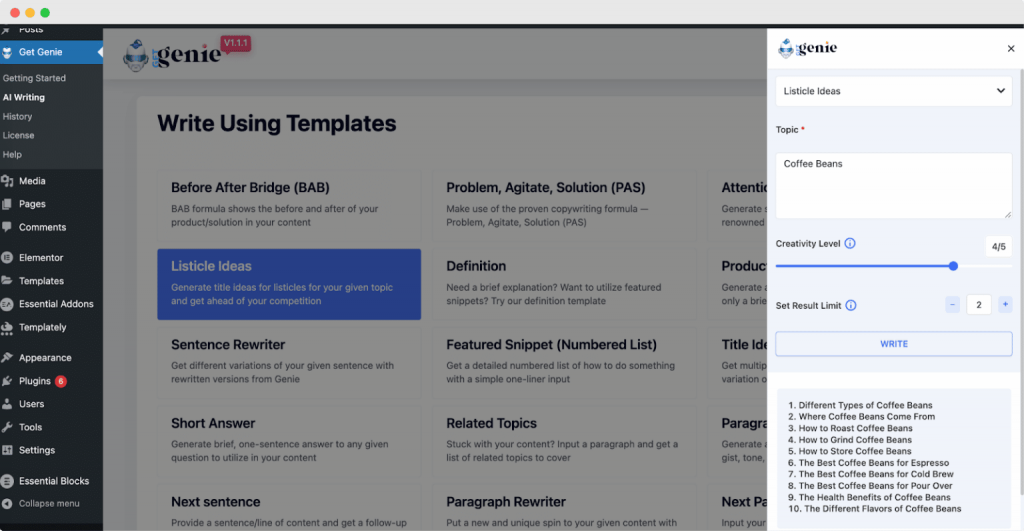 As they work on a piece of content, most content marketers or creators have a hard time coming up with fresh ideas. If you give GetGenie a topic, it will offer a number of possible angles from which to approach it.
Definition and Quick Explanation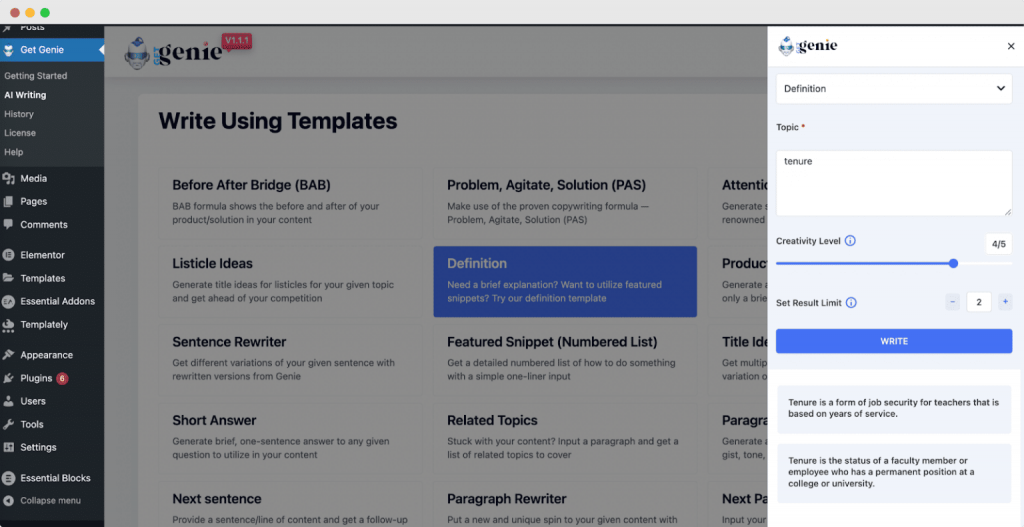 You can look up any definition you need without ever leaving the GetGenie interface. Before beginning any piece of material, the creator should do a search for appropriate topics. In the same area, you may get the definition and any abbreviations that may apply to the word you're looking for.
Title Idea Generation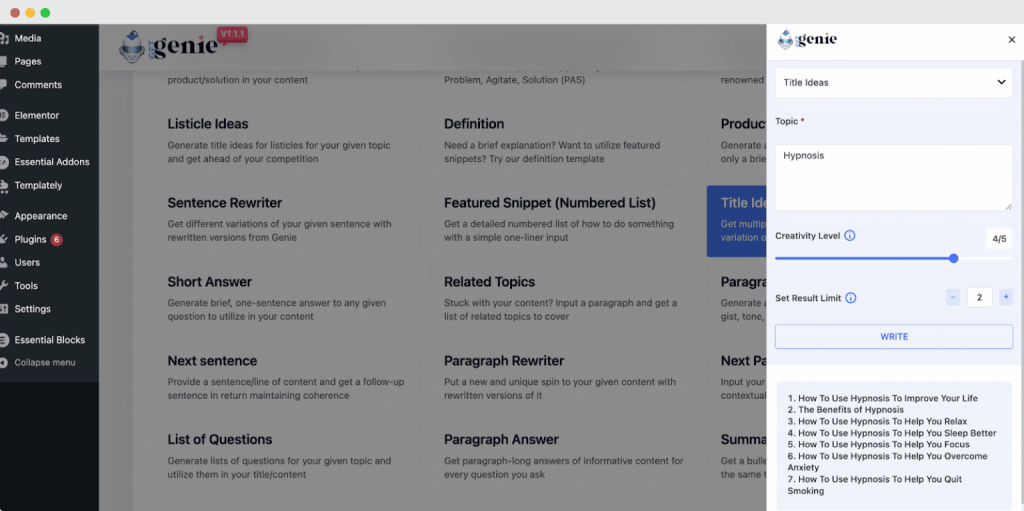 We've already established that this is a common challenge for authors when trying to come up with names for their articles that are both descriptive and search engine friendly. If so, GetGenie is here to assist you in thinking of fantastic topics for your work.
Explore Related Topics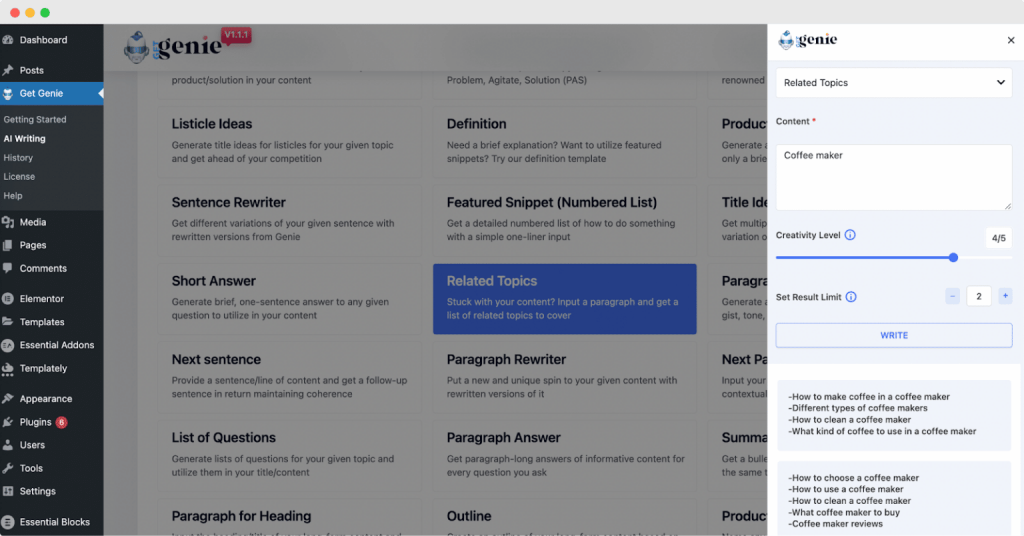 Already having a list of potential article subjects in hand, you may find it useful to look into areas of study that are directly related to your chosen subject. In that scenario, GetGenie will assist you in gaining additional insight into similar topics.
Rewrite And Generate Ideas
The best part about using GetGenie is how quickly and easily you can change the meaning of an entire paragraph or sentence. Your participation is required, and many paraphrased content iterations will be provided according on your comments.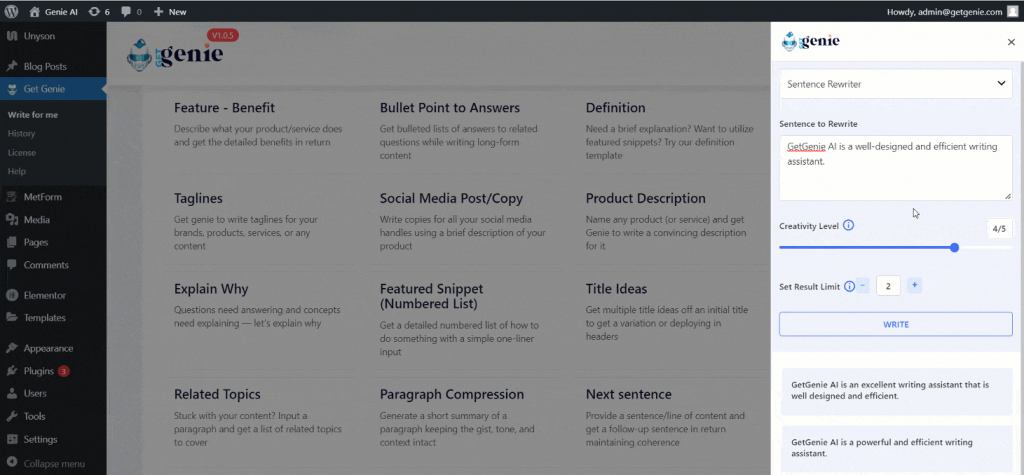 Artificial intelligence can also use paragraph compression, which is a notable feature. Time spent summarizing paragraphs of writing can be cut significantly with this method. You will obtain SEO-optimized material without sacrificing style or context.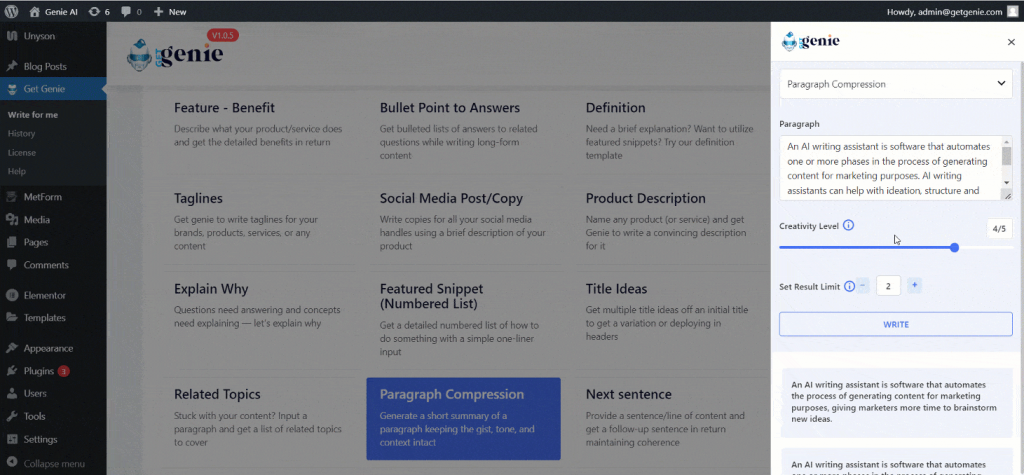 GetGenie's 'Next Paragraph' feature is great if you're having trouble getting started writing a blog post or article. Inputting the previous paragraph in the section yields a paragraph suggestion that is a perfect match. In that manner, you can identify the topics that require more exploration. When you use it, you can say goodbye to writer's block forever.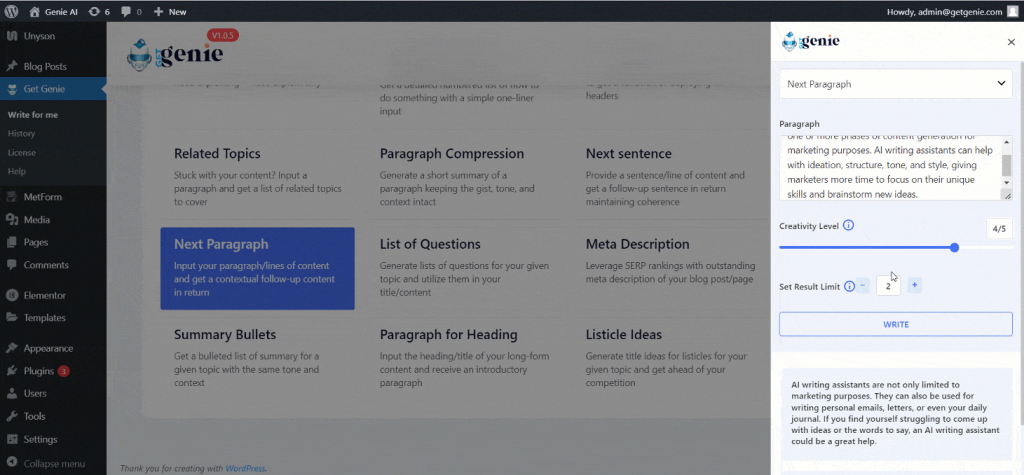 It's not uncommon for us to struggle to think of relevant language for our headings. Whether you're writing a blog post or an article, the most crucial thing is to give it a catchy title. The 'Paragraph For Heading' tool in GetGunie allows you to quickly generate various paragraph ideas based on a single heading.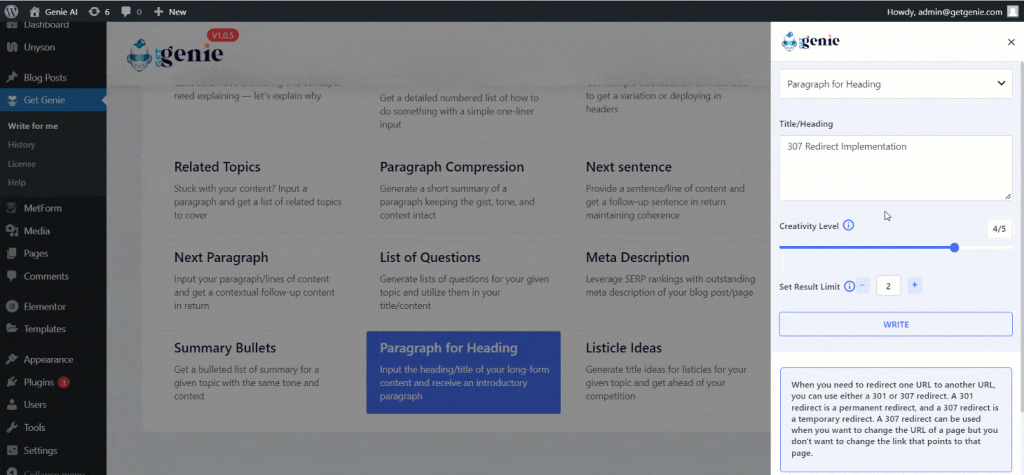 Wrapping Up
By including a business idea generator, brand concept generator, testimonial, or review generator, GetGenie can become a full AI content helper for content marketers. As this offer is only available for a short time, you should act quickly. After you've used the product, please leave a comment telling us what you thought of it.