Elementor Pro 3.5 is out, and if you've missed the beta releases, you can't miss this update that brings new changes to engine performances, the shopping experience, and some other changes we'll be detailing through this guide. Before getting into the new changes let's quickly explain what is the difference between Elementor and Elementor Pro.
What Is Elementor Pro
Elementor Pro is a WordPress plugin that adds new widgets to enhance the free version of Elementor available on WordPress.org. As a premium user, you not only have access to premium widgets but also :
An Awesome Template List (to get started quickly)
Exclusive Support (in case something go wrong)
Website kits
Theme Builder
WooCommerce Builder
And Much More
While it's true you can perfectly design a working website with the free version, the Pro version gives you more choices in terms of design and features.
Create Amazing Websites
With the best free page builder Elementor
Start Now
Now that we need the difference between Elementor Pro and Elementor (Free version). Let's now see what are the new changes added to this version.
New WooCommerce Page Settings By now, you've probably noticed that WooCommerce widgets have undergone a major overhaul in terms of speed and ease of use in the Elementor editor. Elementor will now be able to configure the appropriate WooCommerce transactional pages without having to access the main WordPress dashboard as part of the WooCommerce widgets upgrade.
In the WooCommerce settings in Elementor, you can now set up the checkout, cart, my account, and terms and conditions. Using Elementor, you may configure WooCommerce's settings using the same settings. The new WooCommerce widgets - Checkout, Cart, and My Account - will ask you to save the page you built as your new default, so that you may customize that page in a single click!
Cart Revamped The aesthetics of WooCommerce websites are always evolving. To upgrade your cart's design, you may choose from two different layouts, as well as customize its appearance, style, and content, like the Checkout widget. You'll be prompted to save this page as your default cart page in a single click without leaving Elementor once you've finished configuring your new Cart.
New Cart Widget
Streamlining the customer's journey and making it easier for them to complete their order can both be accomplished by adjusting the text and look of each button. When using the new Cart widget, you may customize each button's content and look. You can also remove the "Update Cart" button as part of this new widget without losing its functionality. In this method, a client's total will instantly reflect any changes to the number of any of the products in the basket, without the consumer having to click another button.
Checkout Page Optimized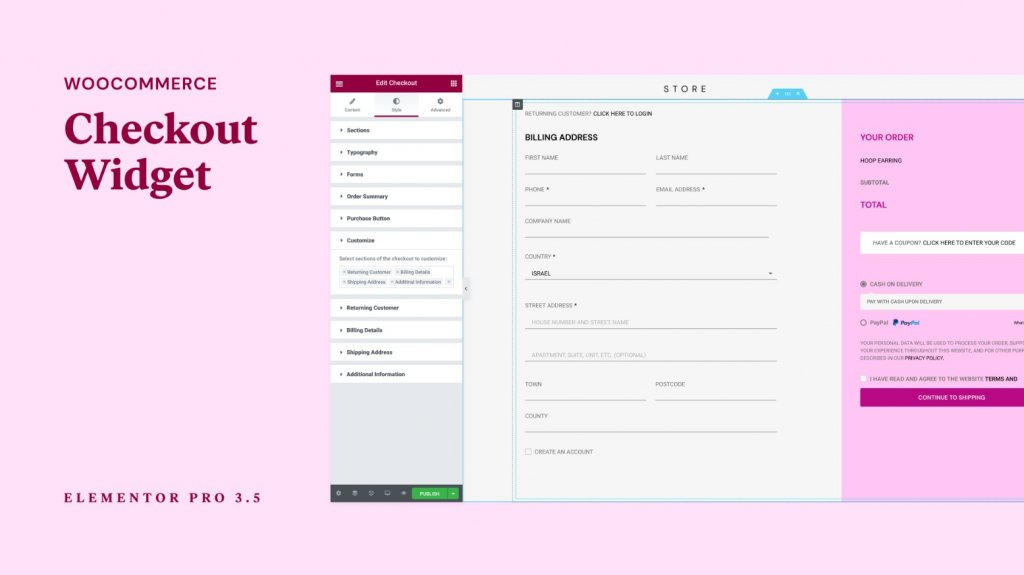 Based on what we can see, most of the development efforts during this update have been turned to improving the overall shopping experience.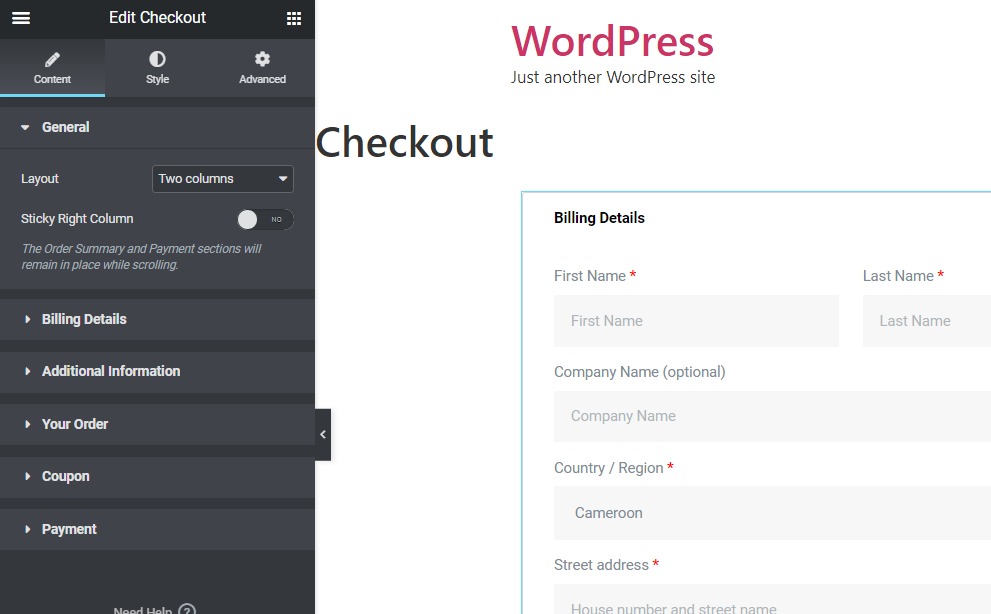 Since WooCommerce builder has been launched in 2018, The Elementor Team kept improving the WooCommerce widgets. One of the additions of this new update is the Checkout Page that has been optimized, but what does that really mean?
Design Consistency
The design consistency implies having the same look and feels throughout the website. With this update, you're able to apply the same design all over your store including the cart. This will contribute to reducing abandoned carts?
Easy Section Customization
The style of each section can now be changed individually, giving you more flexibility in your design. If you want to draw your customers' attention, it's the perfect way to do it.
My Account Restructured In order to see their orders and then duplicate them, clients first visit the My Account page. For returning clients, who have already registered, improving the My Account page is essential.
A new "My Account" widget has been added to WooCommerce sites as part of the effort to improve your experience and accelerate their construction, and it comes with two predefined options for the account tabs - vertical or horizontal.
Better Workflow
With this new widget, you don't have to jump between screens to see each tab and its relevant sections side-by-side. Previously you had to use the Preview Mode to see the modal contained sections.
Design Consistency Extended
Keeping the "My Account" page, as well as all of the sub-sites it links to, in sync with the rest of the site's pages is critical. Using this widget, you may customize the look and feel of each tab individually. The interior portions' design can also be consistently modified. You may ensure that all the items on the My Account page are visually consistent by updating the tabs and inner sections at the same time.
Scroll Snap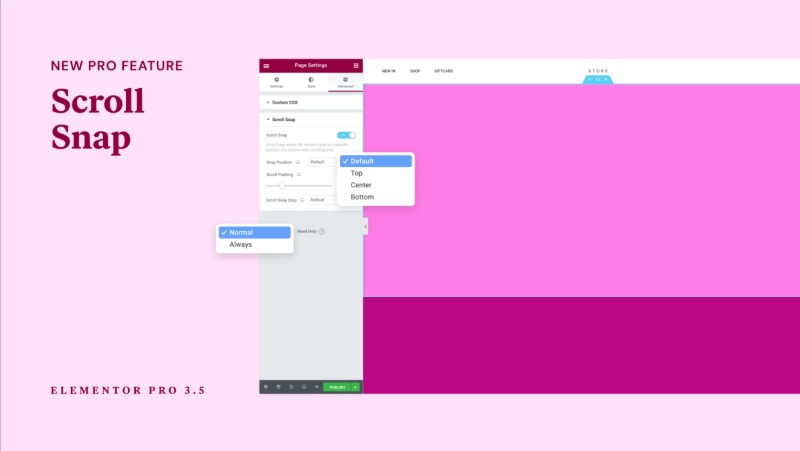 This is a terrific approach to customize how your site's visual elements are viewed by visitors, especially when it comes to touch interactions. With Elementor's new "Scroll Snap" functionality, you don't have to write a single line of code or rely on 3rd party plugins to keep a viewport in place while your visitors are scrolling one of your pages.
New Reading Progress Widget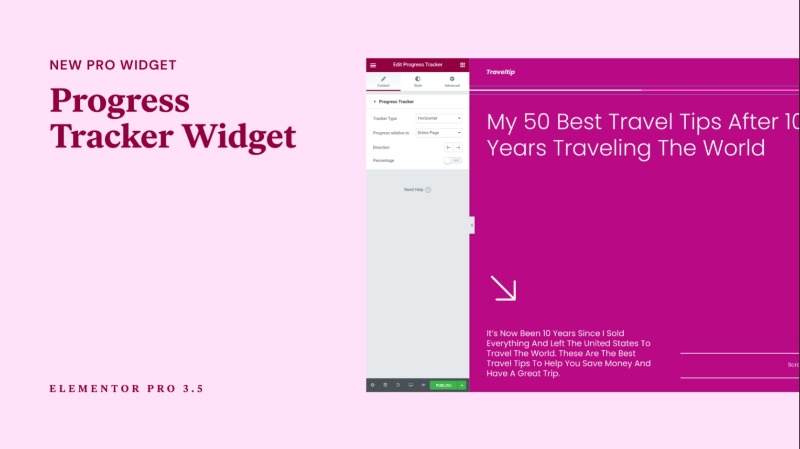 When it comes to longer pages, loaded with content, where you want to encourage the reader to follow through to the end, a Progress Tracker is a great indicator that motivates readers to read on to the end.
This is especially true in sites that hide the scroll bar when not in use. The Progress Tracker can also help reduce page bounce rates!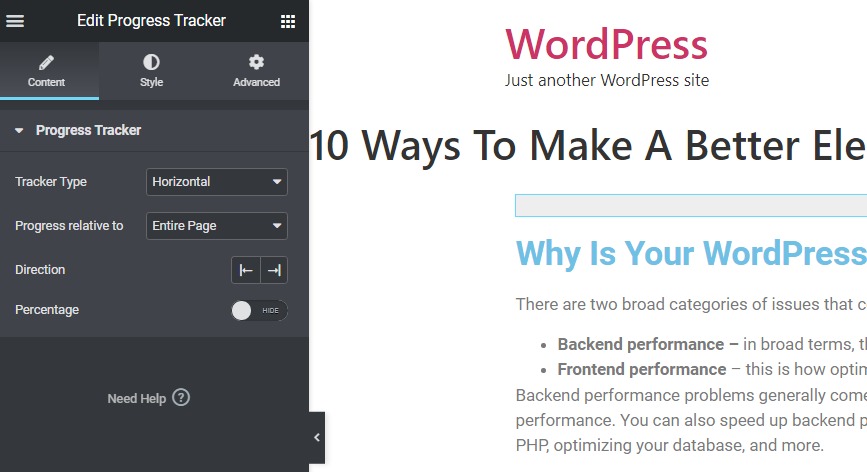 Among the possible settings, you can choose :
The tracker type
To what the tracker is related to
The direction
Special Note For The Black Friday 2021
You probably know that the Black Friday and Cyber Monday period is coming soon. It's time to get the best deal out there to create an amazing website for this end of year. Elementor remains one of the best product you shoud acquire for the Black Friday. Beside the feature we've listed throughout this post, there are other new things coming up that you can't miss :
The Elementor Hosting remains one of the best offer you can get during this black friday. While the hosting is currently at $89 yearly, with the Black Friday you can get 40%, 50% or 60% percent off.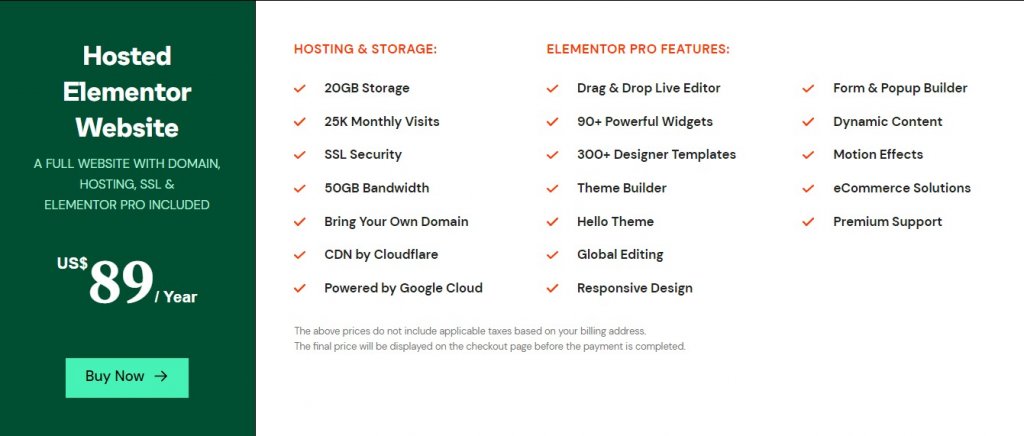 Just think about how much you can save with this awesome deal. Don't miss out.
Summarizing
Elementor Pro 3.5 will definitely change the game in terms of eCommerce optimization. The support for WooCommerce has been significantly improved (the design consistency remains what we liked the most). You now have all in your hand for building a better eCommerce website.