Popups are used to increase the functionality of your website further linking you with your visitors. They bring a huge number of possibilities and advantages to your website. Popups are displayed on websites for many reasons such as a sale announcement, log-in or sign-up, newsletter subscription, and a lot more. While all of them have their distinct advantages and surely add-on to the value your website generates.
While on the one hand when they hold such an advantage, there is also a debate of what plugin one should use to create them. Amidst the debate, we are comparing the two best solutions for you to help you make your decision.
JetPopup is a dedicated popup plugin while Elementor popup builder comes with Elementor page builder which is a versatile all-in-one solution for WordPress. This is a detailed comparison of JetPopup and Elementor's Popup builder.
Create Amazing Websites
With the best free page builder Elementor
Start Now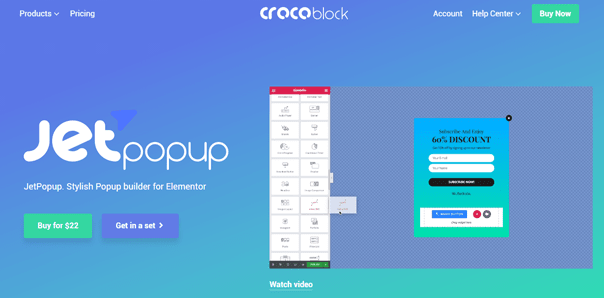 JetPopup is a dedicated Elementor plugin designed for you to create amazing and highly attractive popups for you to keep your users updated. It works with Elementors drag and drops editor which makes it quite simple and user-friendly.
JetPopup has a huge library of pre-designed popups that you can use right away for your website. Moreover, these pre-built popup templates are highly customizable allowing you to fix them according to your needs.
JetPopup comes with a beginner-friendly and disciplined interface. It lets you create animated effects for your popups and with just a few clicks you can take your popups to a whole new level.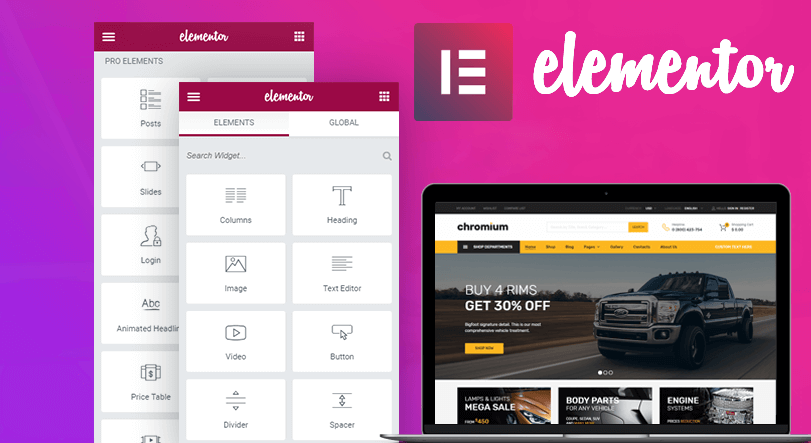 Elementor Popup Builder is a built-in tool of Elementor that comes with the premium version of Elementor. With Elementor popup builder you can create impressive and interactive popups for your website.
With Elementor, there is no need of purchasing a separate plugin to create popups as it already has one of the best popup builders built within. Alongside the easy drag and drop editor, it allows maximum customization to mold the popups according to your design.
If you have Elementor Pro, you can save yourself from the hassle of looking for a popup builder. Otherwise, you only to upgrade for Elementor Pro and you will get the popup builder alongside a number of useful and amazing tools.
Elementor Popup Builder vs JetPopup: Tools and Features
Both of these plugins come with amazing features and allow you to create attention-grabbing and highly functional popups without you having to worry about coding. Here is a detailed comparison for you to have a better idea.
Elementor Popup Features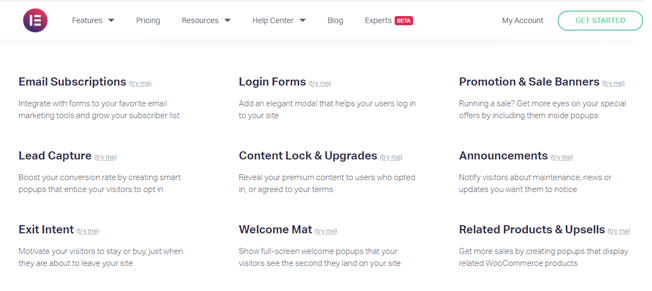 While Elementor comes with a huge number of features, we have listed some of the most useful ones coming with the popup builder of Elementor.
Elementor is limitless in terms of customization which means you will never fall short of designing options with Elementor.
Elementor popup builder allows integration with your site forms for the popup to be highly functional. Besides, it also allows you to link email marketing services with your popup.
With Elementor's auto-hide tool you can make the popup less annoying for the visitor. Moreover, you can also disable scrolling while the popup is displayed with a close button.
Adding on, with Elementor you are not limited in terms of the number of popups you want to create on a page or on your website altogether.
There are nine popups you can choose using Elementor depending on the type of popup you need which means you are saved from the hassle of creating one from scratch.
JetPopup Features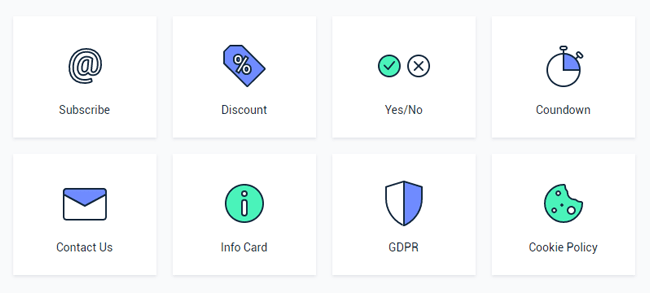 With JetPopup, you can add amazing animations to your popup and make it look much better and highlighted to grab the visitor's attention.
With JetPopup, you can create all types of popups no matter what your requirements are.
JetPopup also has a premium bundle of popups that you can purchase further to take it to a whole new level.
JetPopup allows you to customize the popup window's size, behavior, and location. You have complete control over how your popup appears. You may have your popup appear in a variety of positions and behaviors, including full view, slide-in, bar, bordering, and custom positions and behaviors.
Besides what's better than having the surety that your money is not going anywhere because with JetPpup you get a 30-days money-back guarantee on all plans.
Elementor Popup Builder vs JetPopup: User Interface
Another important aspect for the plugin to shine is how easy and simpler it makes for the beginners to perform difficult tasks. A plugin has to be designed keeping the beginners and their approach in sight.
Both of these plugins have a very simple and functional interface for beginners alongside documentation for them to learn. However, let's move ahead and compare Elementor popup builder and JetPopup in terms of their user interface.
Elementor Popup Builder's Interface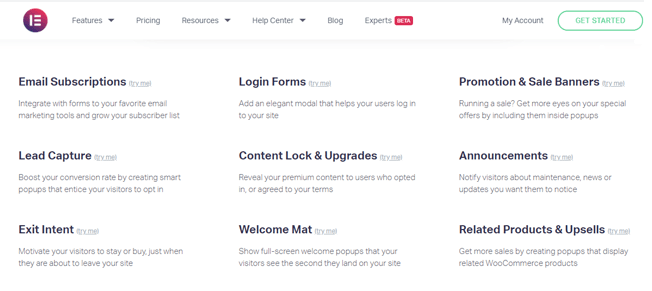 Elementor itself is amazingly designed and allows beginners to perform all their tasks without having any prior coding knowledge. With its built-in drag and drop, editor beginners can easily customize their favorite templates to fulfill their needs.
You can create popups with Elementor within minutes while having limitless control over the plugin and its editor. Moreover, you are freed from the hassle of installing a separate plugin to create these popups as it comes along the Elementor Pro pack alongside a bunch of other useful tools.
JetPopup's Interface As we discussed before, JetPopup is an addon for Elementor which is a dedicated tool to create popups. It works the same way as well alongside Elementor's drag and drop editor.
JetPopup has to be added to your WordPress and integrated with Elementor page builder in order to be functional. You can add JetPopup the similar way you add any other plugin from your WordPress dashboard.
With its huge library of ready-made templates, JetPopup lets you create popups right from scratch while also offers you a time-saving option with customizing a pre-built popup from the library.
Adding on, JetPopup also allows you to create visually appealing effects on your popups to make them much more attractive and eye-catching to the visitors.
Elementor Popup Builder vs JetPopup: Templates and Designs
Another defining aspect of the plugin is its templates and design library and what is there on offer. Half or more of what the popup looks like depends upon the templates you use and the customization that is offered. Let's have a look at what both their libraries are offering.
Templates and Designs in Elementor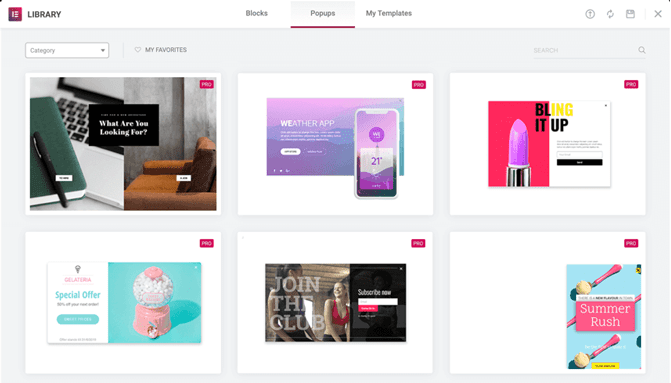 Elementor popup builder is equipped with a stunning library of over a hundred templates that you can use directly or customize for your website. There are templates for every category and niche which saves you from the hassle of creating one for your type.
Additionally, the library also comes with 100+ widgets that you can use to design your popups more professionally and increase their functionality.
With Elementor, you also have responsive layouts that work similarly on all types of devices so that you know your design is never scattered.
Besides, Elementor is also equipped with many advanced options such as auto-closing popup after a certain time, disable scrolling while the popup appears, etc.
Templates and Design in JetPopup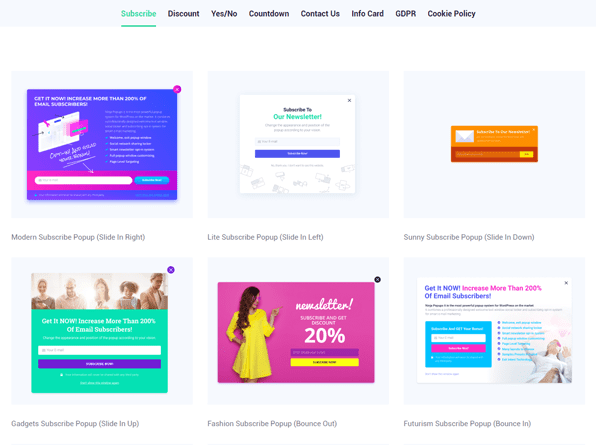 JetPopup also offers a huge library of attractive and amazing templates to be used and customized. The collection is massive to fit all niches and categories.
The popup designing and customization are quite easy and quick. Responsive layouts are offered alongside to keep your designs similar across all devices.
Furthermore, JetPopup allows you to customize the layout with its diverse and modern styling options. It is also equipped with cross-browser compatibility and works perfectly in creating those attractive popups for your website.
Elementor Popup Builder vs JetPopup: Pricing
While we have already compared all of the major aspects of these two popup solutions, here is the final one for you to decide which one will work the best for you.
Elementor Pricing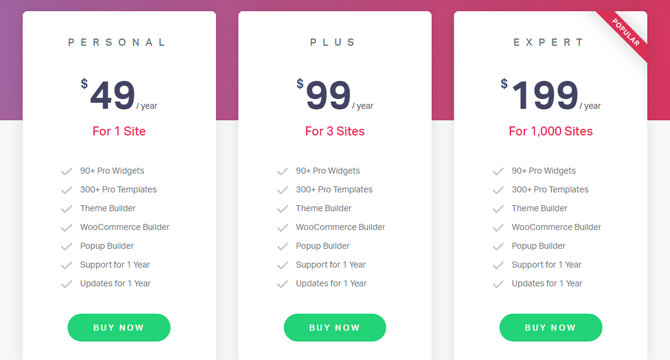 As you know that Elementor popup builder is a part of Elementor Pro and does not stand to have separate pricing. Additionally, you also don't need to install it separately.
There are several pricing plans for the premium version of Elementor that you can choose from. The least expensive plan for a single site is offered at a price of $49/year.
Furthermore, there are bigger plans priced at $99/year and $199/year for 3 websites and 1,000 websites respectively.
While one thing to keep in mind when comparing the prices of Elementor and JetPopup is that JetPopup is a dedicated solution to creating popups while Elementor is an all-in-one solution for your WordPress website.
JetPopup Pricing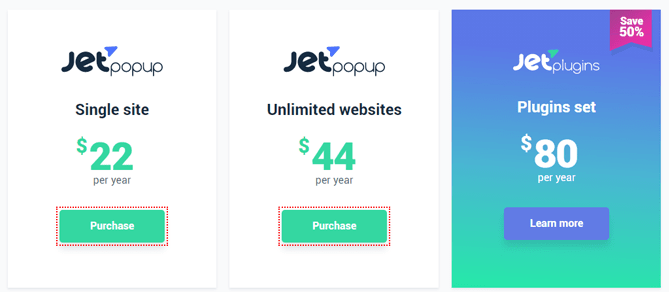 JetPopup also offers three plans ranging from a single website to unlimited websites. The single website plan is offered at a price of $22/year meanwhile for unlimited websites the price is $44/year.
JetPopup also offers you buy the plugin alongside 17 other plugins designed by CrocoBlock for lifetime access. While we recommend you to be completely sure before purchasing plugins for a lifetime.
Conclusion
After a detailed comparison of all the major and deciding factors for both of these plugins, we hope that you have made your mind. However, Elementor Page Builder has a considerable edge as it is offering more than just popups while competing against a dedicated popup plugin.
Alongside, Elementor is highly trusted and is extremely popular for its time-to-time updates and customer service. All of this with an all-in-one solution for the WordPress website is something you must consider when choosing a popup.
This is all from us for this tutorial. We are glad to bring you these tutorials. Make sure to join us on our Facebook and Twitter be regularly updated about our content.