If you are looking for an affordable hosting solution for your website, there are numerous options available, but not all of them can offer you the best service. Some renowned hosting providers like Siteground, Go Daddy, and Cloudways. But today we are not here to talk about them. Today's comparison battle will be between two hostings providers-Elementor Cloud and Divi Hosting. The comparison will be based on a few facts like features, prices, user experience, etc. So without further ado, let's start the battle.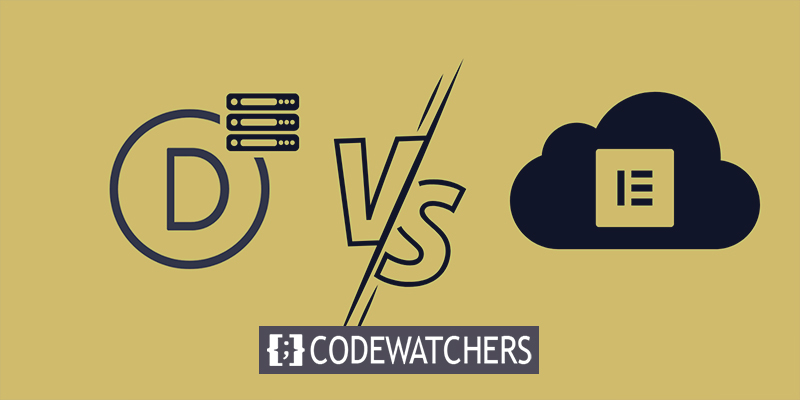 Elementor Cloud Hosting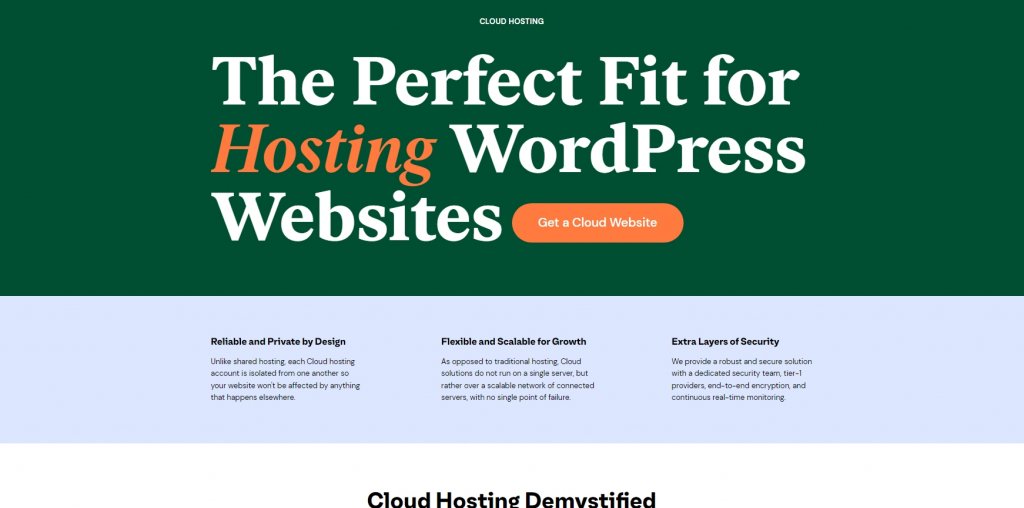 Elementor cloud service is being offered by the same company that runs the most popular WordPress page builder on the market. The cloud hosting offering is an entirely self-contained service that promises to take care of the hosting and technical parts of making a website so you can focus on building and designing.  With the Elementor cloud facility, you'll be able to manage all of your websites on a single dashboard. It's a complete solution for people who want to build and design websites without worrying about other things. The service handles hosting and other technical parts of making a website, so you don't have to.
Features
Signing up for the Elementor Cloud Website grants you access to the admin credentials and frontend design tools. Most managed WordPress hosts use the same fundamental resource model for their back-end infrastructure, with limits on storage, bandwidth, and visitors.
With Elementor Cloud, you have now the choice between 4 plans. Each plan has a price and features. For a personal blog, you'll be paying $9.99 monthly (for the first year) and for an agency, you'll be paying $49.99 monthly (for the first year as well) to create 10 Elementor Cloud websites.
Create Amazing Websites
With the best free page builder Elementor
Start Now
Elementor Cloud has been improved so that it can be used for small blogs with low traffic to a company website/eCommerce stores with thousands of visitors daily.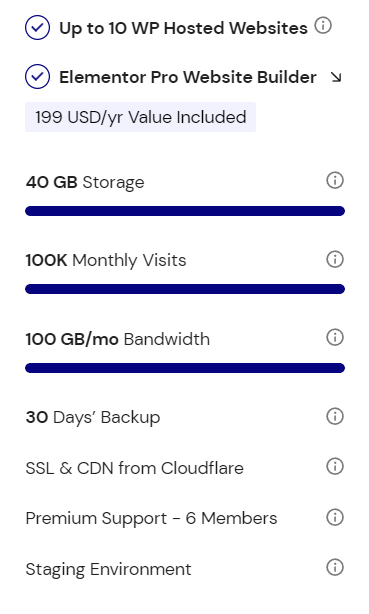 The features of the Elementor Cloud Website are split into three groups: Hosting, CMS, and Design Tools.
Elementor is built on the Google Cloud Platform and uses Cloudflare's Content Delivery Network. Google Cloud is used by some of the biggest companies globally and millions of customers because it is fast, safe, and easy to grow. With Google Cloud, your site is protected from fraud, spam, and abuse by Google's high-tech security tools. In addition, with Cloudflare's built-in, unmetered DDoS protection, your site is also protected from DDoS attacks and brute-force hacks.
You can bring your own domain name, and you'll have access to free SSL certificates that are already built-in. Elementor will also back up your site every 24 hours, and you'll have access to premium support.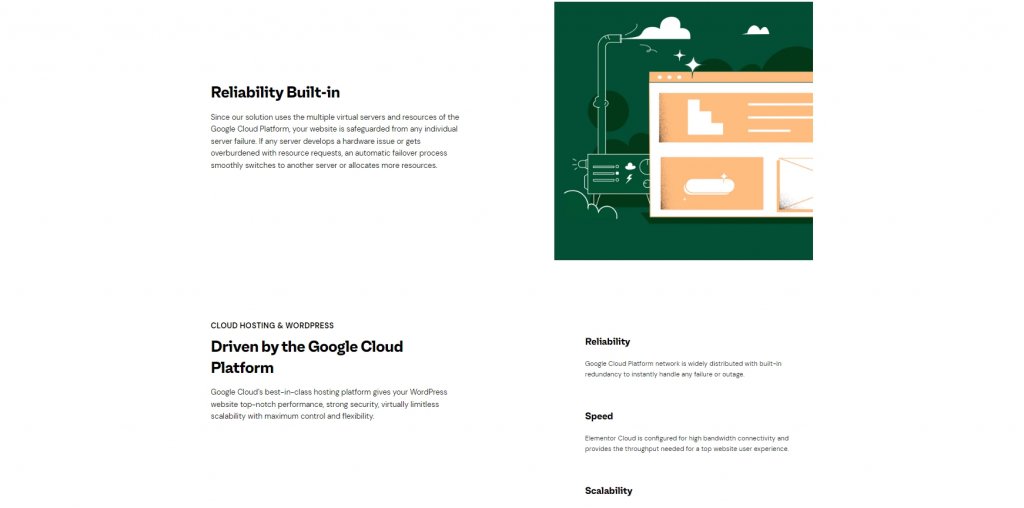 There's also a nice feature for people who build sites for clients, which is a lot of Elementor users: you can make a site private and lock it with a code while you're working on it. This is cool if you're working on a client site and want to give your client access while keeping the site private from random visitors.
Elementor Cloud Website already has WordPress installed and has built-in editing tools from Elementor Pro. You can also use the fast, free, and versatile Hello Elementor theme.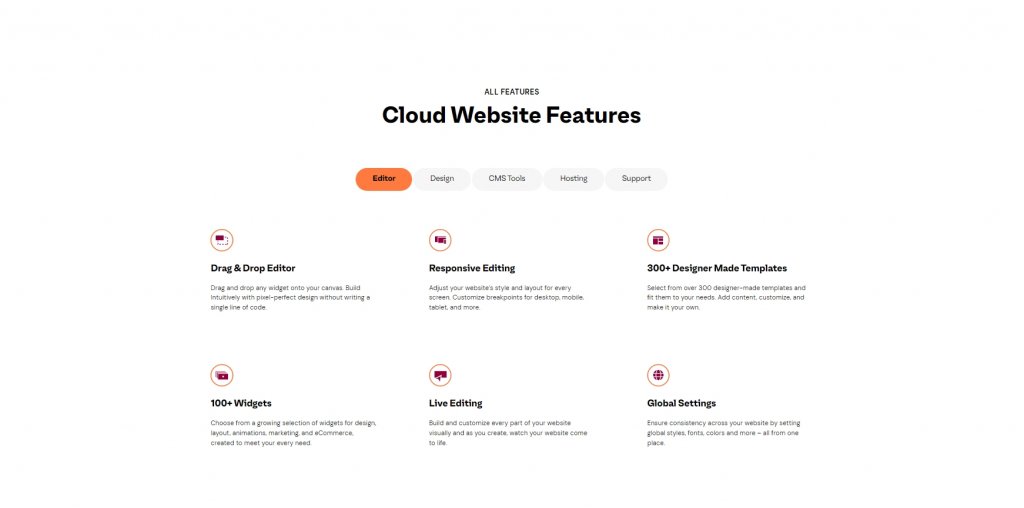 If you sign up for Elementor Cloud Website, you can use all of Elementor Pro's features. This includes more than 100 widgets, more than 300 templates, website kits, and other things.
Pricing
All of the above features are included in Elementor, which costs from $9.99 to $49.99 monthly (for the first year). For this price, you get one website with all of the Elemento Pro features and WordPress already set up on the Google Cloud Platform.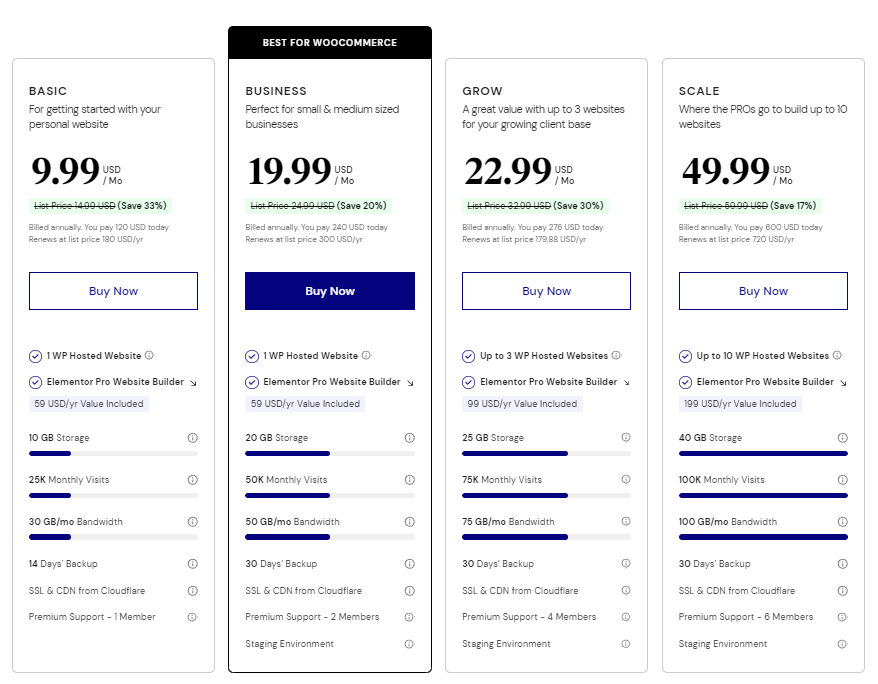 In terms of pricing for similar features, the pricing is quite flexible. You can now start with a single website or use a greater plan to create more websites, all this managed from the same dashboard.
From the prices, it's clear the pricing fits various budgets. There is also a 30-day money-back guarantee, so you can try it out without any risk and get your money back if you don't like it.
User Overview
Elementor cloud hosting frees you from problems that WordPress users usually have to deal with. However, it can be hard to figure out where the problem is coming from and how to fix it. To do that, you'd need a lot of experience with developing and deploying WordPress, which goes against the point of these ready-made solutions.
But what if you could get support for hosting, backups, themes, and plugins all in one inexpensive package? You could have fun creating a website that works well and make money by making a good deal. 
Most hosting services have hidden fees for things like SSL, CDN, backups, bandwidth, etc. Even if a WordPress website owner pays a premium price, they aren't happy because the interface is hard to use, customer service is slow, and sometimes the website takes a long time to load.
Elementor Cloud is your one-stop solution for these hidden costs and technical aspects of WordPress hosting. You no longer have to find a domain registrar and a hosting provider to register and host your domain. Elementor Cloud Website is the future.
Divi Hosting
Divi is one of the most popular WordPress themes and page builders, and with Divi Hosting, there's a new, easy way to create and host a Divi website. Flywheel, SiteGround, Cloudways, and Pressable are four of the most popular WordPress hosts that power up Divi hosting. However, it does have a few useful features that are especially helpful if you are just starting out with WordPress.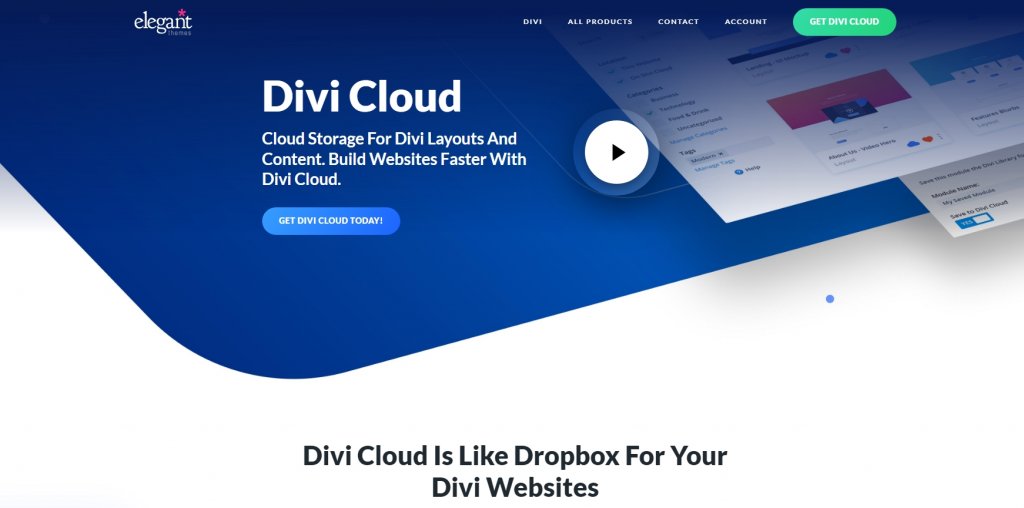 For example, if you're starting your first WordPress site, Divi Hosting will make it very easy for you to get up and run.  Divi hosting is a product of Elegant Themes' hosting infrastructure which is handled by those well-known hosting providers.
Also, you get all the same features you'd get if you signed up with those hosts directly, and you'll still go through your hosting company if you need help with hosting. So basically, it's the same as if you had signed up directly with one of those hosting companies, including the addition of Divi-specific features.
Features
Once you've decided that Divi is the WordPress theme for you, all you have to do is select one of the three main hosting options offered through this service (more on those in a second).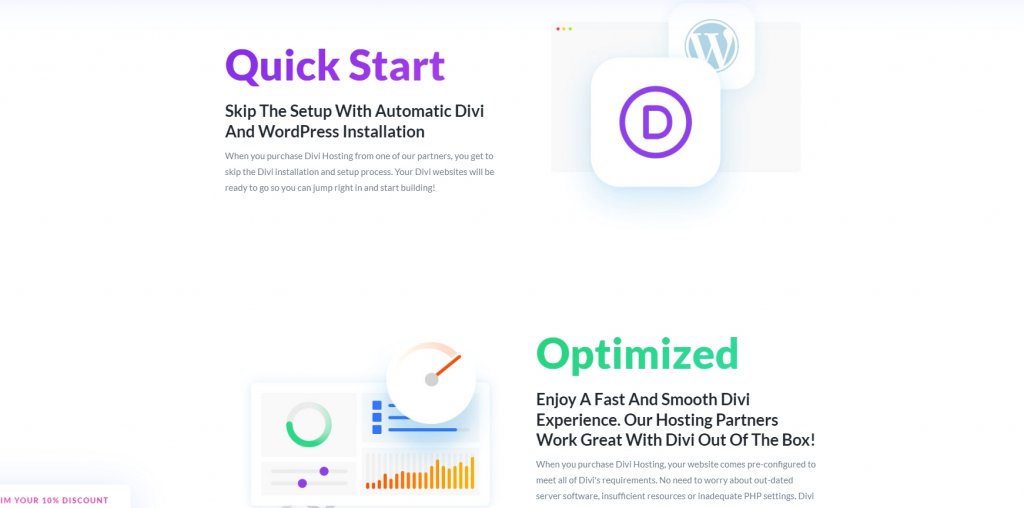 Because the Divi theme is already pre-installed and linked to your Elegant Themes account when your website is built, you won't have to search for or enter your license key to begin using Divi.
If you're still unsure about Divi, consider the benefits of using this well-liked theme:
Unique page layouts are included in more than 160 high-quality website packs.
It may be used to create any kind of WordPress website.
It has a drag-and-and-drop page builder built right in.
Including the header, footer, and sidebar, you may customize anything about your website with it.
An integrated split-testing tool is available to help you improve your website.
You'll also get two free plugins to help you make the most of your website.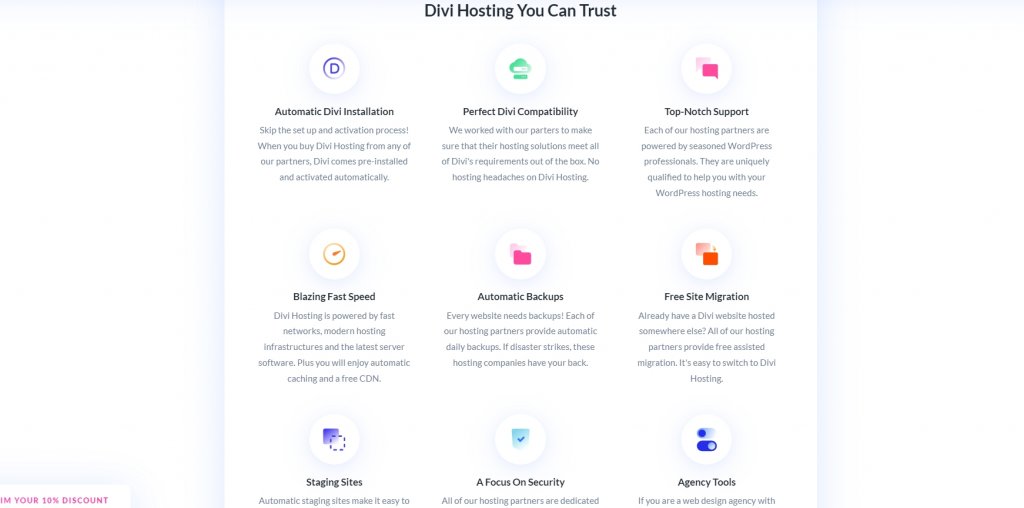 If you decide you no longer want to use Divi, the Divi Hosting service allows you to move to another theme.
Pricing
Three hosting companies that Elegant Themes has had the best experience with over the years when it comes to testing and implementing new Divi features and maintaining their customers' websites, Flywheel, Pressable, and SiteGround, were chosen.
We can confidently recommend these web providers due to their wide range of affordable and high-quality hosting options, including their entry-level shared hosting plans and their premium managed WordPress hosting.
To give you a quick indication of how much it costs to host your website with different businesses, here are the rates of their entry-level plans:
SiteGround: from $10.69/mo
Flywheel: from $290 a month
Pressable: from $88 a month.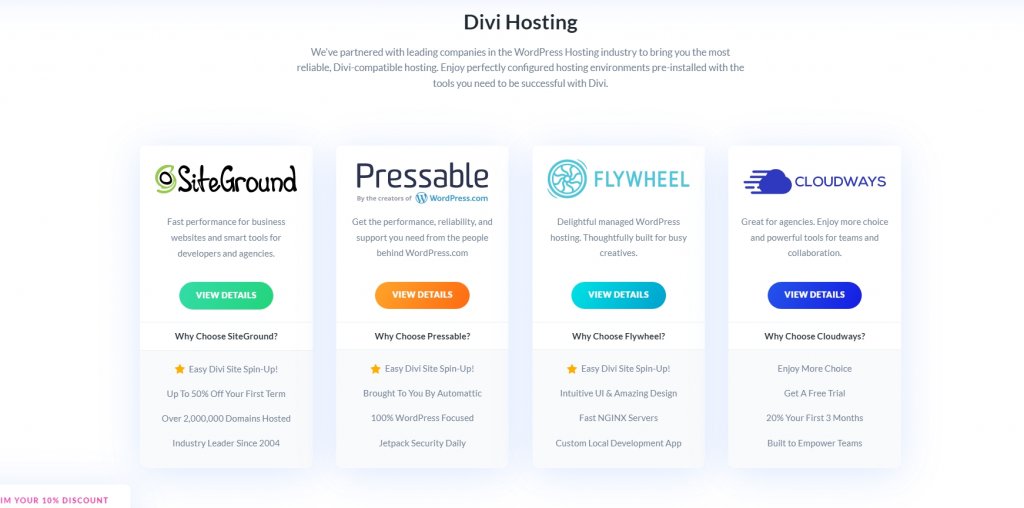 We've previously tested these hosts and are determined to have excellent performance, useful features, and friendly customer service.
User Overview
Elegant Themes doesn't have its own hosting service, but by partnering with three of the most popular and trusted names in the web hosting industry, this service should make it easier for people to start new sites. Because there are so many choices, it can be hard to decide on a web host. So, the Divi Hosting service does offer a way for people who would rather not have to make this choice.
Even so, you still have to choose between Flywheel, Pressable, Cloudways, and SiteGround. Even though your choices have been narrowed down a lot, you still have to make a final choice. But the prices of these hosts' plans and your budget should help you narrow down the choices even more. Also, since most plans have different limits on storage, traffic, and bandwidth, as well as different features, your needs in these areas will lead you to the right host and plan.
When you sign up for Divi Hosting, the main benefit is that the Elegant Themes flagship theme will be installed, activated, and linked to your Elegant Themes account for you. You can't save money on the price of Divi if you buy it separately or sign up with the partner hosts on your own. But if you don't have time to research web hosts and themes, or if you were already planning to use Divi and sign up with Flywheel, Pressable, Cloudways, or SiteGround anyway, the Divi Hosting service can save you time and effort when starting a new website.
Which One Should You Go For? 
Although Elementor Cloud and Divi Hosting offer the same service, they aren't alike. Yes, they both offer great hosting services in terms of price and features, but we believe that Elementor has the edge over Divi. Elementor is a self-sufficient Google infrastructure-based hosting service that has paired up with Cloudways to offer premium and reliable hosting services. On the other hand, Divi hosting uses cloud storage facilities from three renowned hosting providers, and that's why the prices vary. With Elementor hosting, you'll be receiving Elementor Pro for one year and a lot of other facilities like plugin installation, subdomain support, auto backup, etc but Divi hosting only offers the Divi theme premium version. However, the choice may vary from person to person, but Elementor is ahead on the line here. Will Divi catch up soon? Let's see!