Recently, the guys' at Elegant Theme has released "Divi Hosting". The purpose here is indeed to ease at much as possible the work for the user and to centralize everything for easier management. This service is offered as a subscription, with what looks like a partnership with acknowledged WordPress hosting providers.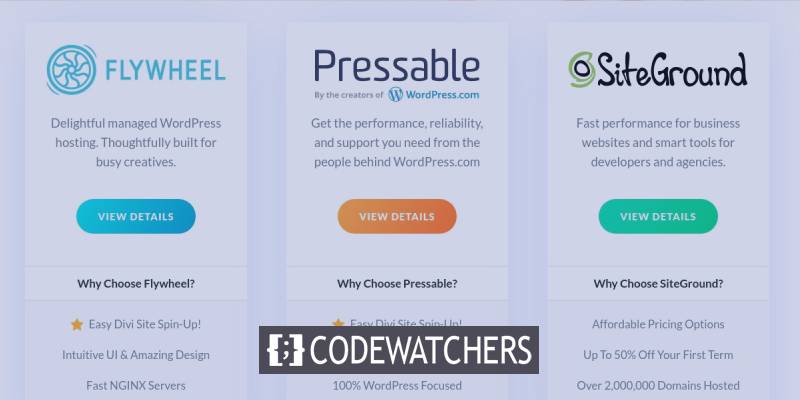 We already know that Divi is certainly one of the best WordPress themes, but with that new service can you expect to access a furthermore affordable hosting service ?
That's what we'll find out.
But concretely, what is Divi Hosting ?
Based on what we've discovered, Divi Hosting is a hosting provided by Elegant Theme's recommended hostings. There has been as a hand-in-hand work that has made these hosting services to provide a fine-tuned and optimized Divi hosting. We here mean hand-in-hand as there is an integration with your actual Elegant Theme account, which means you can easily create a quick WordPress installation.
Create Amazing Websites
With the best free page builder Elementor
Start Now
The advantages are multiples and behind this amazing idea, there is a seek for simplicity :
New WordPress installation comes with the latest Divi version
No need to activate as it's already activated for you
No configurations required, the best are done for you
CDN service included
SSL Provided
Certified WordPress hosting providers are backing you
Only few hosting providers are selected as they provides a top-norch hosting solution for Divi.
Divi Hosting Partners : Hosting Providers
For now, we can count 3 providers. We believe over time, the list might increase,
Divi Hosting with Pressable Pressable is recognized as a managed WordPress hosting provider. And we should highlight it's a service provided by the creator of WordPress.com (so WordPress Team itself). They has very affordable pricing starting from $25/month with includes.
Key Options
30,000 visits per month
Storage 20Gb
SSL i2ncluded
CDN for each setup
Free SSL Certificates
Automattic's WordPress Architecture
Staging Environments
24/7 Support
Jetpack Premium
The Fastest Server Monitoring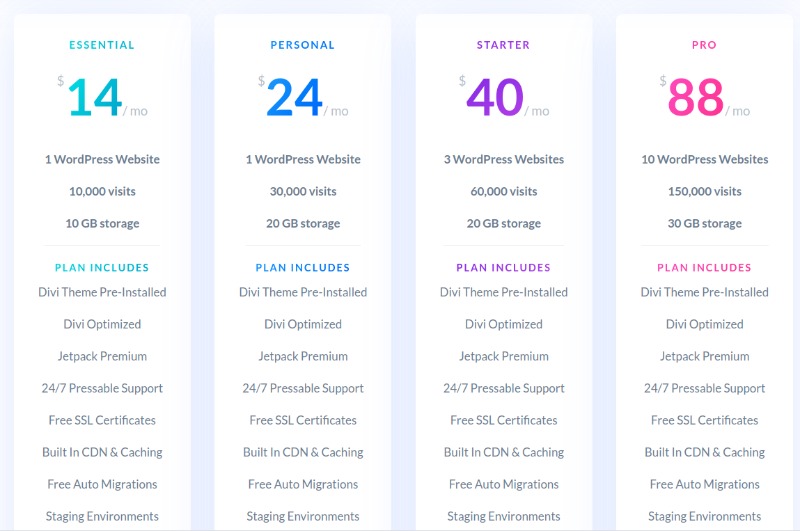 With Divi Hosting by Pressable, you'll have your setup created there and maintained by their dedicated team.
Divi Hosting with SiteGround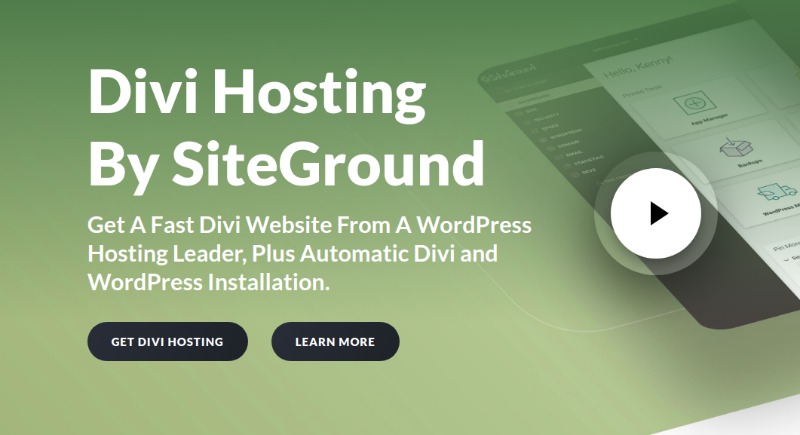 SiteGround is one of the most known managed WordPress hosting providers (but not only). They host currently around 2.000.000 websites, which proves how much people trust their service. As a WordPress provider, they have very affordable pricing starting from 3.95$/month :
Key Options
From 10 Gb of web space
10.000 monthly visits,
CDN, SSL, unlimited database
Daily Backup
Unlimited Databases
1 Website
Unmetered Traffic
Free WP Installation
WordPress Auto Updates
Free Email
With this price, your piggy bank will quickly get full.
Having SiteGround on Divi Hosting is good news because there is a lot of interesting options you'll get. And you should remember the price are different according to the provider you'll choose.
Divi hosting With FlyWheel
Here come the last partners of Divi Hosting. FlyWheel has also over time served a lot of WordPress users with their managed WordPress hosting. They also have quite an interesting pricing table starting from $13/month, which gives you access to: 5.000 monthly visits, 5 Web spaces, 20 bandwidth. While the 13$ looks lacking some interesting options, you can can the deal with the 25$/month subscription. For all of their plans, you get :
Key Options
Simple SSL Certificates
30+ StudioPress Themes
FlyCache
CDN (powered by Fastly)
FlyCache
Genesis Framework
Auto-Healing Technology
24/7 Support
Migration Dashboard
Managed Plugin Updates
Does Divi Hosting Is Really Affordable ?
Based on the same options review we had with the 3 partners, we can see they already offer very interesting pricing. But you might wonder if it worth using this service ? Let's remind you exactly what you get with Divi Hosting. Actually, it's not just about WordPress and a hosting fully featured, but it's also about Divi that you get included. This means, as long as you pay one of the partners subscription, you have a valid Divi license + updates and support.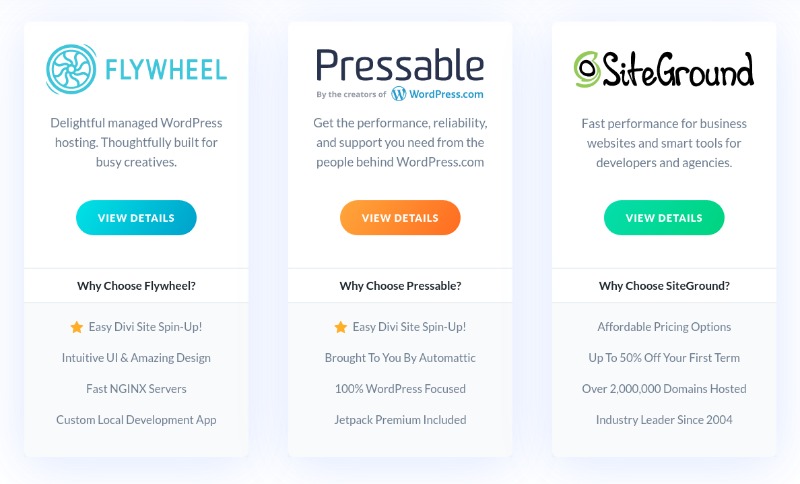 As a quick reminder, Elegant Themes prices starts from $89/year, that means around $7.5/month. If separately you choose let's say Pressable package which worth $25/month, that makes $300 (pressable) + $89(divi) so $389/year, which for me is a lot expensive.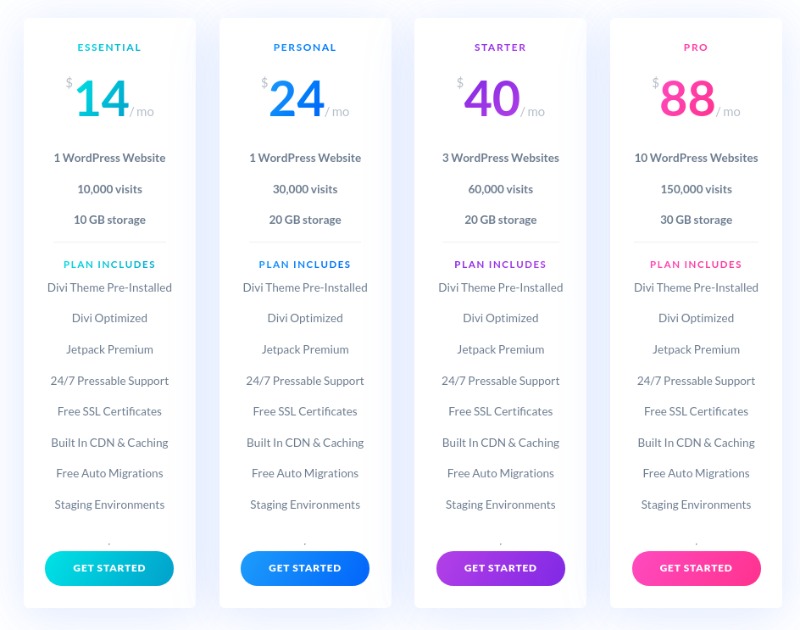 Using the same partners, under the Divi Hosting program, you get Divi included for $24/month so $288/year. Does that make the Divi Hosting program affordable? Obviously yes. But more than sparing some bucks, you also get into an "everything-connected" ecosystem.
While there is no clear pricing table for SiteGround since it has some really affordable price, the offer might furthermore be extremely affordable (maybe free ?).