Divi 4.17 now includes a front-page view, allowing you to see how your website is being built directly from the home page without navigating to the module. Divi's drag-and-drop functionality will enable you to easily add images, text, video, and music to the page. You can create professional-looking websites without knowing CSS, HTML, or PHP. This is an excellent resource for anyone who is not a developer but wishes to create a professional-looking website. To learn more about what makes Divi the most excellent WordPress page builder and all the new features included in the upgrade, see our Divi Review.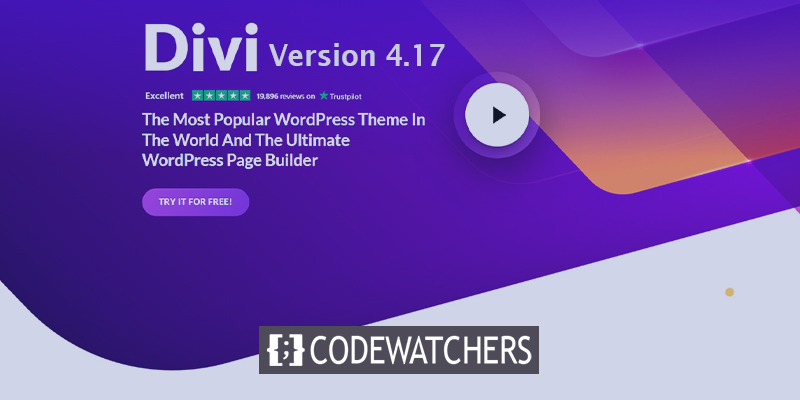 What are the best new Divi 4.17 features?
Here are the best features of Divi 4.17 that will make your web developing experience more enjoyable.
Divi Cloud Storage System
Every layout and content piece you save to Divi Cloud is instantly available in the Visual Builder on any website you develop. By employing pre-made parts, you may construct new websites faster than ever. No need to export and import Divi layouts. No need to plan. Save JSON files and send them over email or chat. Less time spent in the WordPress dashboard looking for Divi layouts. Your layouts are organized, accessible, and ready when needed.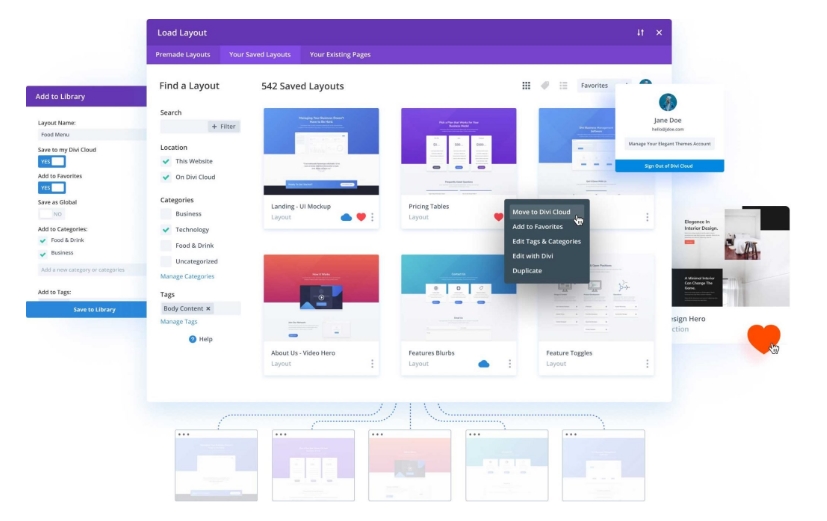 The Visual Builder can handle your whole Divi Cloud collection. You may save, modify, remove, restore, rename, copy, preview, tag, and favorite layouts with the builder. With your selected structures grouped into folders, it's simple to find and import them immediately onto the page you're working on.
Create Amazing Websites
With the best free page builder Elementor
Start Now
When you save layouts to Divi Cloud, Divi creates thumbnails and full-size screenshots for you. Divi's cloud service provides it all. Now you can browse your Divi Library visually, rather than relying on file names and post titles. This is great!
Divi Pop Up Module
Divi has included a new Popup Module. Visual builder enables the creation of a popup right on your page.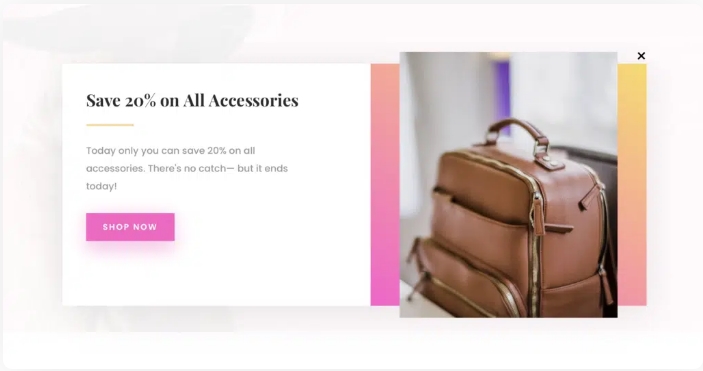 For developing simple modal-style popups without ever leaving the Visual Builder, the Popup Module features built-in text boxes. If you want to make your popup stand out, Divi's built-in design tools make it easy to add a custom border, drop shadows, and more. Of course, text boxes aren't your only option. The possibilities are truly endless with the Divi Library Layout (just like Divi Overlays).
You may use all of Divi's built-in modules and design tools to create your popup.
Gradient Background Builder
Using Divi's new backdrop options has opened up a whole new world of possibilities for Divi's users! The new gradient builder makes it simple to construct whatever type of gradient we desire with as many colors as possible. But, it's not all there is to be creative. Gradient Builder can be combined with backdrop masks and patterns to create an infinite number of attractive background designs for your site.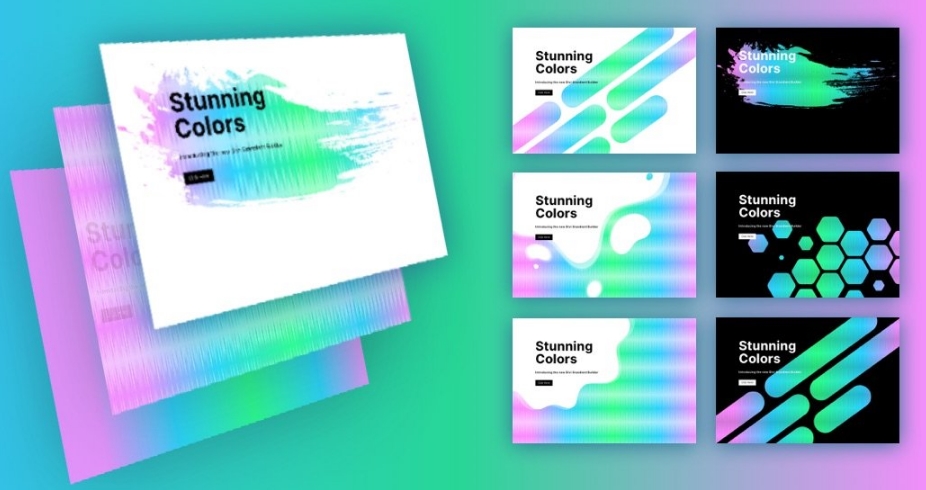 To create a stunning background, we will use Divi's Background Gradient Builder in conjunction with background masks and patterns. Now Divi has added all the backdrop elements (background gradient, masks, and patterns). As an added bonus, we'll show you how quick and simple it is to switch up the design choices.
Site-Wide Post & Product Templates
In addition, you can design custom body templates in the Theme Builder to alter the default structure of your website's posts, products, and any other post type. You can use the Theme Builder to create a site-wide template instead of manually updating each post and product. Divi's WooCommerce Modules allow you to create custom product templates by assigning dynamic content to Divi modules within these templates. This allows you to show information about the current post, such as its title, content, and featured image, anywhere you want. You only have to make one change to them to observe the effect on the rest of your website.
Organize Divi Cloud Items by Category and Tags
When it comes to creating websites, the organization is everything. An efficient design process is made easier with the help of this tool.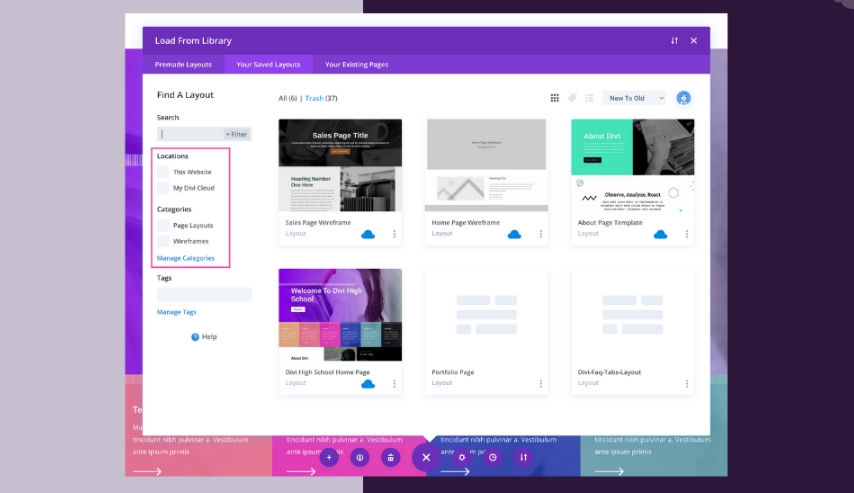 Building websites has never been easier than it is now, thanks to Divi Cloud. This is like Dropbox for Divi sites. Divi Builder Elements can be stored in the cloud and accessed via your member API key on every Divi website you're developing. So you can save and load your preferred page layouts, sections, and rows with only a few mouse clicks. Isn't that the finest part? With your Divi membership, you have immediate access to this feature.
Power Of Dynamic Content
While the Divi theme builder is an excellent tool in and of itself, it enhances some of the most significant capabilities of the Divi platform. For example, Divi's Dynamic Content function takes on a whole new meaning when updating Theme Builder layouts. Site-wide Theme Builder templates are made possible by Dynamic Content, which dynamically pulls each post content and applies it to the template you've given to the post type you've selected. If you want to build your post templates with Dynamic Content, you can use any of the Divi modules' content spaces.
3D Motion Scroll Effects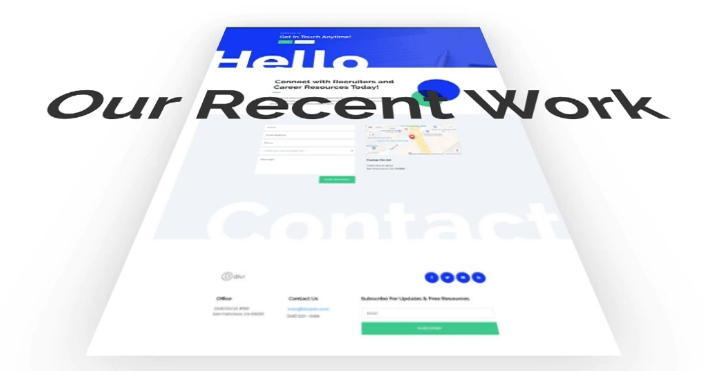 You can quickly incorporate 3D motion scroll effects into your Divi website by combining several powerful built-in Divi capabilities – scroll effects and transform rotation. The concept is actually quite simple. Before applying scroll effects to shift elements horizontally or vertically, transform rotate is used to rotate the element's container. As a result, scrolling can take place on a plane in three-dimensional space.
A/B Split Testing
To determine which version of your page converts your particular goals the most effectively, Divi Leads, a robust split testing system for the Divi Builder, allows you to send out several versions of your page to different visitors in real-time. It is possible to test different colors, headlines, and layouts, and Divi Leads will tell you how each variant stacks up in the battle for more clicks, purchases, and increased engagement. Simply choose the best-performing option after the test is complete. The Divi Leads Visual Builder now has the ability to build, manage, and track split tests using our modern front-end interface, which we are launching today.
Full Changelog Of Divi 4.17
You can find changes like bug fixes, new features, and accompanying version numbers in the Divi changelog. Divi's changelog will feature all significant updates. Developers and users alike benefit from keeping track of changes in huge projects like Divi.
You may discover here all of Divi's recent updates and adjustments. Whenever there's a new version of Divi, you can guarantee we'll have the details right here. In addition, now you can view release notes from previous versions by going back in time. Using these, you may quickly find specific fixes or additions to the software.
Looking For Best Divi Resources?
You can learn all about Divi 4.17 and get new effects and extensions from the Divi tutorial section. The Divi 4.17 page builder will have a slew of new capabilities in 2022, many of which are covered in tutorials and other materials. In addition, the Divi manual includes a step-by-step explanation of how to utilize the software. Or you can join their community center, where you can ask questions and get help at any time.