Cloudways was created by Uzair Gadit, Pere Hospital, and Aaqib Gadit in 2009 and its headquarters is on the island of Malta in Europe. They also have offices in Spain and Dubai and their 30+ personnel enabled 8,000 people from 43 different countries to create 12,000+ servers, 25,000+ online apps.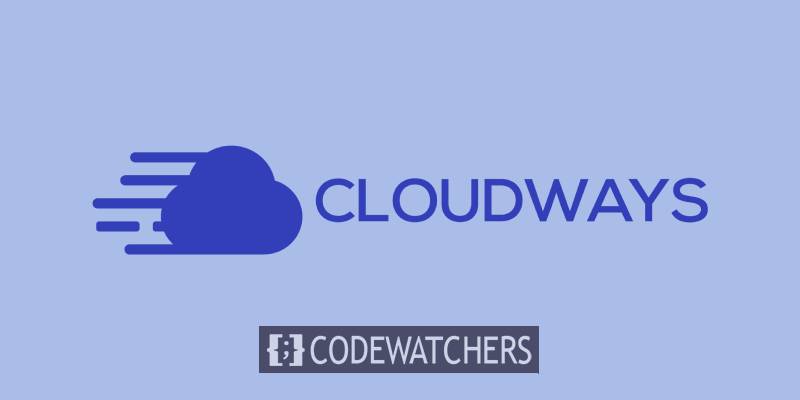 Cloudways' aim is to provide managed cloud hosting solutions so that customers can focus on their businesses while Cloudways takes care of their hosting issues.
Unlike most other web hosting providers, Cloudways allows you to create a website for free. Create a three-day trial account, or log in with Github, Google, or LinkedIn credentials, which is a great touch. After logging in, you'll be prompted to choose a content management system (CMS) from a list of well-known and well-respected options, including Drupal, Joomla, Koken, Magento, Media Wiki, PHP Stack, Prestashop, and, of course, WordPress. Here, there's a lot of versatility on exhibit.
When searching for managed WordPress hosting, you'll almost certainly come across a number of firms that provide comparable services. While the majority of web providers provide managed WordPress hosting on a shared, VPS, or dedicated server, one business has gone above and beyond to give a genuinely unique managed hosting solution.
Create Amazing Websites
With the best free page builder Elementor
Start Now
In today's review, we'll go deep into Cloudways and figure out why it's probably the solution you should go through if you plan to create a WordPress website.
Why Cloudways is Good For WordPress ?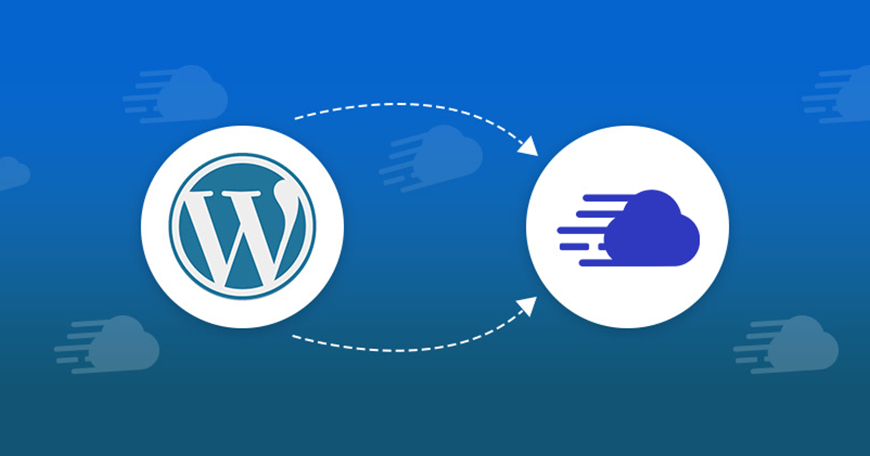 Cloudways is one of the rare hosting providers that come with optimization for WordPress. Out of the box, from the Cloudways dashboard, you'll be able to manage various aspects of your website including :
Security
Security should be one of the top concerns of every WordPress owner. With a good IP whitelist tool, from Cloudways you'll be able to control who can access your website.
Monitoring
The server monitoring is perhaps one of the most impressive features that Cloudways offers with their cloud hosting solutions. From the monitoring, you'll able to see a graph that will help you monitor the load on your cloud server. A simple drop-down menu gives over 15 details to monitor, some of which include incoming traffic, Idle CPU, and Reads per Second.
Better Handling For Huge Traffic
If you have at any time a surge in your traffic, with vertical scaling, you can adjust allocated server resources at any time with a few clicks. You'll thank Cloudways for providing such an amazing feature when experiencing a traffic surge.
You should know that if you're scaling for just a short period Cloudways offers a "Pay as you go" pricing so that you don't have to pay for server resources you won't need later on.
Backups
You don't have to worry about backups as Cloudways lets you set up automatic backups of your cloud server images. You can set up the server to create a backup every day, two days, three days, and so on with the maximum backup frequency being one week. You can also back up your server at any time manually with just one button.
Other Tools And Settings
Cloudways provides more tools besides those mentioned above. For instance, under the "Manage Services" option, you can configure services like MySQL, Apache, and the cache memory.
Under the "Migrator Tools" option, Cloudways helps you to move an existing website to the Cloudways platform.
You may install application-specific add-ons for DNS administration, transactional email services, and so on in the "Application Add-on" area. The Cloudways dashboard also includes other features such as backup restoration, SSL certificate installation, and Git integration, to mention a few.
Is CloudWays Really Fast ?
Cloudways has a 99.99 percent uptime and loading times of 400–600 milliseconds as a cloud-based web hosting service. The major reason for this is because the firm works with some of the finest cloud providers in the market, including Digital Ocean, Google Cloud, Vultr, Linode, and AWS.
As previously stated, I personally evaluated server speed for the sake of this study. On both mobile and desktop, Google PageSpeed Insights gave my test site a perfect score of 100/100, while Pingdom gave it an A with a 96/100 speed score.
United States
Australia
United Kingdom
Japan
France
Netherlands
Germany
It is also possible to pick a city for many of the nations listed above, allowing you to place your server closer to your visitors geographically. Cloudways operates data centers in San Francisco, New York, Seattle, Los Angeles, Dallas, Chicago, Newark, Atlanta, and Miami in the United States.
Cloudways boasts super-fast page loading times thanks to their cutting-edge technology stack, created for maximizing speed:
All of these elements work together to give Cloudways an exceptional level of performance and site speed. User evaluations reveal that their loading speeds are 40% to 50% faster than those given by shared web hosting.
Does Cloudways has a free trial ?
The most effective method to ensure that a service meets your needs is to try it for yourself. Cloudways recognizes this and offers a free 3-day trial so you can evaluate everything before purchasing.
It's simple to get started with your free trial: On the Cloudways site, click the Start Free button in the upper right corner. You must include your name as well as a valid email address. There is no need to provide any payment information.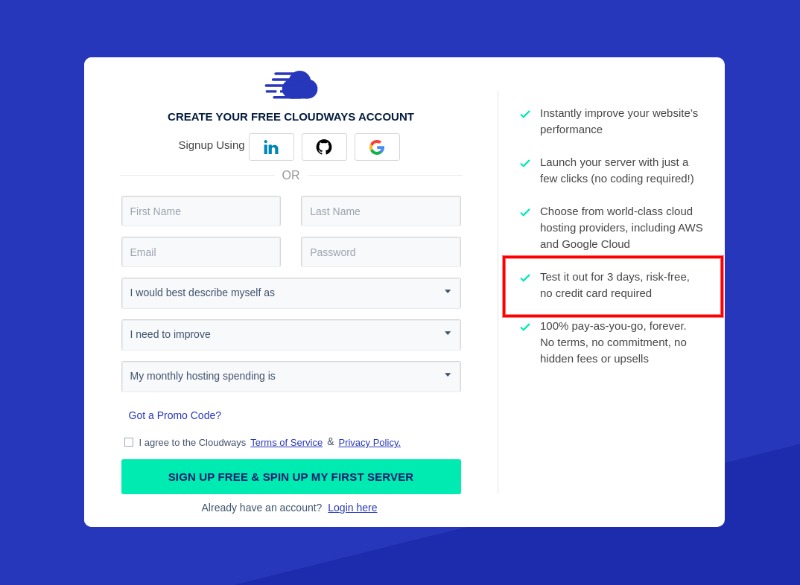 The three-day free trial period is long enough to thoroughly evaluate Cloudways' features, speed, and convenience of use. You can upgrade to a premium package and have your current site transferred to Cloudways during the trial term.
Is Cloudways Optimized for eCommerce?
Cloudways Hosting comes with a slew of e-commerce-friendly features that make selling your products online a breeze. Over 10,000 e-commerce stores are now hosted by the firm.
Thanks to a combination of Memcached, Apache, Varnish, and Nginx, the host promises 100 percent uptime and super-fast page loading speeds as low as two seconds.
In addition to a user-friendly interface, unlimited storage, controlled security and backups, and 24-7 support, the host's e-commerce solutions include a user-friendly console.
The Supported eCommerce Platforms
Cloudways Hosting offers a variety of major e-commerce systems, such as Magento, WooCommerce, and Prestashop, so you can sell your products and services online.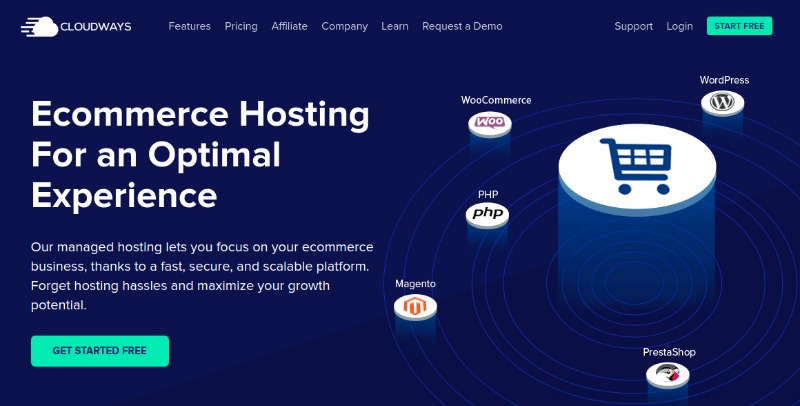 WooCommerce
Cloudways hosting also supports WooCommerce, a prominent e-commerce platform. With a one-click install procedure and a free automatic migration service, the hosting company has gone above and beyond to make installation a breeze.
Meanwhile, the host's WooCommerce hosting plans include features like WP-CLI support and one-click server scaling, allowing you to supplement your business's resources during peak periods.
Magento
Cloudways claims to be able to install Magento with a single click, removing the hassle of setting up the open-source e-commerce platform. The hosting service is also geared for high-speed Magento stores, which means more conversions for your business.
Multi-SSL deployment, as well as built-in SSH and Git environments, are additional capabilities. Your online business might also benefit from a free relocation service.
Does Cloudways has the best pricing?
Cloudways' cost is one of its strong points since it is less expensive than its competitors. The cost of joining Cloudways is $10 per month. Cloudways' pricing is determined by the resources you use, and the firm offers a variety of plans to accommodate all types of websites, from a basic WordPress blog to a large app, which is one of the many reasons for its stellar reputation.
Cloudways, like other major shared hosting companies, allows credit card (Visa, MasterCard, and American Express) and PayPal payments.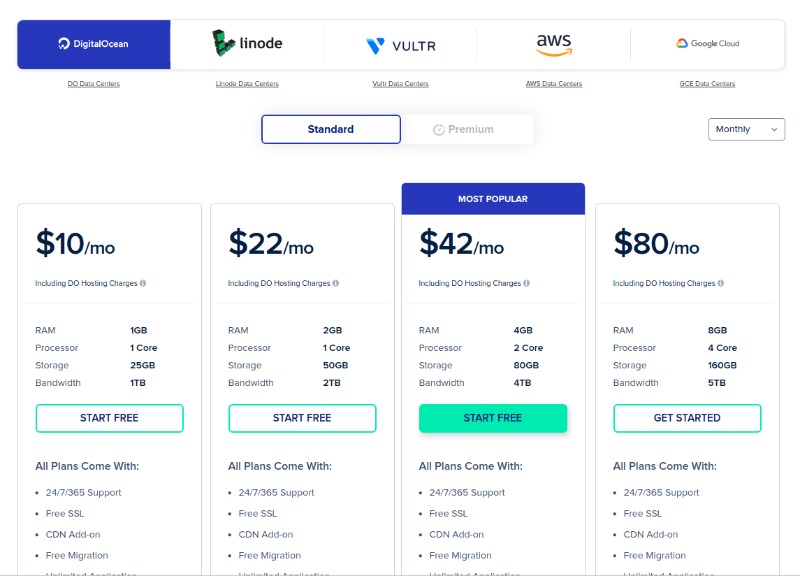 Cloudways offers 5 different cloud server providers which you can choose from.
DigitalOcean – From $10/month
Linode – From $12/month
Vultr – From $11/month
Amazon Web Services (AWS) – From $34.91/month
Google Cloud Platform – Starting at $33.30/month
Because Cloudways offers vertical scaling, you may customize your server to meet your specific requirements. You may start with the cheapest package (DigitalOcean cloud server, 1GB RAM, 1 Core processor) and upgrade as your website or application grows in popularity.
24/7 professional assistance, limitless app installation, free SSL certificates, and free migration are included in all subscriptions.
How Good Is Cloudways Support?
We attempted to contact Cloudways' pre-sales support through live chat. We were unable to contact an agent on a Saturday evening, but the Cloudways Bot gave assistance. While the bot couldn't answer some of my technical queries, it did an excellent job of leading us to the appropriate plan for my website's needs and provided me the option of calling an agent at a later time.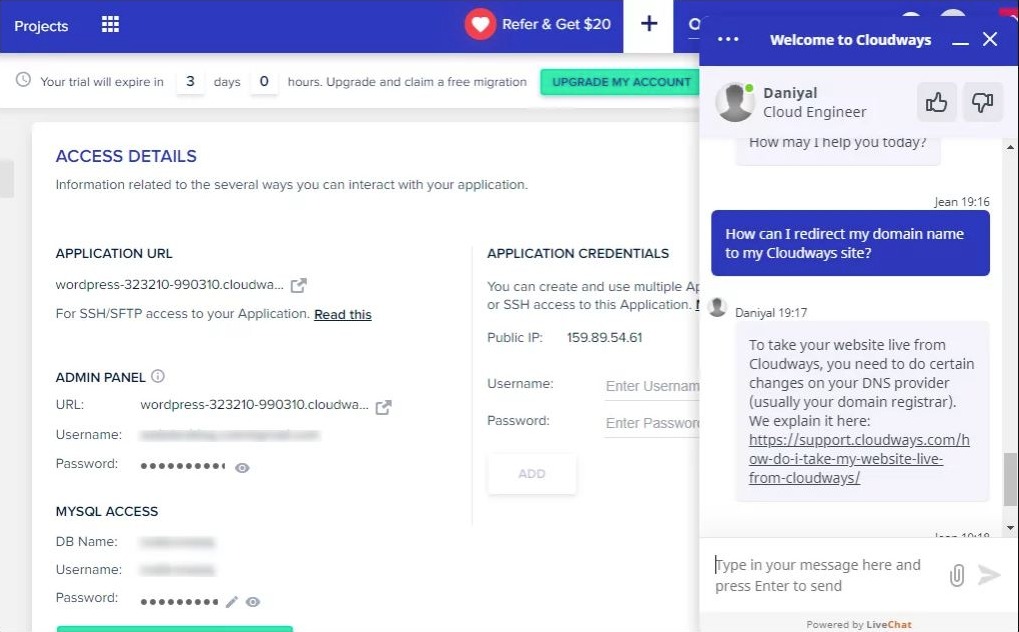 I contacted Cloudways customer service after signing up for the free trial and had a few questions. After the bot failed to respond to my questions, I was moved to a support agent who was able to assist me.
Customer service at Cloudways may be accessed by live chat, email, or phone.
How to Get A Refund?
One of the most important questions we use to ask ourselves before using a service is whether in case we aren't satisfied with their service, we'll get refunded. Cloudways as many other services offer a refund policy that grants the refund but in certain conditions.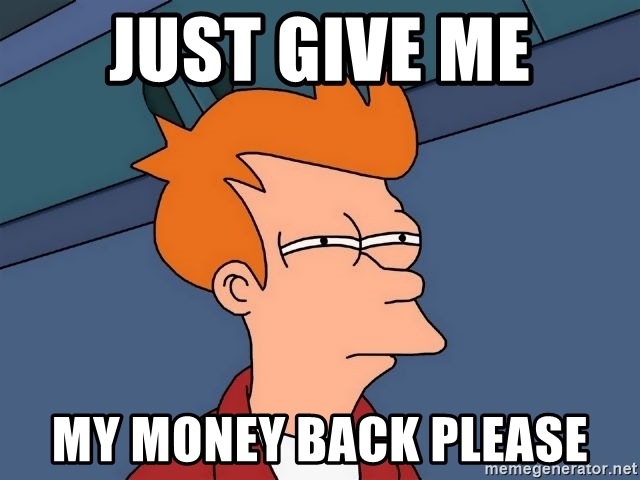 In fact, Cloudways will refund your unused prepaid credit, if those were added within the 3 last month. Since Cloudways offer a pay-as-you-go service, you won't get refunded for the services that you have used and you're not satisfied with.
Summary
When it comes to cloud-based managed WordPress hosting, Cloudways is one of the few providers that strikes a good mix between price and capability. Their WordPress cloud servers provide a lot of cool features, and you can scale up or down your hosting resources as your site expands.
If you're still undecided about hosting your WordPress site on a cloud server, Cloudways provides a 3-day free trial to try out their platform.