Nowadays, it is hard to run a profitable and successful business without a well-designed website that can build your online presence and attract potential online clients. You can either hire a web developer to build your website for you or do it yourself.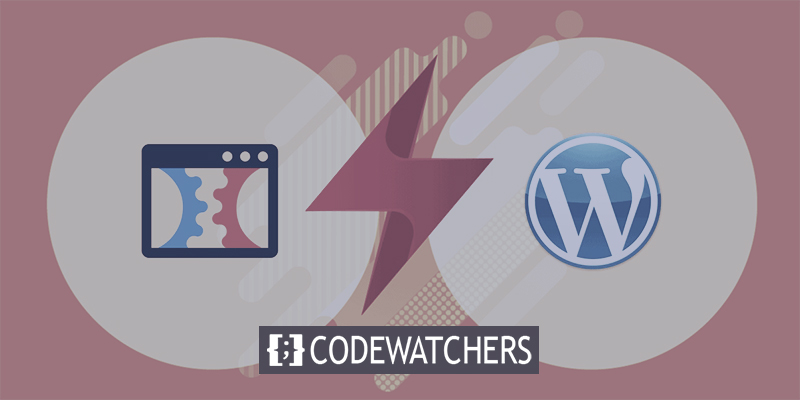 Either one of the above-mentioned methods has become the most convenient due to the variety of advanced website-building tools and sales funnel builders. Both ClickFunnel and WordPress are tools for creating a professional, well-designed website for your company, but they are not the same. ClickFunnels is an all-in-one digital marketing platform that focuses on funnels and landing pages, whereas WordPress is a tool that simply allows you to create websites. Find out which tool is best for you in our ClickFunnels vs. WordPress comparison.
ClickFunnels vs. WordPress: Overview
ClickFunnels is your best bet if you're searching for an all-in-one internet marketing tool that will help you develop sales funnels and landing pages without any problems. However, if you're looking for a platform to help you develop a website for your business, WordPress is the way to go.
Overview of ClickFunnels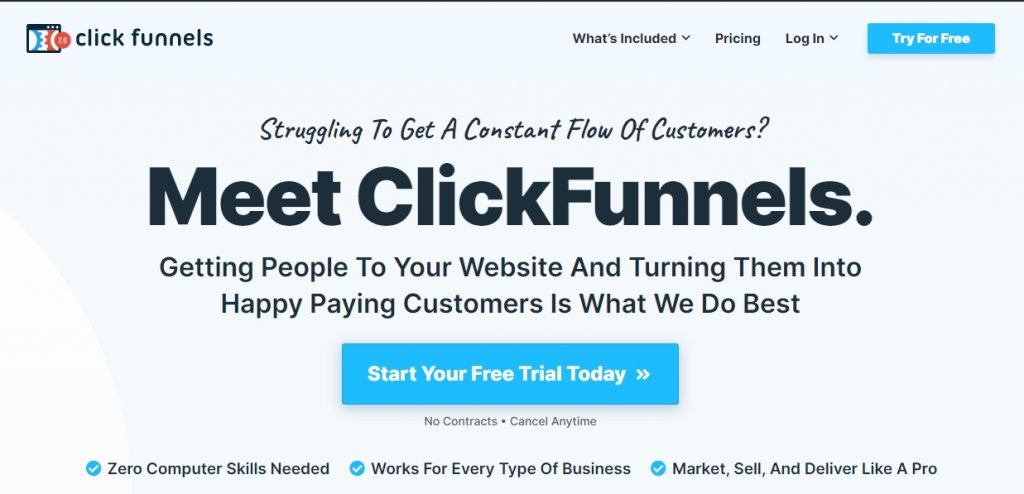 ClickFunnels is basically a landing page, and sales funnel builder. If you want to enhance the sales of your products or services, ClickFunnels might be a huge assistance. ClickFunnels isn't a website builder like WordPress, but it may be used to create a website.
Create Amazing Websites
With the best free page builder Elementor
Start Now
The process of developing sales funnels is time-consuming and labor-intensive. The biggest benefit of utilizing ClickFunnels is that it simplifies the process and allows you to develop sales funnels in a matter of minutes. ClickFunnels is focused on assisting you in earning more money.
To create successful sales funnels with ClickFunnels, you must have prior experience in the field of digital marketing. Because of the usage of a visual drag-and-drop editor that allows you to easily develop funnels and landing pages, you won't need any coding or web design expertise at all. ClickFunnels allows you to build sales funnel pages from scratch or use one of the numerous pre-designed templates available. Furthermore, it has a wide range of integrations and may be used in conjunction with sponsored ads to enhance leads and conversions.
Most Prominent Features:
Drag and Drop Editor: ClickFunnels' intuitive drag-and-drop editor allows customers to design sales funnel pages by dragging and dropping the pieces required in their project. It enables you to personalize every aspect of your page or funnel.
Pre-Designed Templates: Don't want to waste time creating your own landing pages and sales funnels? Simply select one of ClickFunnels' templates and get started right away. The templates can be customized to meet your specific requirements.
Actionetics Email Marketing: This is ClickFunnels' internal email marketing solution, which eliminates the need to integrate with third-party email providers. Keep in mind that this feature is only available on ClickFunnels Platinum, the company's top-tier subscription.
Backpack Affiliate Program: ClickFunnels makes it simple to set up and manage affiliate marketing partnerships. To put it another way, you'll be able to recruit affiliates and have them assist you in promoting the items or services your company provides.
eCommerce Services: ClickFunnels is a program that allows you to easily promote and sell things, whether they are physical or digital. It also allows you to accept payments online and interact with the dependable delivery provider, ShipStation.
Tons of Integrations: The variety of landing page connectors available from ClickFunnels is nothing short of incredible. It includes everything from AWeber and MailChimp email marketing connectors to Shopify e-commerce capabilities. It can even work with WordPress.
Membership Sites: You will be able to develop membership sites with ClickFunnels without any problems. This is an excellent technique to generate recurring money. This function will assist you in promoting your content and getting users to sign up for memberships to gain access to it.
A/B Split Testing: Split-testing functionality in ClickFunnels allows you to split-test various components of your landing page or sales funnel to determine which design produces the best results and appeals to your visitors. It also provides you with a variety of options to choose from.
Onboard Analytics Function: The in-house analytics capabilities of ClickFunnels makes it simple to track the effectiveness of your pages and sales funnels. It may display everything from page visits and conversion rates to user behavior.
Webinar Funnels: You can easily host webinars with the help of ClickFunnels' webinar funnels. These webinars might be about either services or products. Furthermore, ClickFunnels' webinar funnels may automatically launch on-demand webinars.
Overview of WordPress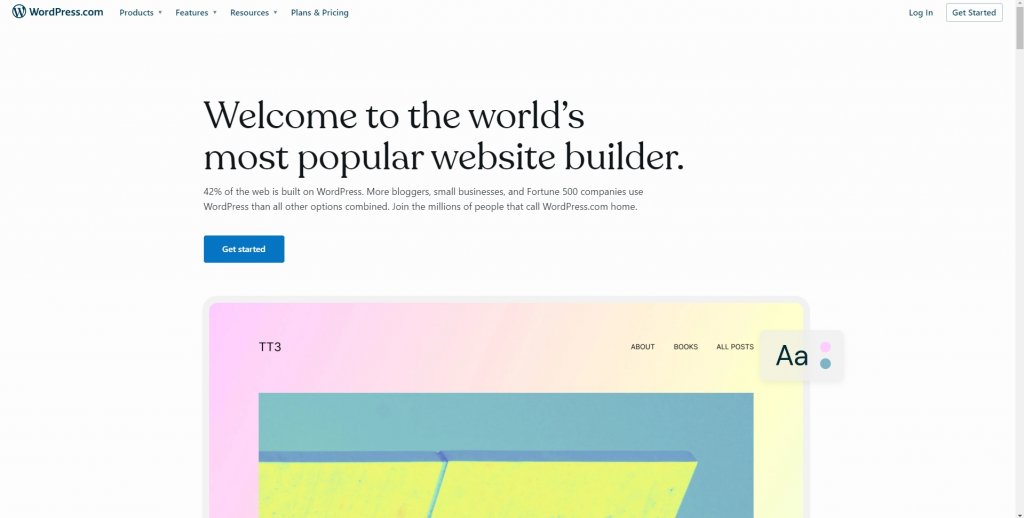 If you're looking for a platform to help you create a well-designed website and establish an online presence for your company, WordPress is your best bet. By 2020, WordPress will run 35% of the entire internet, including websites with no CMS or custom-coded CMS. You can use the WordPress builder to create any type of page, from homepages and about us pages to blogs and service sites. However, unlike ClickFunnels, WordPress is incapable of quickly creating funnels, so you can't rely on one platform to do the other's job.
When combined with organic traffic, WordPress realizes its full potential. Not to mention that when it comes to search engine optimization tools, WordPress far outperforms ClickFunnels. WordPress, like ClickFunnels, provides free trials.
It's also worth noting that you can create sales funnels with WordPress, but the process will be incredibly time-consuming and labor-intensive. It may take you days to create a viable sales funnel in WordPress. As a result, it's best to think of WordPress as merely a website-building tool.
Most Notable Features:
Vast Plugin Market: WordPress has an enormous plugin marketplace with plugins for almost everything. It includes over 55,000 plugins, ranging from shopping cart and SEO plugins to countdown bars and checkout system plugins.
Extensive Theme Market: WordPress not only provides you with a variety of plugins to choose from, but it also provides you with a plethora of themes to choose from. Themes are available for everything from blogs and affiliate sites to e-commerce websites.
Built-in Blog: WordPress is often regarded as the greatest site-building platform for bloggers. You may use it to create an email list, optimize your content for search engines, and much more. For your convenience, the themes include built-in blogging functionality.
Code Customizations: WordPress allows you to personalize almost any aspect of your website if you are familiar with HTML, JavaScript, CSS, and PHP. If you're not familiar with such tools, you can simply use one of the many plugins available.
Content Editor: You can add web pages or posts with a single click using this platform's advanced content editor. You can also edit all of the material on your pages. Unfortunately, it does not have a drag-and-drop editor like ClickFunnels.
Image Editing: You'll be able to easily change the picture content as you create the next page or blog post on your WordPress site. With a few simple clicks, you can resize or crop them, modify the alt text, add a caption, and more.
Numerous Integrations: MailChimp, Google Analytics, YoastSEO, Jetpack, WooCommerce, and other well-known connectors are available in WordPress. However, when compared to ClickFunnels' extensive list of integrations, WordPress appears to be lacking.
Use WordPress in Your Language: If you prefer to construct websites and publish content in a language other than English, WordPress is accessible in over 70 different languages. This is very useful for folks who do not speak English fluently.
Easy Installations and Upgrades: Many web providers offer one-click WordPress installers, which make it simple to install WordPress. You can also use FTP software. Create a database, use FPS to upload WordPress, and then install it.
Supportive Community: WordPress is the most commonly used open-source CMS today, so it's no surprise that it has a vibrant and supportive community. From the support forums and WordCamp to the large tutorial library.
ClickFunnels vs. WordPress: Pricing Plans
ClickFunnels Pricing
ClickFunnels offers a 30-day free trial as well as a handful of premium options. The first option is $127/month. The ClickFunnels Basic plan allows you to construct 1 website, receive up to 20,000 visitors each month, and develop up to 20 sales funnels. The ClickFunnels Pro plan is the second premium option. It costs $157 per month and gives you access to ClickFunnels' premium features. Backpack Affiliate Program and Actionetics Email Marketing are examples of this. This strategy does not stop there!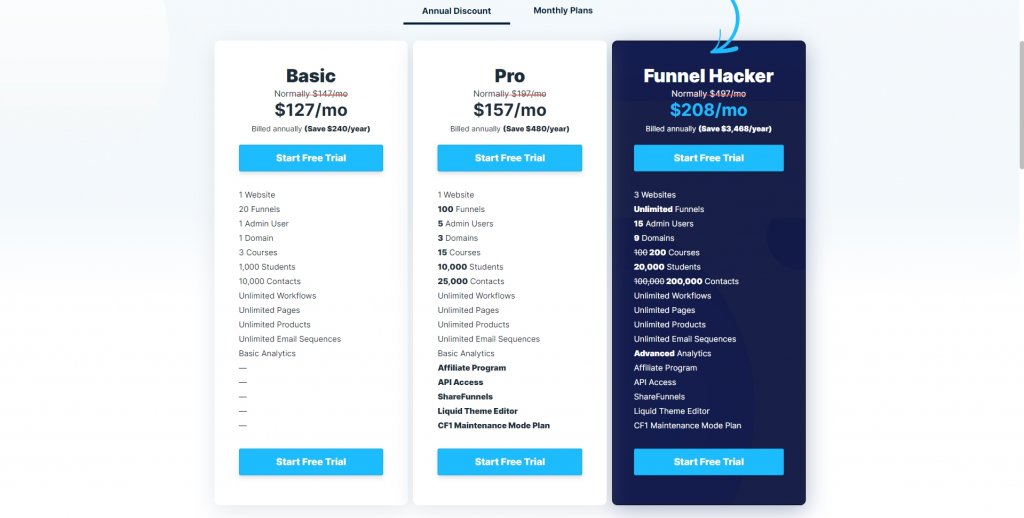 With the ClickFunnels Funnel Hacker package, you can create an unlimited number of funnels and pages at a cost of $208 per month. Furthermore, there is no monthly restriction on the number of visitors you can receive. You won't even need to use third-party email providers like MailChimp with Actionetics. As the name suggests, Backpack Affiliate Program lets you make and manage your own affiliate program. This saves you a lot of time and money that you would have spent on third-party solutions. The Platinum plan is suitable for marketing agencies and professionals.
WordPress Pricing
WordPress offers five different pricing levels. The first option is the completely free WordPress Blogger plan. As the name suggests, this is an excellent package for bloggers. However, as you may have suspected, you cannot rely on this pricing plan to run a typical online business. The second choice is the WordPress Personal Plan, which costs only $4 per month when paid annually. This plan includes a custom domain, live chat support, and email access. The third and most popular pricing plan is the Premium plan, which costs $8/month, payable annually.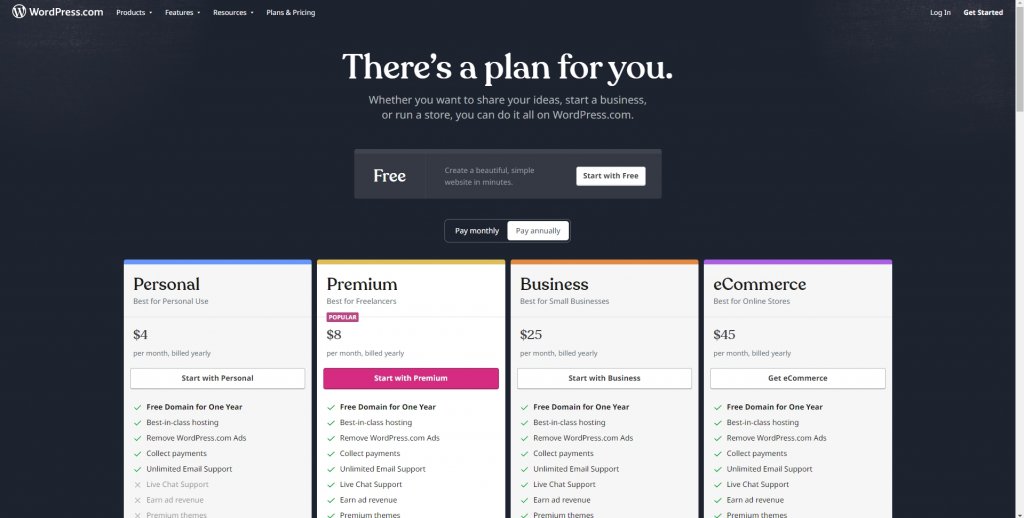 WordPress's fourth pricing option is the Business Plan, which costs $25 per month and is invoiced annually. This package includes custom plugins and themes, live chat support 24 hours a day, and 200 GB of storage. We recommend this plan for small enterprises because it finds a good mix between cost and utility. WordPress's final level is the eCommerce plan, which costs $45/month and is invoiced annually. This concept is mostly intended for internet shops. Because the eCommerce plan is fairly adaptable, you can expect it to not only power your entire online business but also to develop alongside it.
ClickFunnels vs. Use WordPress: Funnel Building
ClickFunnels
ClickFunnels is quite simple to use. To sign up for one of its two primary plans, simply sign up for the 14-day free trial and enter your credit card information. Remember that your credit card will only be charged after the trial period has ended, so there is no need to worry. After you sign up with ClickFunnels, you'll be sent to the ClickFunnels dashboard, where you can begin constructing pages and funnels. But first, you must configure some settings, such as payment gateways, email provider integration, domains, and so on. After you've finished establishing your settings, utilize the ClickFunnels cookbook to create the sales funnel you require.
The cookbook has a fantastic collection of pre-made funnels and templates that you can use right away without having to make anything. All you have to do in the cookbook is choose the industry, funnel type, and goals you want to achieve with the funnel. Then ClickFunnels will show you a variety of pages to choose from. Some of the templates will be free, while others will be paid for. The great thing about ClickFunnels is that you can preview the templates before purchasing them, allowing you to choose whether or not they are appropriate for your funnel. All you have to do now is configure the settings of your sales funnel and edit them with the aid of the dashboard.
The ClickFunnels dashboard is loaded with tools that you can use to easily personalize your funnel, such as the drag-and-drop editor, analytics reporting, email automation, and so on. Customizing your funnels is as simple as it gets, thanks to ClickFunnels' straightforward editor. All you have to do is drag and drop the elements you require from the editor into your project. There are several features available, such as content blocks, social network sharing buttons, forms, and many more. Now that you've completed your funnel, all that remains is to publish it. The WordPress plugin, social media posting, and the ability to embed your funnels on websites via codes are all available in the ClickFunnels dashboard. Simply select the desired option, and your funnel will be live and ready to generate money.
WordPress
Creating sales funnels with WordPress isn't as simple as it is with ClickFunnels. Unlike ClickFunnels, WordPress does not have pre-designed funnel templates that you can use right away. In other words, you'll have to build each and every page in the funnel from scratch. Building a sales funnel with ClickFunnels will take you minutes, whereas building one with WordPress may take you several days. Another issue you may experience with WordPress when attempting to develop sales funnels is page indexing, as it is an SEO-friendly tool.
What's the issue with that? What if you don't want all of the pages in your funnel to be indexed? These pages must be removed from your site index so that they do not appear in Google searches. After that, you'll need to connect the pages to get your funnel up and running.
As previously stated, developing your first few funnels with WordPress will take days, but as you become more experienced with the process, you'll be able to build funnels in less time. However, ClickFunnels is a superior and easier-to-use tool for generating sales funnels.
ClickFunnels vs. WordPress: Website Building
ClickFunnels
Establishing a website with ClickFunnels is difficult in the same way that building a sales funnel with WordPress is. To do so, you'll need to select a custom funnel and a template of your choice and tweak everything to look like a page within the site. In other words, ClickFunnels provides pre-designed templates for sales funnels and pages, but not for web pages such as home pages or about us pages. You must choose a sales template, erase everything within it, then rebuild it to resemble a page.
Unlike WordPress, where you can select a template that will generate all of the necessary pages for you, ClickFunnels' templates are useless for website creation. You must utilize the editor to add all of the required pieces and build your own website from scratch. We'd also like to point out that the drag-and-drop editor within ClickFunnels isn't actually meant for making websites, so utilizing it to create a website for your business would be difficult. We strongly advise solely utilizing ClickFunnels to develop funnels.
WordPress
Because WordPress is primarily a website builder, constructing a website with it is really simple and clear, thanks to the platform's incorporation of various themes from which to choose. To create a website with WordPress, you will need no technical or design abilities. Furthermore, WordPress is supported by a large marketplace of plugins that you may apply to make things run more smoothly. Some of these plugins are, of course, free, while others are not. The process can be easier or more difficult, depending on how detailed you want your website to be.
WordPress is really simple to use. But, again, it all comes down to what you're trying to do. For example, if you want to create a basic website to assist you in generating leads, you may simply choose one of the supplied free themes and integrate it with a hosting provider. Please keep in mind that WordPress does not provide hosting, but ClickFunnels does. Overall, you'll find WordPress to be a really simple platform to use after you figure out how to use it to construct websites, which shouldn't be difficult given the fantastic assistance provided.
ClickFunnels vs. WordPress: Social Sharing
Both of the systems under consideration today have outstanding social sharing capabilities. After all, social media is a massive entity that must be utilized to ensure a business's success. You can easily integrate social media sharing buttons into your WordPress website.
The great majority of WordPress premium themes have social network sharing options, allowing your content to reach a larger audience. You'll need to use additional plugins with the free themes. This kind of disparity does not exist with ClickFunnels.
You can effortlessly post your funnels on nearly all social media networks using ClickFunnels. Not only that, but ClickFunnels also allows you to add social media buttons to your funnel pages, which will help you generate more leads and drastically enhance your conversion rate.
ClickFunnels vs. WordPress: SEO
When it comes to search engine optimization tools, both platforms provide a lot of value, but WordPress is the clear winner. ClickFunnels allows you to customize SEO information, but that's about it when compared to WordPress's features.
The Yoast SEO plugin for WordPress is a rather extensive SEO-based toolkit that anyone with a basic understanding of SEO can utilize. You can create the best SEO strategies by using Yoast SEO. You can also add meta tags, meta titles, and meta descriptions.
ClickFunnels vs. WordPress: Support
For the most part, both ClickFunnels and WordPress provide dependable assistance. With WordPress, you can always post your questions in the WordPress forums and wait for a response. The majority of the time, the underlying issue is determining what the problem is in the first place.
If you appear to be experiencing the same issue that other WordPress users have, you may simply visit the WordPress support forums to locate a solution. On WordPress-powered websites, trial and error is frequently a large part of trying to fix a problem.
While ClickFunnels' support isn't the finest among all-in-one digital marketing platforms, it is superior to WordPress. ClickFunnels has a messaging option that allows you to immediately contact the support team and seek their professional assistance.
Wrapping Up
Finally, both ClickFunnels and WordPress are good platforms for what they do. ClickFunnels is the best tool for quickly creating sales funnels and landing pages. If you want to make a website for your company, WordPress will help you do so quickly.