In April of 2018, the reputable firm ThemeFuse released Brizy, a WordPress page builder. Despite its age, it has shown a great deal of potential so far. The fact that it has 50,000+ active installations of its free edition, which speaks about how well it functions.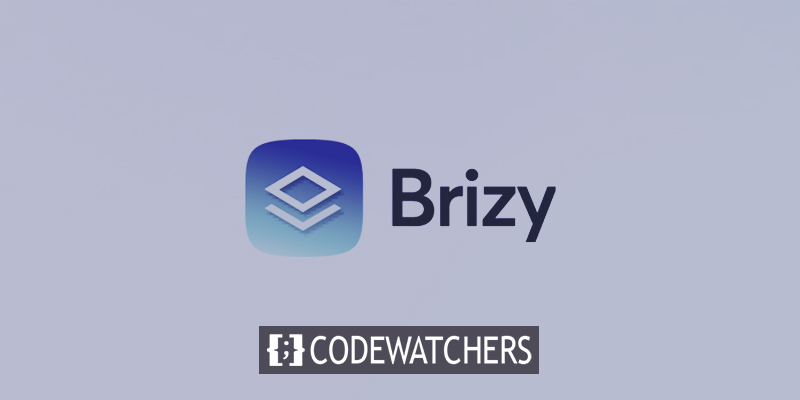 A lot of functionality that you won't find in other page builders are included here, and the React technology behind it makes for a really pleasant and straightforward user experience.
However, Brizy still has a ways to go before it can compete with industry leaders like Elementor Pro and Beaver Builder. To be sure, it currently lacks some of the more impressive capabilities offered by the industry giants, but I have no doubt that will change with time.
We'll go over the costs and features of Brizy's paid edition after discussing the app's free offering.
Create Amazing Websites
With the best free page builder Elementor
Start Now
Read on to learn about Brizy, a good WordPress page builder with the potential to be the best, and discover its features, pricing, and installation instructions.
Installation System
Brizy's free version can be installed in the same way that a free WordPress plugin can be. Navigate to Plugins > Add New, then search for "Brizy" and click Install Now > Activate.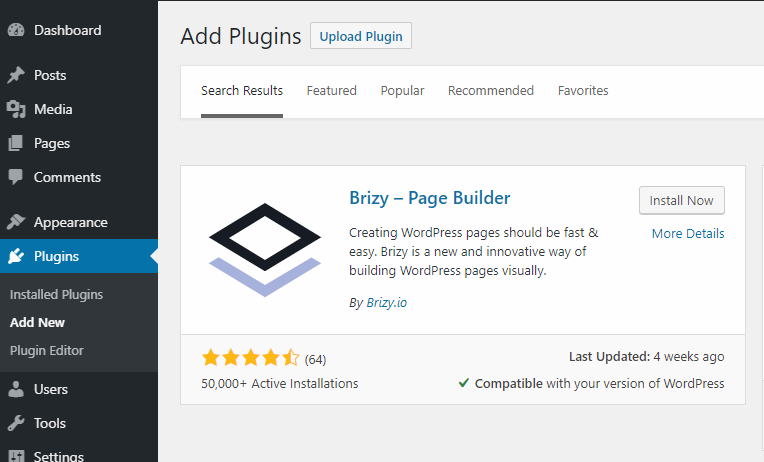 If you purchased the Pro version, you must first install the free version before uploading and installing the Pro.zip file.
Design With Brizy
Creating Page
Now comes the exciting part. Let's have a peek at what it's like to create a page in Brizy.
When you create a new page, there will be a bright pink button that says Edit with Brizy. When you click on it, you'll be directed to the Brizy page builder.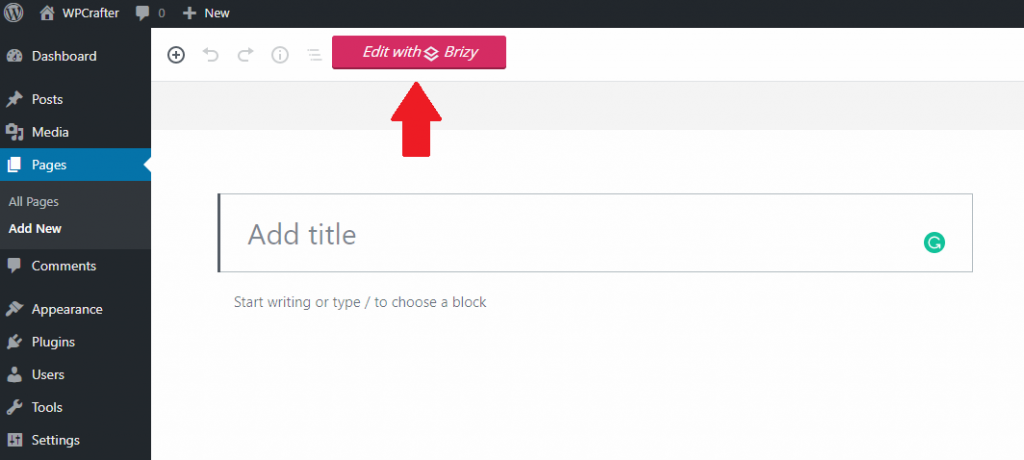 When you enter Brizy, the first thing you'll notice is the total lack of any sign of your theme. This is because the page template is set to Brizy Template by default.
If you need to work with your template, an easy workaround is to set it to Default: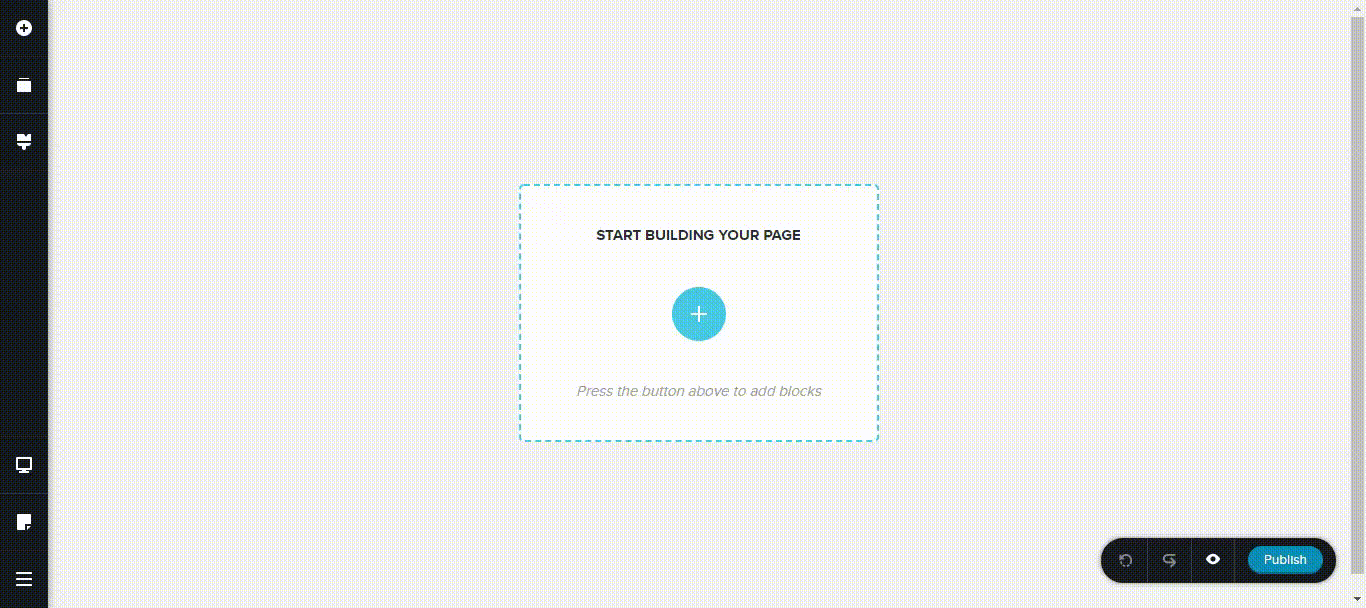 You can begin building your page with pre-made blocks or layouts (for Briz Pro) or with a blank block. We'll look over the important features and see what you can do with them, how simple they are to use, and which versions are available.
Adding and Filling Out Blank Blocks
Brizy makes it very simple to add blank blocks and elements to them. In the middle of the page, click the blue Plus icon, then Add a blank block. You will now have a 2-column blank block.
By clicking the little white Plus icon in the top left corner of the screen, you can add elements to these columns. Drag and drop the components you wish to work with and begin altering them.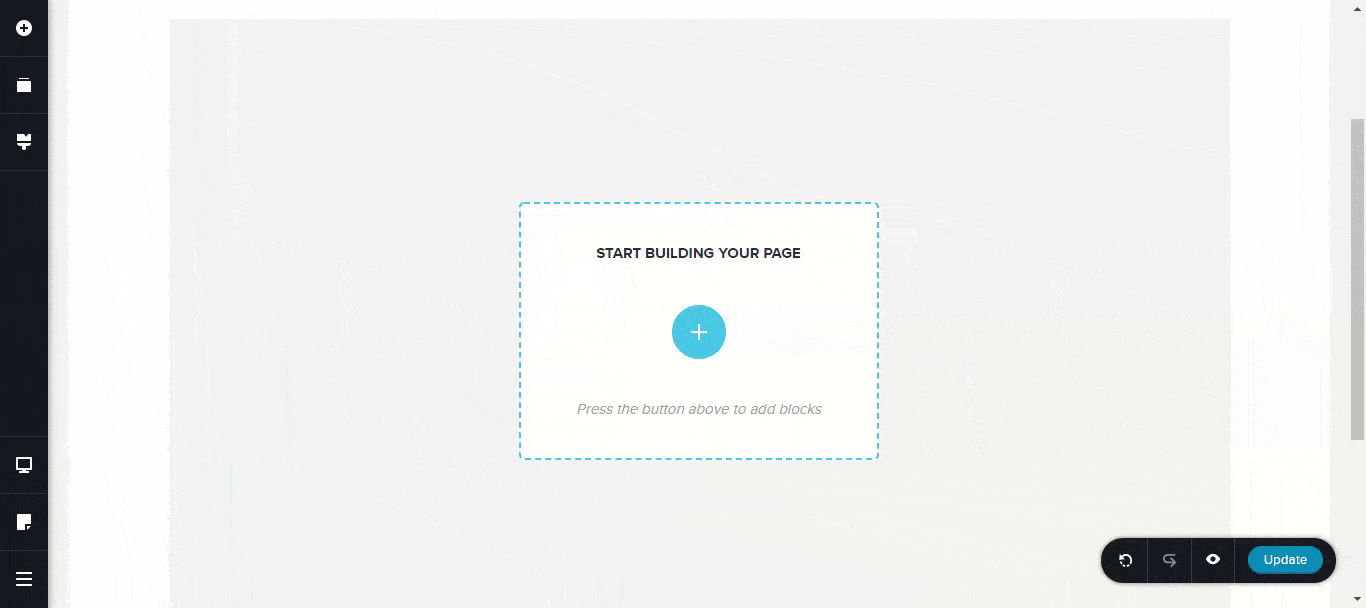 You can notice in the animated GIF above that practically all editing is done inline. You may alter the text right in the editing area, as well as adjust and design the button, spacer (and even padding), and add photos.
Brizy's simple, clean UI shows you just what you need when you need it. You won't be overburdened with alternatives all at once. To edit the section, simply hover your mouse over it, and the following icon will appear: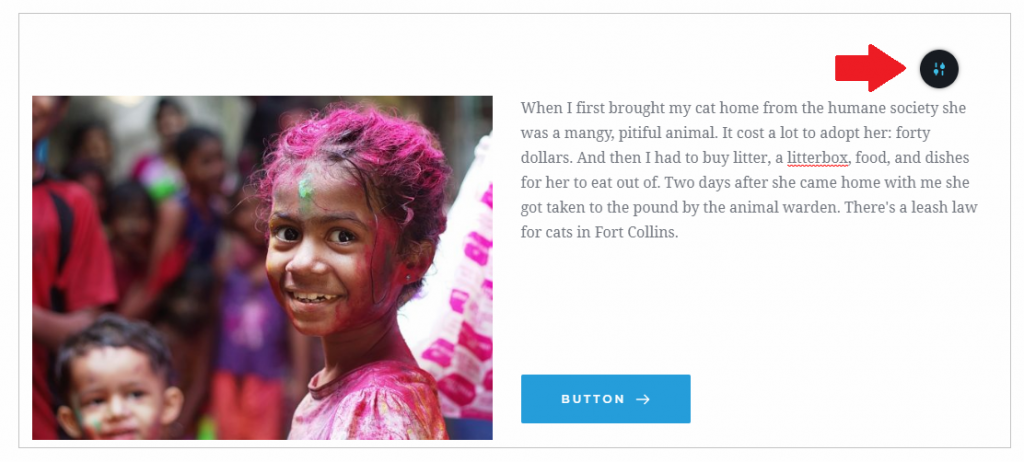 This toolbar allows you to customize the section, make it global, convert it to a slider, save it, duplicate it, and delete it.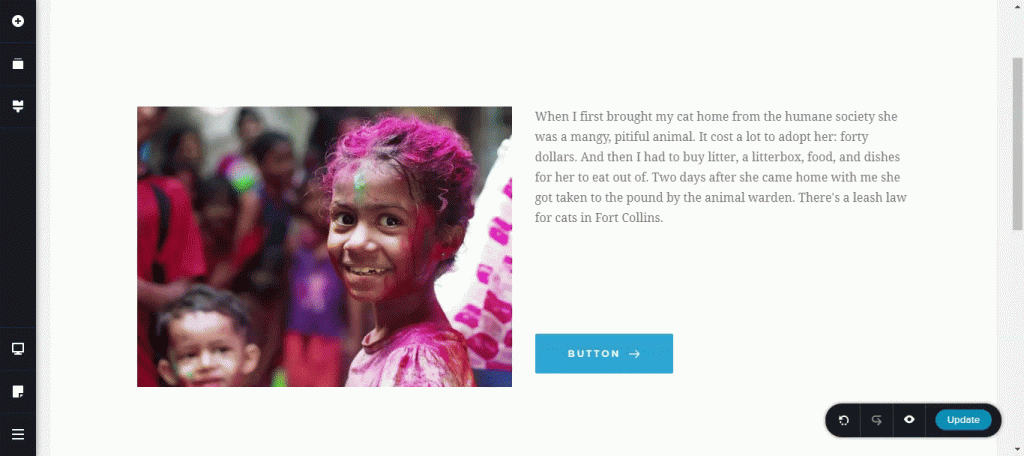 Using Pre-Made Blocks
You can start with a blank canvas if that's too intimidating, or you can use pre-made blocks if that's too time-consuming. Simply click the blue Plus button in the center to see Brizy's extensive array of blocks.
You have the option of switching between Light and Dark modes, as well as browsing by category.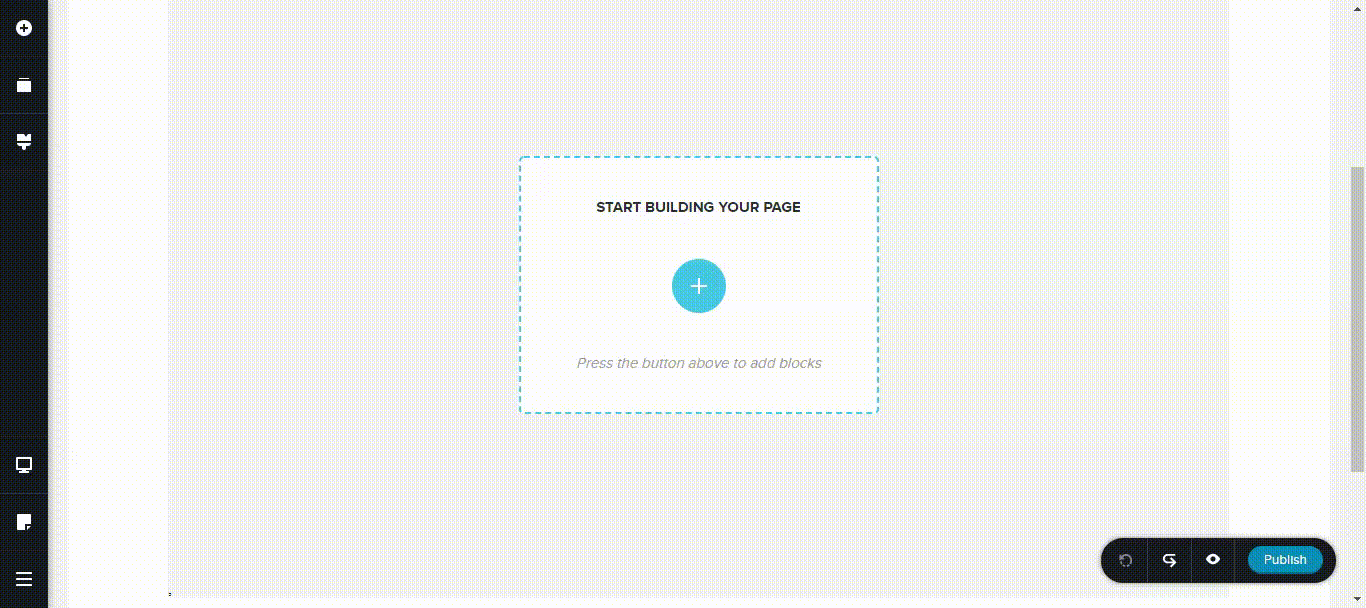 You can also edit pre-made blocks in the same way that you would edit blank blocks.
Global and Saved Blocks
If you have material that repeats across multiple pages, using global blocks will save you a lot of time while modifying them. Global blocks allow you to edit the block once and have the effect appear on all of your pages.
Simply hover your mouse over the block and click the Settings icon to create a global block. Toggle on Make it Global after clicking the bolt-like icon.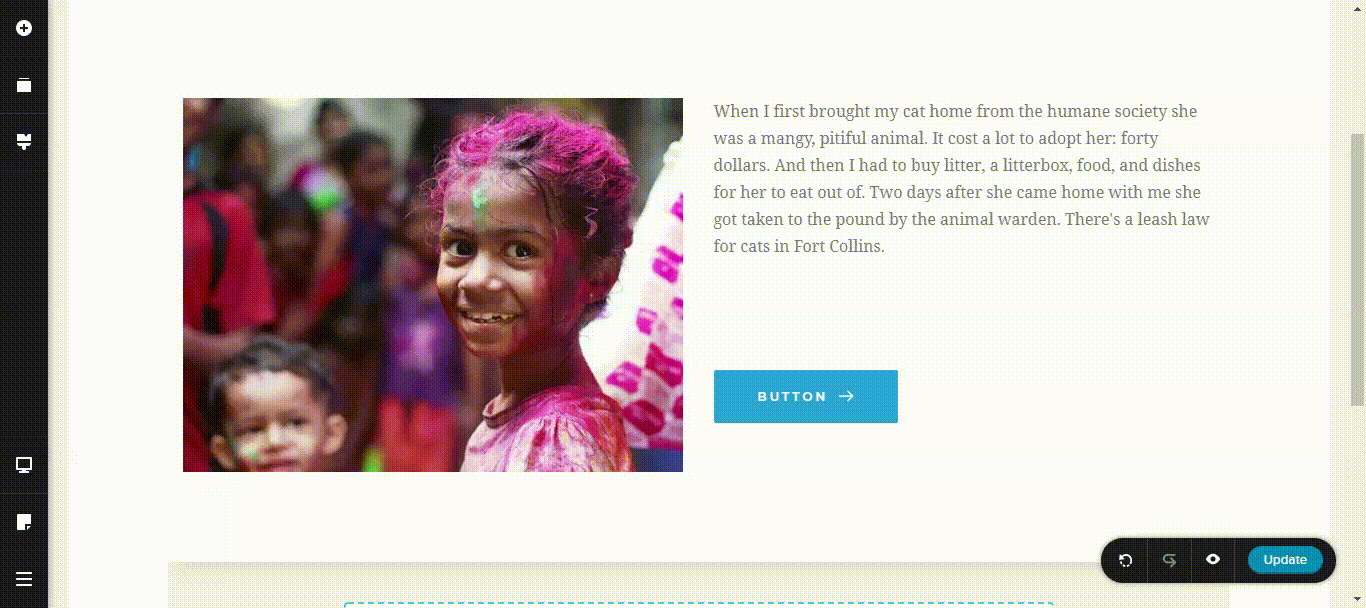 Click the Settings icon and click the Heart icon to save a block.
Pre-Made Layouts
Brizy layouts are a real delight; each one looks fantastic and will save you so much time, but they are only available in Brizy Pro.
By clicking the blue Plus button, you can access the layouts. They're organized by categories, and I enjoy that many of the layouts contain multiple pages, making them virtually a whole website.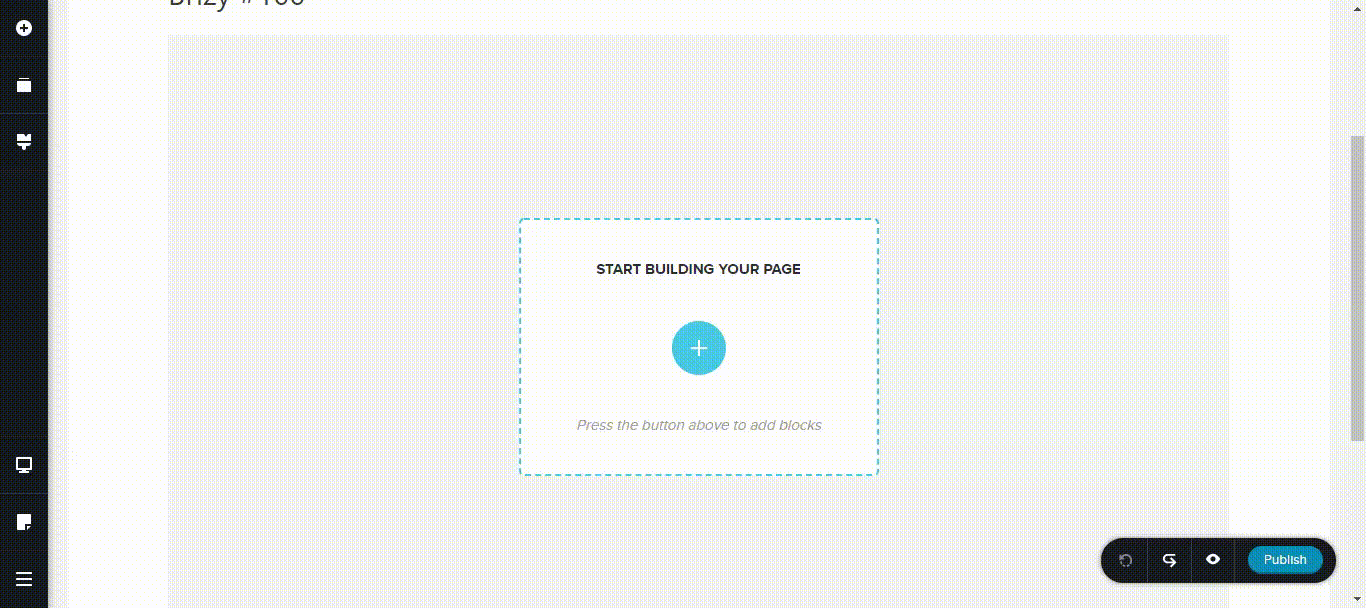 These layouts are also completely adjustable, allowing you to add any items you want, change the margins, change the backdrop - anything at all.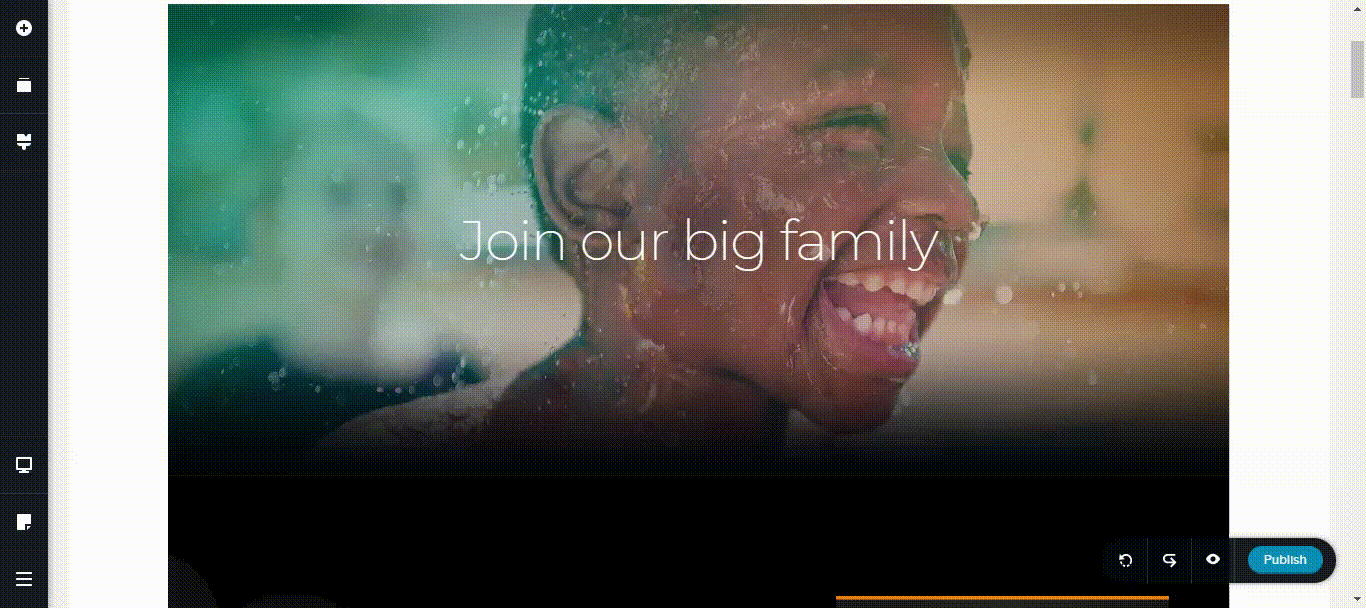 Editing Elements
You can edit any element directly on the editing area, just like you can with blocks. When you click the element, the following toolbar will appear: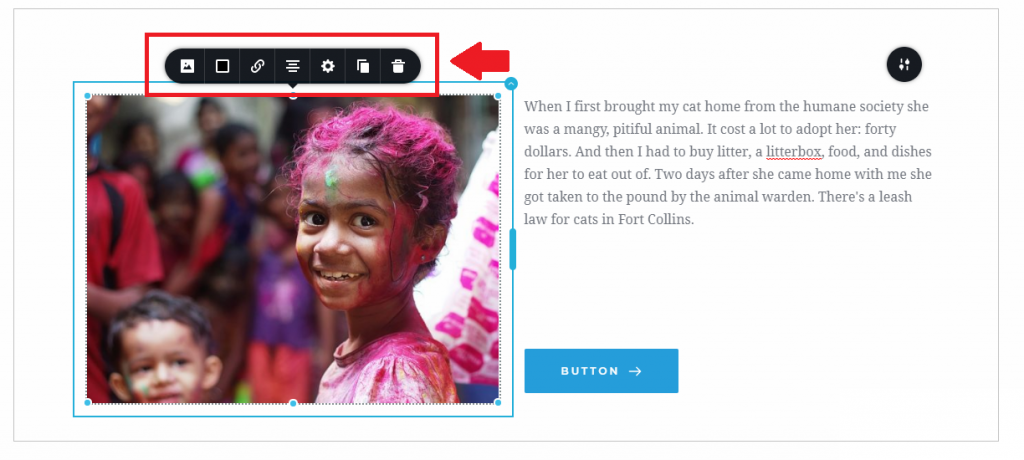 This toolbar will vary depending on the element. But, for the purposes of this review, let's look at the picture toolbar.
Image Focus & Zoom
Brizy has a really cool feature where you can decide which section of the image appears on your page. This is how it works: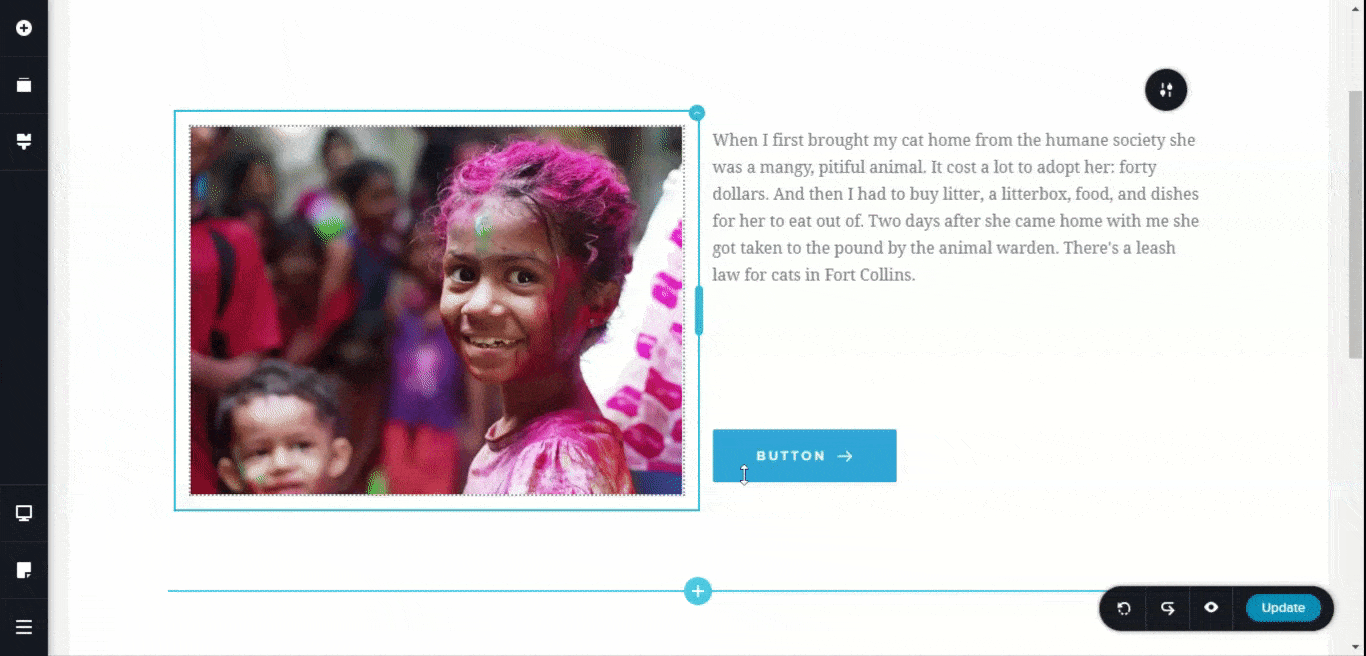 I've never seen this capability in any other page builder, and it eliminates one of the issues I've had with using photos with page builders.
Anchor to Section
Brizy's ability to link one piece to another portion is another distinguishing characteristic. Although this may be accomplished manually using IDs, Brizy makes it much easier. It is possible to use this technique for all items, not simply photos.
Here's how to go about it: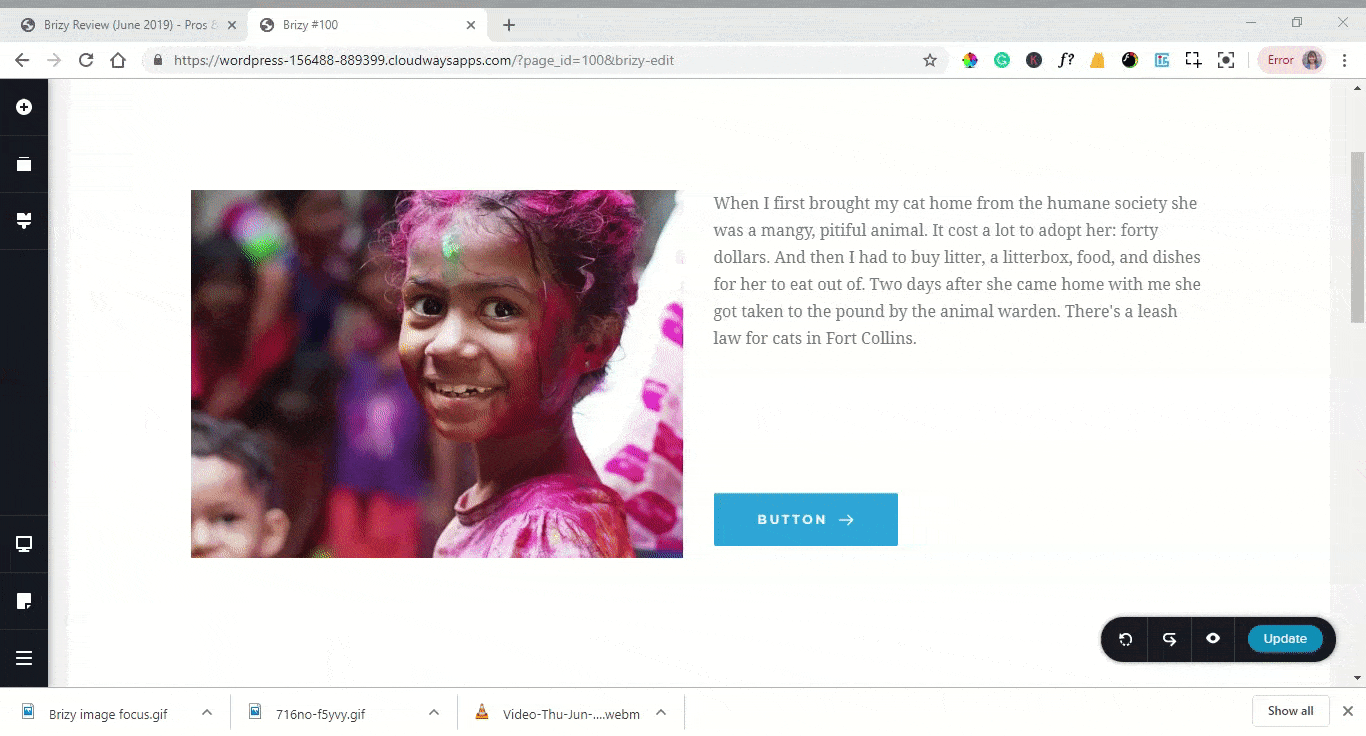 Other customization options
Other page builders do not allow you to change the height and width of photos right in the editing area, but Brizy did. Adjustment points surround the images, making it simple to change their size.
You can also add a shadow, link it to a URL or a pop-up (more on that later), change the alignment, duplicate it, make it circular, add an entrance animation, and more.
I'm not going to go over every editing tool accessible, but let me just say that Brizy can do some fantastic things. You'll have a great time experimenting with the various elements and blocks.
The best part is that you can do practically all of these without leaving the editing area or using a secondary control panel.
Global Styling
Brizy's Global Styling is yet another distinguishing feature that sets it apart from other page builders. Global Styling allows you to change the color of all elements with the same color from a single location.
To explain more, in other page builders, if all of your icons are purple and you want to change their color, you must do so individually.
If you have a lot of icons on the website, this can take some time.
However, with Global Styling, you can assign a single color to several elements, such as icons, borders, and typography. You can alter the color of ALL of these elements at once they've been linked to the color.
So, if you have ten icons associated with the color purple and wish to alter their hue, you may accomplish so with a single click.
Here's what I'm referring to: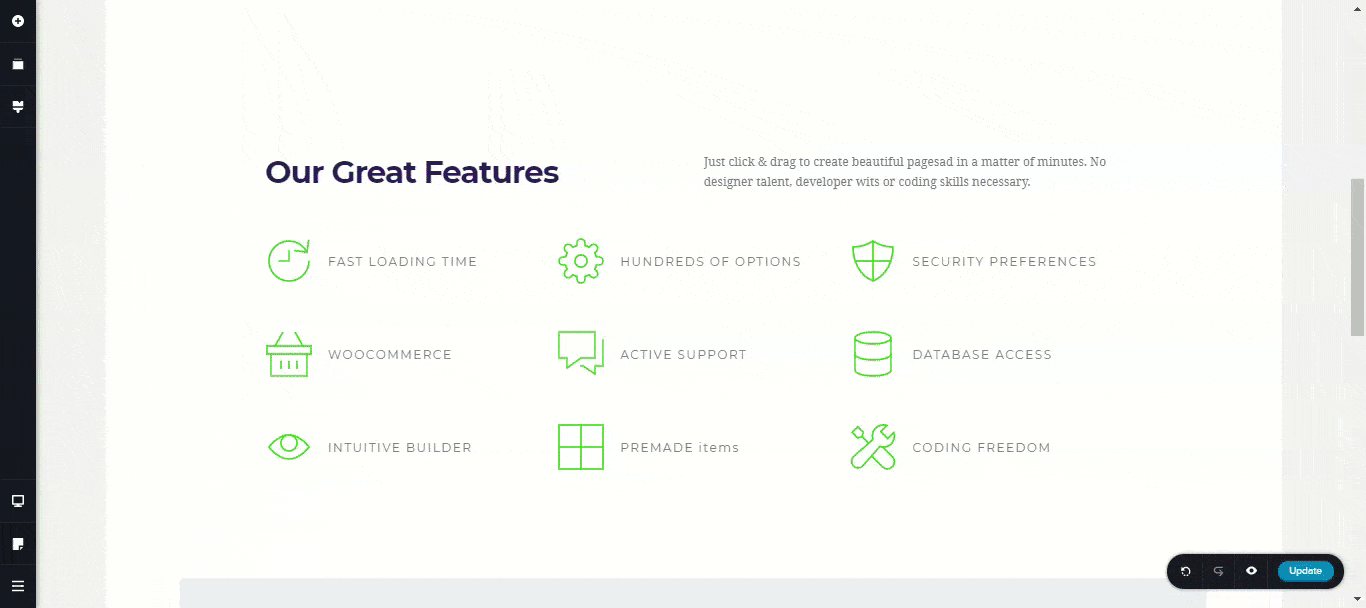 Texts can be used in the same way. You may style all paragraphs, subtitles, headings, and other elements in one place: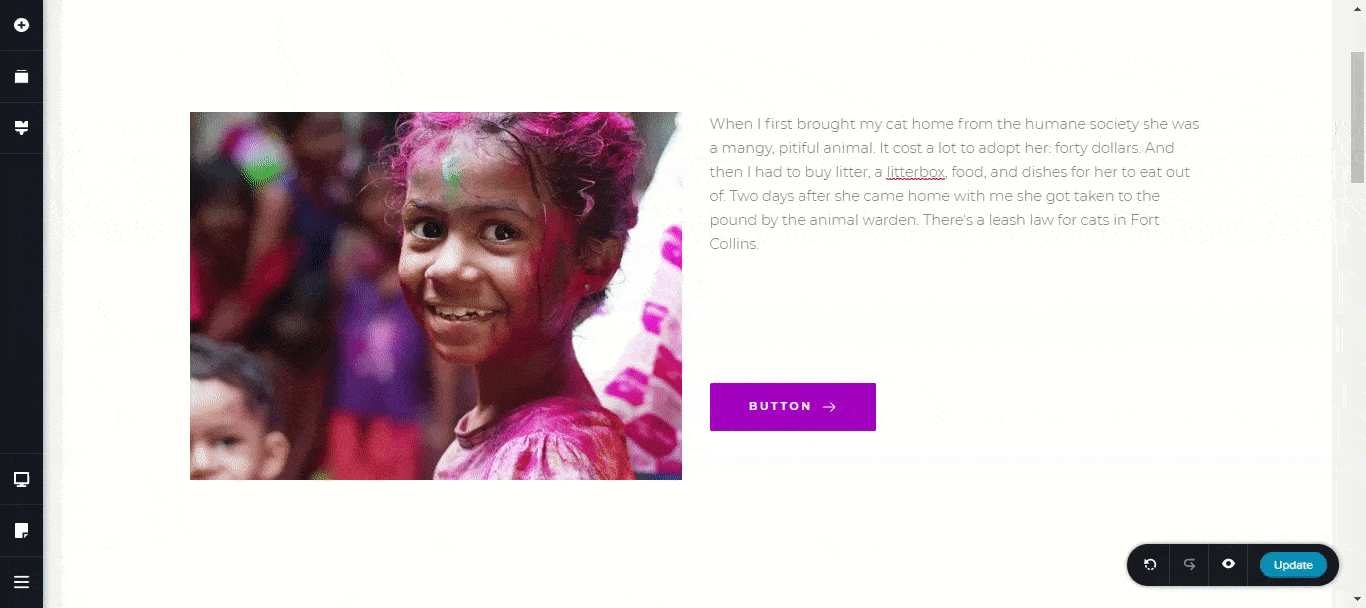 This function will not only save you time but will also ensure that the design of your page remains constant throughout.
Contact Forms
Both the free and commercial versions allow you to design visually appealing contact forms using elements or pre-made blocks.
You can alter the required fields, field types, background color or picture, font, and more.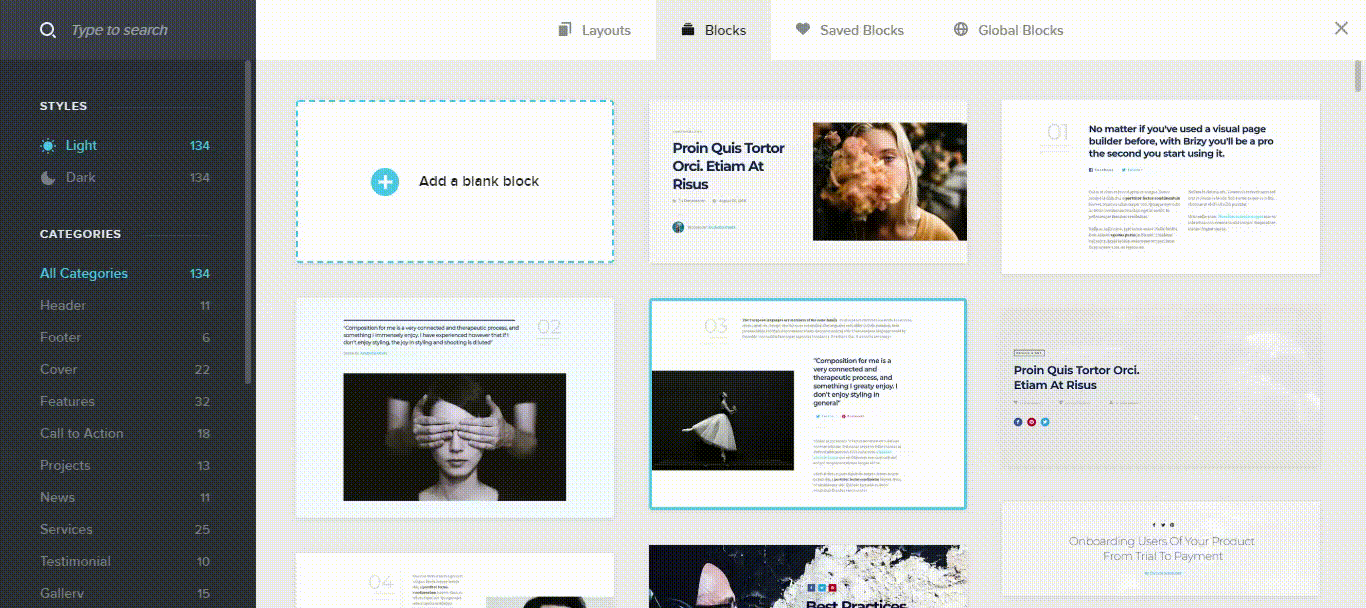 Section To Slider
Sliders are a costly feature in some page builders, but Brizy made them free and incredibly simple to use.
Hover over the section you want to make a slider and select the editing toolbar. Toggle the icon that looks like a bolt. Create a Slider. And there you have it - you now have a slider. You can change the image or color of the background, set it to play automatically, alter the arrows, and more.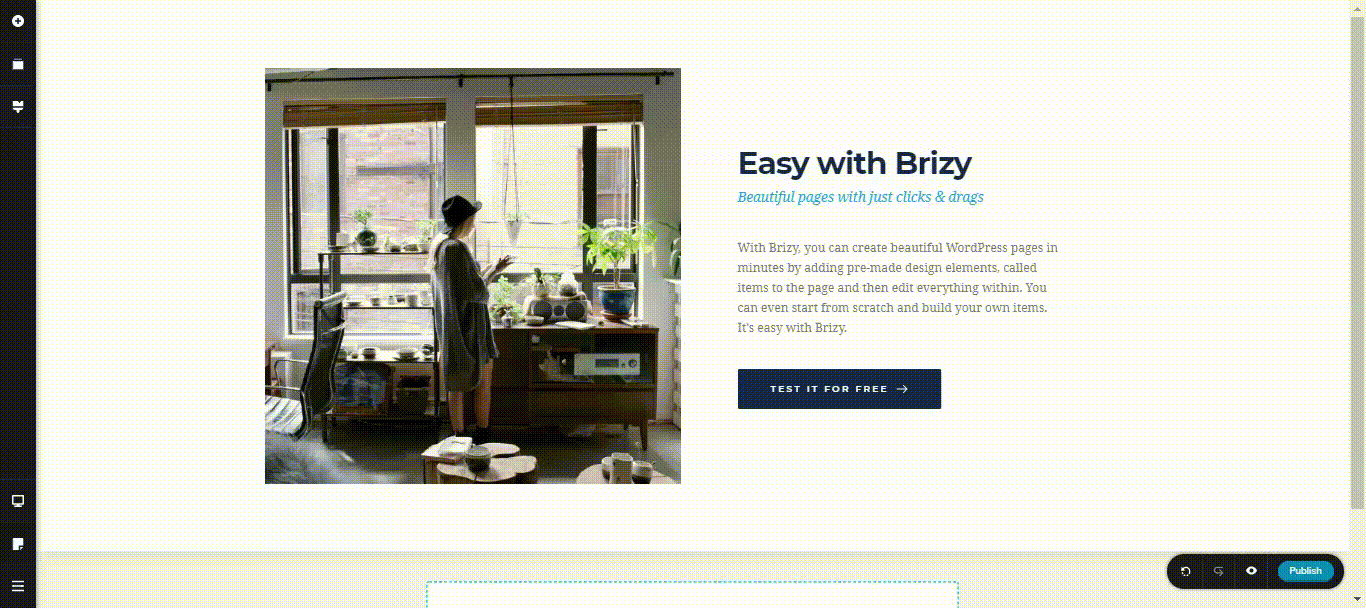 Apart from these, there are some other features -
Headers & Footers (Pro Only)
Pop-Ups (Pro Only)
Mobile Responsive Control (Free & Pro)
Role Manager (Free & Pro)
4000+ Icons (Free & Pro)
Undo/Redo (Free & Pro)
Auto Save (Free & Pro)
Turn any block to a slider (Free & Pro)
Shape dividers (Pro only)
Image and video filters (Pro only)
Marketing apps integration (Pro only)
Dynamic content (Pro only), etc.
Pricing
Brizy is one of the page builders with the most generous offer, in my opinion. You will have access to all pro features, updates, and support for three websites for $49 per year. If all you want to do is construct a personal website, this is a decent deal.
The Studio offer is ideal if you produce websites for clients or if you create a large number of websites per year.
The Lifetime plan includes access to all Pro features, updates, and support for a one-time price. It's a limited opportunity for individuals who want to invest in this page builder and stay updated and improved in the future, and I think it's a fair value.
They also provide a money-back guarantee for 30 days.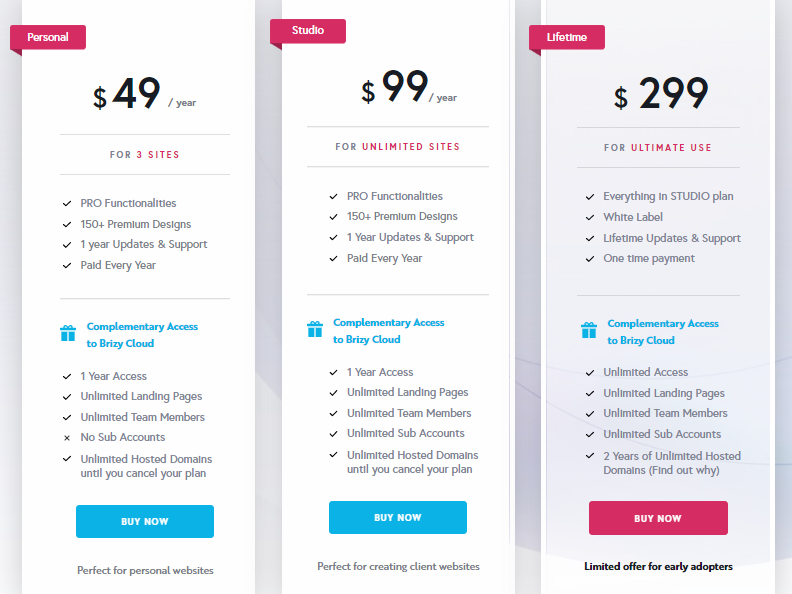 Pros & Cons
Brizy has a number of features that I like; it's a promising page builder, and I'll go over them briefly here.
Image Focus and Zoom, Global Styling, and Reorder Blocks are all unique features. These capabilities are not found in other page builders, which demonstrates how the Brizy team extensively examined user experience with other page builders.
The user-friendly, clutter-free design avoids overwhelming users with too many editing possibilities at once. It simply displays what you need to see at the time, providing a more relaxing, see-as-you-go experience.
It makes users' life much easier with features such as displaying a row's padding while hovering over it, automatic saving, and undo/redo.
The pre-made blocks and layouts are stunning. They're clearly developed by pros, and I wouldn't mind employing one in one of my own projects.
The ongoing offer of a one-time charge of $299 for lifetime access is incredible. Brizy has already shown a lot of promise just one year after its introduction, so I can only imagine how far they'll come in a few years.
Brizy Cloud is a fantastic application that simplifies the process of developing landing pages.
They have around 4000 icons!
It works with the majority of well-coded themes.
Brizy Pro works with well-known services such as MailChimp, HubSpot, and Woocommerce.
They really have a public Trello board where you can see their future plans and present projects. You will also be able to suggest and vote on any features you would want to see and/or improve.
Also, there are a few things that I personally don't like in Brizy.
It's distracting how it uses the Brizy template the first time I open the page builder. I need to view my theme so that I can work with it.
There is no reset button, so if I wanted to start over after a while, I'd have to delete each part one by one.
There is also no ability to replace the layout I chose, so I'd have to erase each area individually. It would be ideal if there was a way to erase everything at once or fast change the layout.
Brizy, even in its free version, offers far fewer elements than other page builders.
It would be more convenient if there was a one-click method for adding a blank block.
Pop-ups are currently active just on click, though further conditions/triggers are on the way.
Brizy does not use shortcodes, however, it does leave a lot of div> codes after uninstalling.
Final Thoughts
Brizy is a new page builder, but it already has a lot of potentials. Their strength is in making the design process smooth and simple enough for beginners. Brizy will have you feeling like an expert in no time.
Normally, I wouldn't be excited about a new page builder because I only want to use products on which I can rely and which will be supported in the long run.
What makes the Brizy WordPress page builder unique is that its creators have been creating WordPress products for ten years. That is what distinguishes this for me.
They currently have a fairly aggressive roadmap with some amazing features planned. So only time will tell whether they can deliver. I think they can and they will.
Overall, Brizy is an excellent choice for people seeking a page builder that genuinely makes making simple web pages a snap.