Backups are important to recover your website when something bad happens. Whenever your website gets hacked, crashes, you can quickly retrieve your site from the most recent backup, recovery everything you created until that.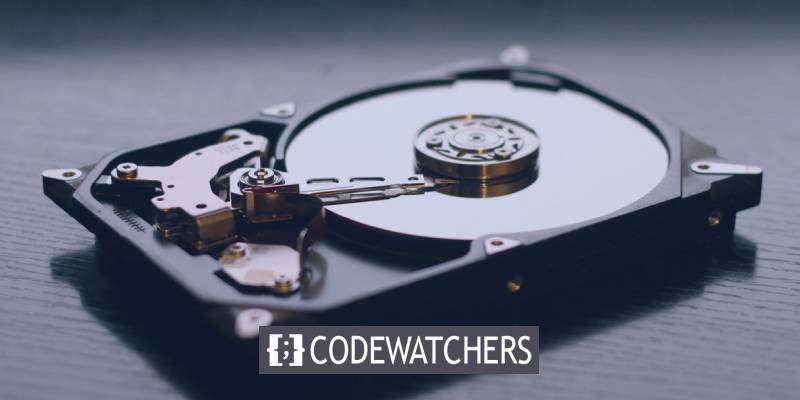 In this tutorial, we will help you choose the best WordPress backup plugin to have your content and WordPress safe.
Before Choosing The Backup Plugin For WordPress
Regardless of the size of your website, investing in the correct WordPress backup plugin is totally worth it, because it's frequent to have regrets when situations occur when it's needed.
Since there are many backup plugins for WordPress, it can be hard to choose the right one that is perfect for you. Below follows a few things you will need to look for in before choosing a backup plugin :
Create Amazing Websites
With the best free page builder Elementor
Start Now
Backup methods:
Database backup: You'll find some plugins only doing database backup.
Scheduled backup: With this type of feature, you can schedule a backup to run automatically.
Complete backup: It's better to have a plugin that does a complete backup.
About Storage:
Back many years, most WordPress backup plugins were storing your backup within your own store. Now, to improve security, all good WordPress backup plugins support sending your backup files to remote locations such as Dropbox, Google Drive, or Amazon S3. So if your server gets corrupted or completely erased, you'll have your backup safe.
Best Plugins For Making WordPress Backup
Let's now explore the plugins you need to have on your ends. This classification orders by best to less best, but in random order.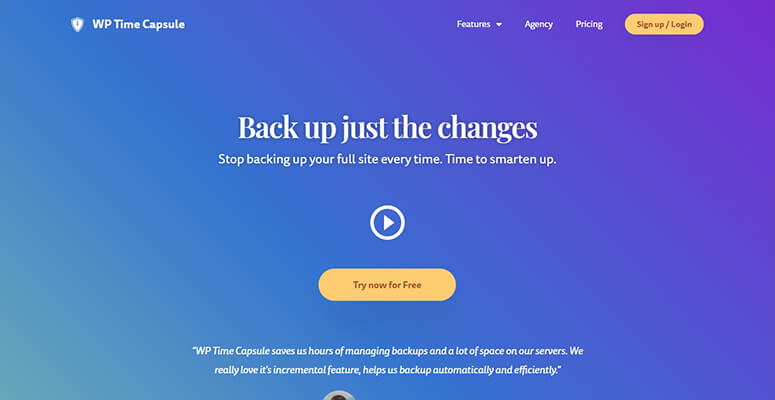 WP Time Capsule can be a perfect solution for you if you want to back up only your recent files, but not your entire WordPress site. With WP Time Capsule, you can back up your website to your favorite remote cloud storage sites like Google Drive, Dropbox, or Amazon S3.
One of the main benefits of WP Time Capsule is that it consumes considerably fewer server resources since it doesn't compress and zip your backup files.
However, if you would like to use WP Time Capsule on your site, you need to register for an account on WP Time Capsule, install the free plugin, and then connect the cloud app with your plugin, in order to send your WordPress backup files to your remote storage. After completing a full backup, you can schedule a time for backing up your WordPress blog.
Key Features
Incremental Backups
Incremental Restores
White-Label
VaultPress (included on with Jetpack)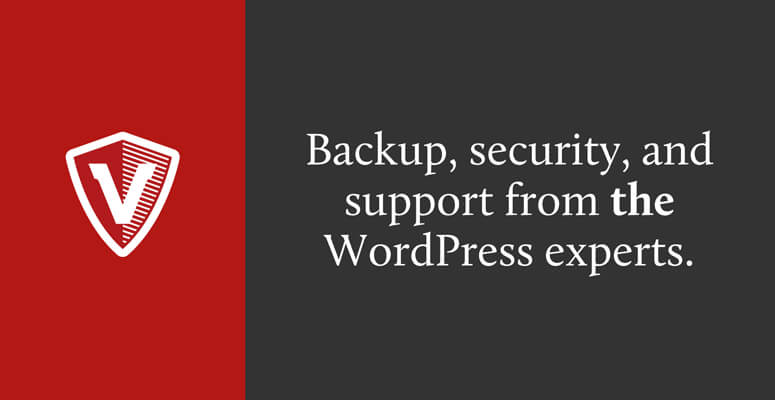 VaultPress is one of the powerful backup and security plugins available for WordPress and created by Automattic, the team behind WordPress.com and WooCommerce.
With VaultPress, you can keep a fresh backup of your site with real-time syncing. Additionally, this WordPress plugin runs security scans on a regular basis, so you can easily identify potential threats and fix them. If malware or viruses are detected, with simple clicks you can get rid of them.
VaultPress is part of Jetpack, so you will need to install Jetpack on your site, connect your website to WordPress.com, and subscribe to the personal plan to get started.
Key Features
Automated daily backups (off-site)
One-click restores
Unlimited site storage
Scan (daily, automated)
Anti-spam
Unlimited video hosting
Backup (real-time, off-site)
Scan (real-time, automated)
CRM: Entrepreneur bundle
Site Search: up to 100k records
Backup Real-time (off-site)
Scan (real-time, automated)
Activity log: 1-year archive BackWPUp is a free WordPress backup plugin that compresses your complete WordPress installation and saves them to a remote location of your preference such as Dropbox or Amazon S3.
With the premium version, you can store backup files to Google Drive and Amazon Glacier.
Key Features
Back up to multiple destinations per job
Synchronize files on the remote backup location
Backup specific file path
Multi-site support
Check and repair Database
Generate a file with installed plugins
Backups in zip, tar, tar.gz format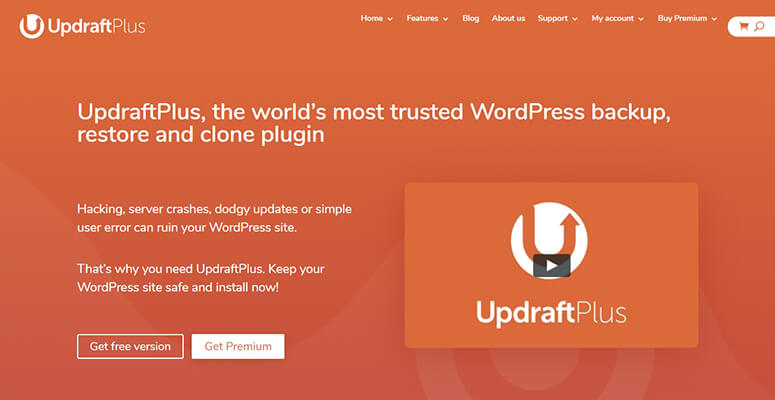 UpdraftPlus is one of the best and most used WordPress backup plugins on the market. It's been rated as the most popular backup solution for WordPress, with millions of active installations. We even use that here at CodeWatchers.com
Without spending any penny, the free version of the plugin can easily set up full, manual, or scheduled backups of all your website files including your database, plugins, and themes. Restoring your files is simple, and you can do it with minimal technical knowledge.
Best of all, it's compatible with multiple cloud storage options including Google Drive, Dropbox, and Amazon S3.
Key Features
Supports both manual and automated
Backs up files and databases
Reports time of next scheduled backup
Supports cloud backup to Amazon S3
Supports cloud backup to Dropbox. Supports
Database backups can be encrypted for security
Encrypted transport to cloud storage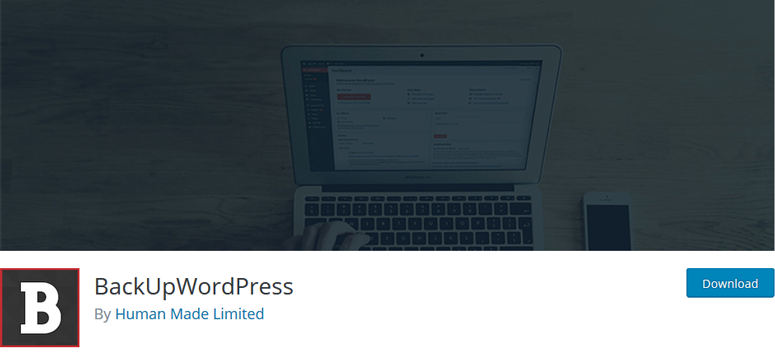 BackUpWordPress is a very easy-to-use solution for taking backup of your WordPress blog, especially as it doesn't require any setup configurations on your end. After the activation, it backs up your files directly.
By default, backup files are stored in the location /wp-content/backups, but you can easily change the path if you want to. Since all files, including your non-WordPress files, will be saved on your site root, it's strongly recommended to change the path.
The plugin can work on Linux and Windows servers without any issue. It also allows you to exclude the files you don't want to back up.
Key Features
Super simple to use, no setup required.
Works in low memory, "shared host" environments.
Manage multiple schedules.
Uses zip and mysqldump for faster backups
Works on Linux & Windows Server.
Exclude files and folders from your backups.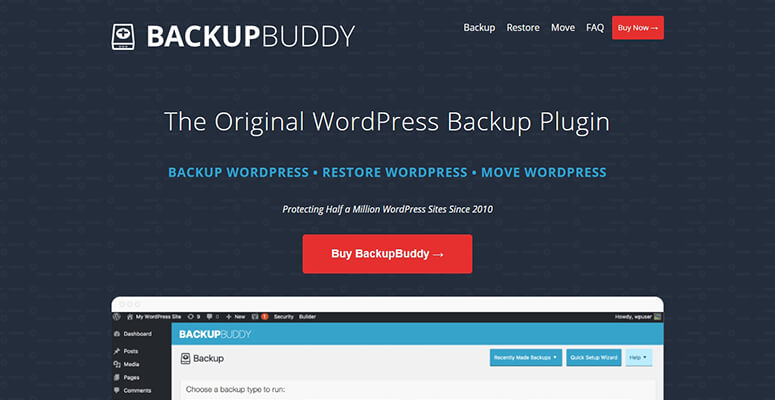 BackupBuddy is quite old plugin since it has been released in early 2010, protecting a half a million WordPress websites.
With just a few clicks, you can make a backup of your entire website from your WordPress dashboard. You can also schedule automatic backups, store your backup files to a remote location, and restore your files easily.
The ability to repair and optimize your database is one of the nice and unique features BackupBuddy offers. With a subscription, you will get 1 GB of free Stash Live storage. Stash Live is a way to continuously backup up your database changes on new or modified posts. Last but not least, Stash Live works perfectly well even if your site is hosted on shared hosting.
Key Features
Complete WordPress Backup
Scheduled And Automatic Backups
Off-site Backups
Downloadable Backup Zip Files
Easy Restore Feature
Instant Email Notifications
Customize Backups Contents
Restore WordPress with ImportBuddy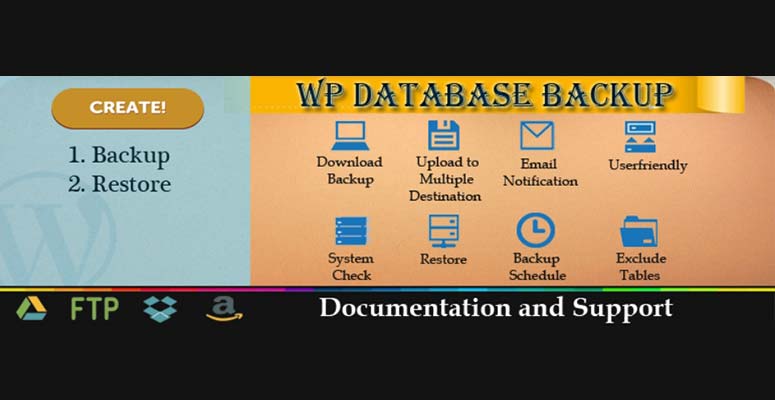 WP Database Backup is another free database backup plugin for WordPress. With this plugin, you can create and restore backups in just a single click. It offers a few more features than WP-DB-Backup does, but is overall very similar.
Key Features
Easy configuration.
Store your database backup in a remote location.
Supports multiple storage destinations.
Sort and search backup from a list.
Provides extensive documentation
Search and Replace in database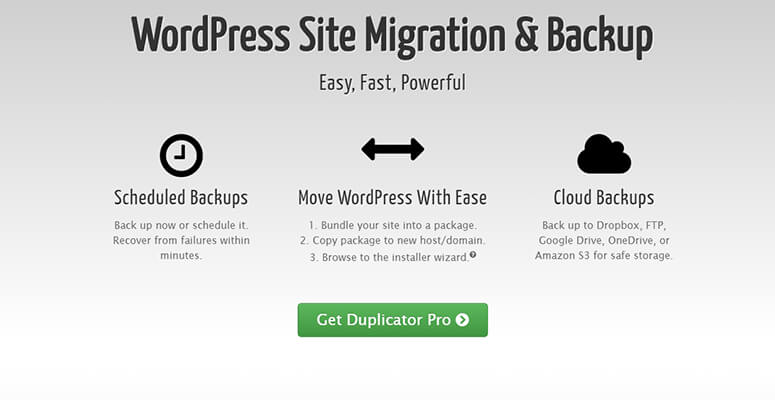 Duplicator allows you to back up all your WordPress files in zip format, to download them offline, or deploying on the same or different servers.
Like many other popular WordPress backup plugins, Duplicator allows you to schedule backups, send them to cloud storage, and receive email notifications.
The most use case for this plugin is cloning existing sites. Rather than manually configuring your favorite themes or plugins, Duplicator allows you to configure a single site to create a bundle. This way you can migrate your pre-configured WordPress sites to different locations, improving your workflow.
Key Features
Scheduled Backup
Clone Website
Email Notifications
Cloud Backups
Dropbox, Amazon S3, Google Drive
Simplified UI
Which Plugins Do You Believe Is The Best?
It's obvious that UpdraftPlus comes to be the best WordPress backup plugin for your website. UpdraftPlus comparing to other solutions, it's a rather complete backup solution that comes with all the essential features, without or with less configuration. The well-appreciated aspect is that even the free version offers a bunch of features, even when compared to other premium plugins.
However, if you have to choose a premium backup plugin that offers live backup whenever your files get changed, then certainly we'll recommend you to use BackupBuddy, as it also allows you to scan and repair common issues. With the Stash feature it offers, the plugin saves a lot of your server resources as well.
We hope you'll find the best WordPress plugin for Taking WordPress Backups.