Imagine that you worked really hard on your website and now you want to show to your users the milestones, achievements and struggles you have faced on your way through.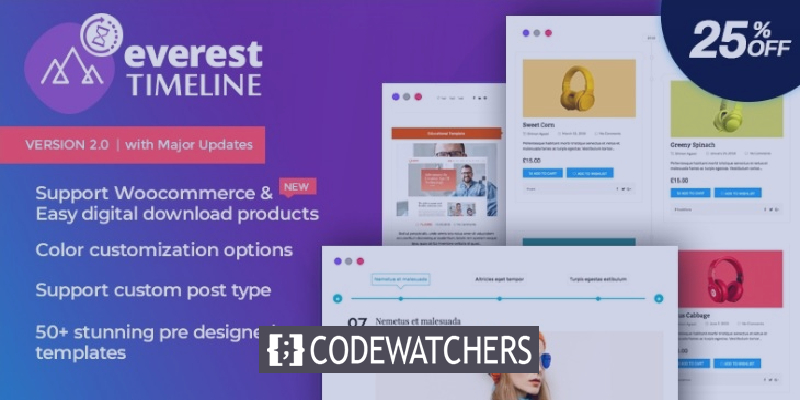 Timeline plugins help you narrate the story visually to encourage and engage your users. Alongside, it helps your customer understand and know more about your business which builds trust and credibility between you and your consumers.
In this tutorial, we will go over the 7 Best Timeline Plugins that you can use to show a roadmap timeline. But first, let us tell what features you should be looking for in a timeline plugin.
What Should A Timeline Plugin Offer
First, you must have a look at the plugin demos to have the firsthand knowledge about the features they are offering. While your choices may vary according to your needs, it is good to have the basic idea about its features.
Create Amazing Websites
With the best free page builder Elementor
Start Now
Moving ahead, here are some features that can help you create amazing and engaging timelines for your WordPress websites:
Pre-Built Templates help you get a fresh start.
Social Sharing Options allow you to share it with your audience.
Support For Media/Text Files is necessary to create a visual expression.
These features are enough to help you create an engaging timeline for your website and deliver your story efficiently.
7 Best Timeline Plugins For WordPress
Now that you are aware of your needs and the features to look for when choosing a timeline plugin. We can move ahead and discuss some of the best options you have.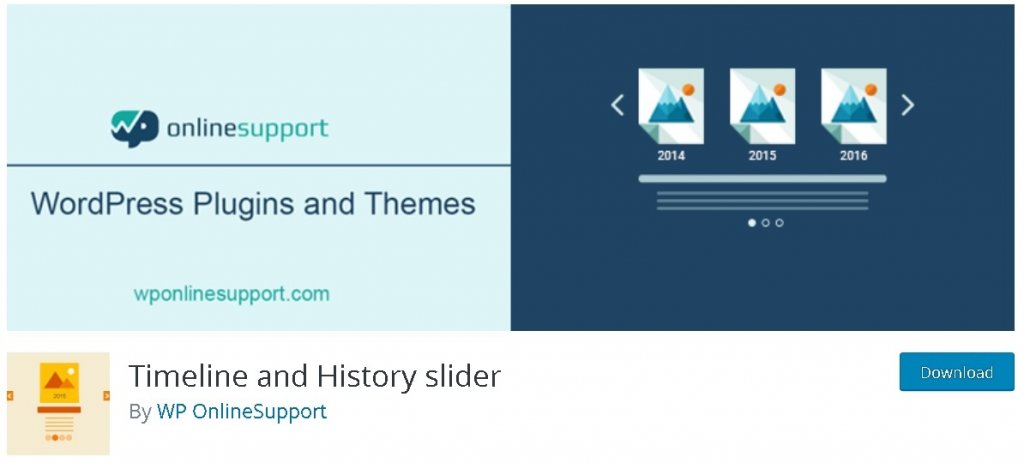 Timeline and History Slider is a simple and free-to-use WordPress plugin that helps you create engaging visual timelines for your users and showcase your business history without worrying about coding skills.
It also allows you to create a title and add a featured image to help you demonstrate your story in a much clear way. The plugin lets you create a timeline on the basis of your post's date/year.
Timeline and History Slider is a highly responsive plugin. It is super easy to use and works alongside all the modern themes, so you don't have to worry about switching your website's theme.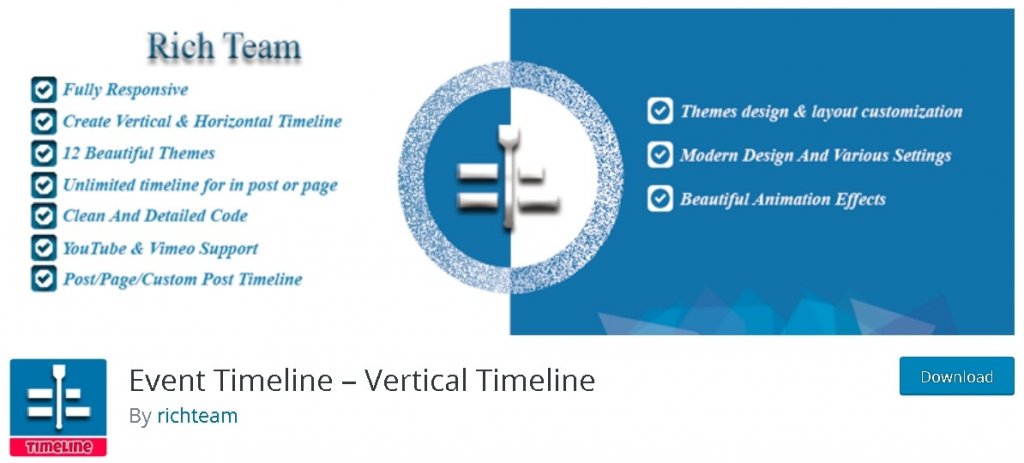 Event Timeline is a brilliant plugin and it is also free-to-use. This plugin allows you to choose from 18 pre-built themes which help you with an immediate start.
The plugin allows you to create horizontal as well as vertical timelines which are highly responsive and look good for all the devices. The themes are also highly flexible and allow you to make changes according to your needs.
The plugin is incorporated with two different theme styles i.e. Classical and Modern. You can choose the style which works best for your website. It also supports media files for amazing visual representation including a color picker which makes it really easy to choose a color for your website.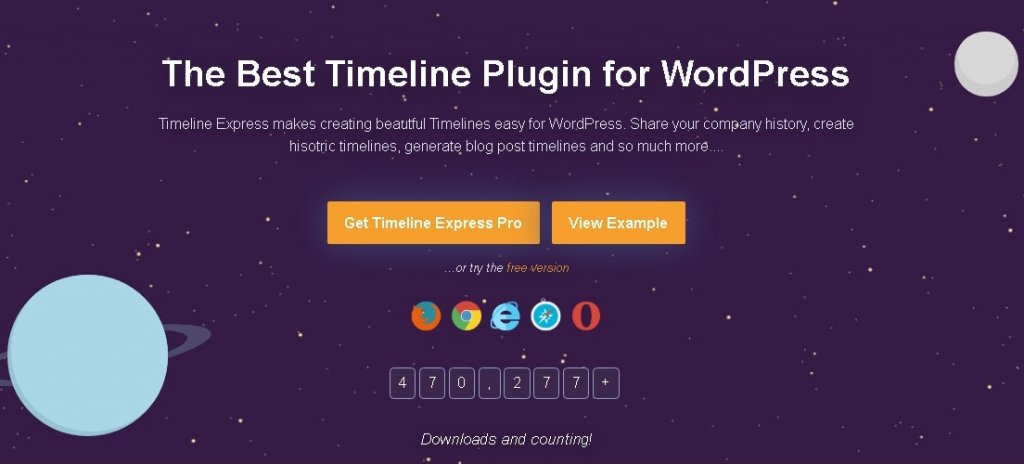 Timeline Express is a premium WordPress plugin that lets you create visually appealing vertical timelines to encourage your visitors with your stories. It has a large chunk of videos, icons and animated styles to help you demonstrate your story in a much better way.
The perks of paying for this plugin is that it offers you a 15-day money-back guarantee which allows getting your money back in case you don't like the plugin. The plugin is also very simple and easy to set up and has advanced timeline styles and different languages.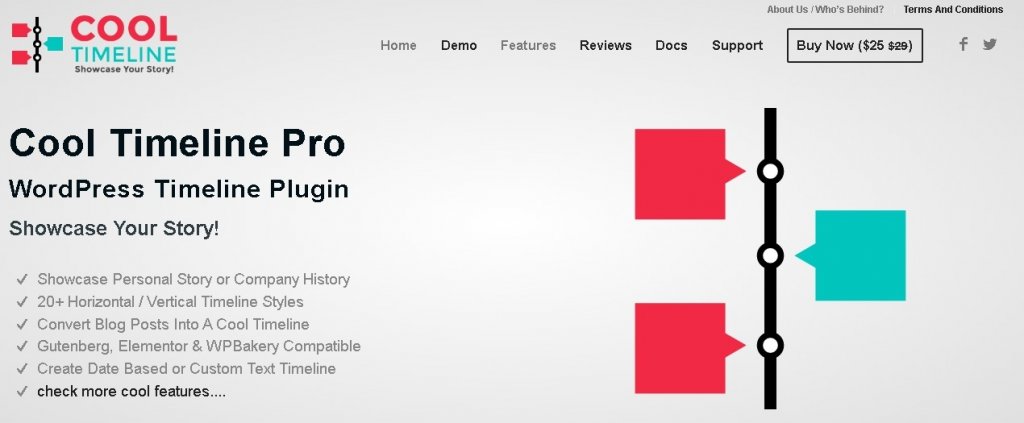 Cool Timeline is another impressive timeline plugin that offers 20+ horizontal and vertical timeline styles which you can choose and get started as quickly as possible. It also allows you to convert your blogs to timelines.
Alongside offering a ton of theme styles, it also allows you customization to fit in perfectly with your needs. It supports media files including videos, sliders, images and more. It also works with popular page builders such as Elementor, WP Bakery and others. Essential Addons is an Elementor Addon plugin which means it can only work if you are using an Elementor page builder. This plugin helps you create amazing timelines and does much more than that.
This plugin adds on to your pre-existing elementor features and alongside amazing vertical timelines across your website, it can also add countdown timers, accordions, pricing tables, filterable galleries and a lot more. It also allows you to display your blog posts or pages in a vertical layout.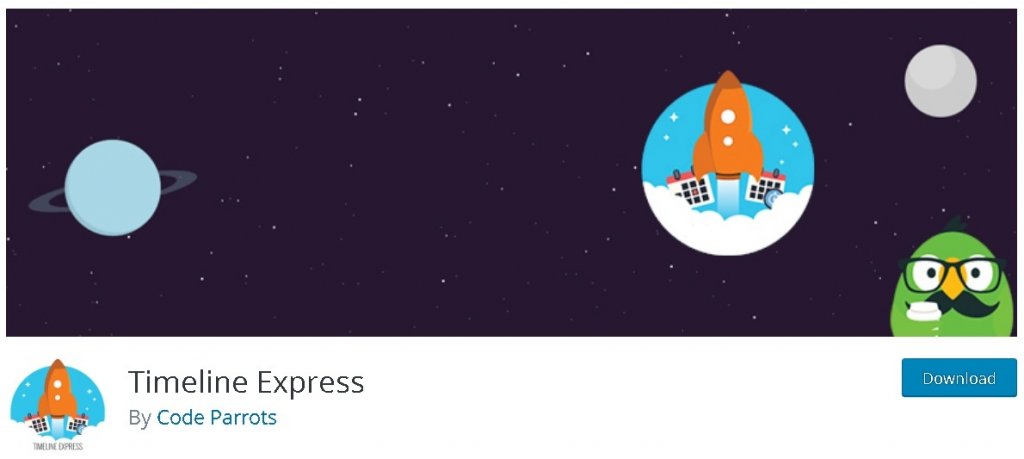 Timeline Express is a simple and free WordPress plugin designed with shortcodes for any timeline that you want to create. You simply need to copy the shortcode and paste it wherever you want to place your timeline.
Alongside creating animated vertical timelines, the plugin allows you several fonts, icons and images to make your timeline more impressive and engaging. The plugin is highly responsive and works great for all types of devices let alone different browsers.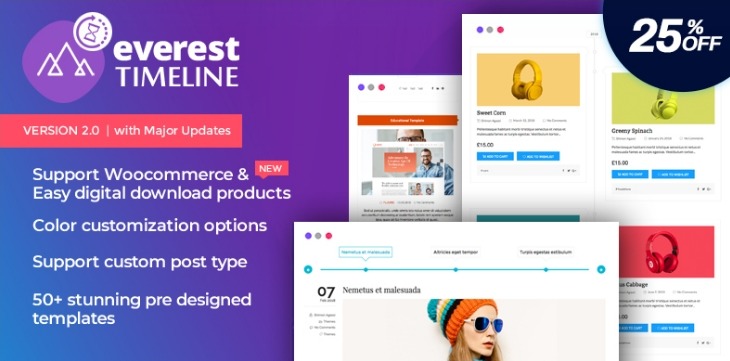 Everest Timeline is simple the most equipped timeline plugin that offers more than 50 pre-built timeline templates to get you started easily and immediately. It has layouts including Facebook layouts, one-sided layouts, horizontal layouts, and vertical layouts to help you create unique and engaging timelines for your website.
It supports almost all type of media files that you might wanna use including images, videos from different sources too, such as Vimeo, Youtube or more.
By using its timeline filters, you can make your timeline much more interesting. You can also add Social Share buttons to your timeline. To conclude, it has everything you need in a timeline plugin.
That's all from us for this tutorial. We would be glad to know about your choice of the plugin to create a timeline for your website. Make sure you follow us on our Facebook and Twitter to stay updated about our tutorials.