Contact Forms should be the core of any website or a brand operating online. It exposes many business ventures, visitors' engagement and connections, better sales, and other opportunities.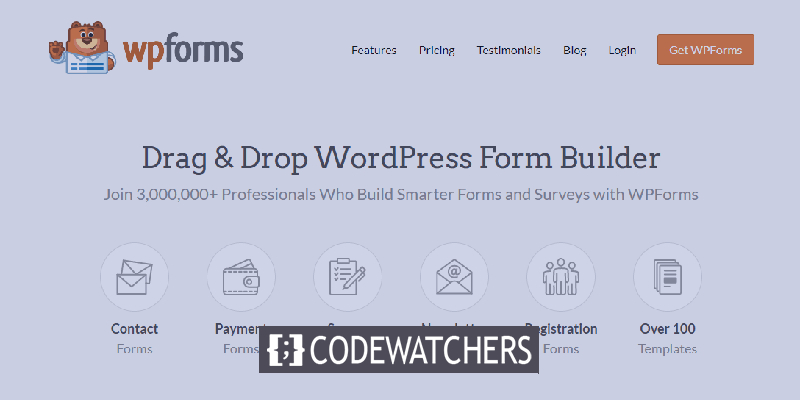 Contact form plugins for WordPress bring a lot of options for you to create stunning and professional forms. While they also allow you to create functional forms without having to use coding. Besides, it allows you complete control over the forms in terms of what data you want to receive and when do you want to receive it.
However, the number of form plugins for WordPress exceeds the normality and hence confuses the user for what to choose and this is why we have listed down 7 Best Contact Form Plugins for WordPress to make things easier for you.
7 Best Contact Form Plugins For WordPress
With the information above you must have enough idea about what contact forms are and why they are effective. Here are some of the best plugins you can use to create forms for your website.
Create Amazing Websites
With the best free page builder Elementor
Start Now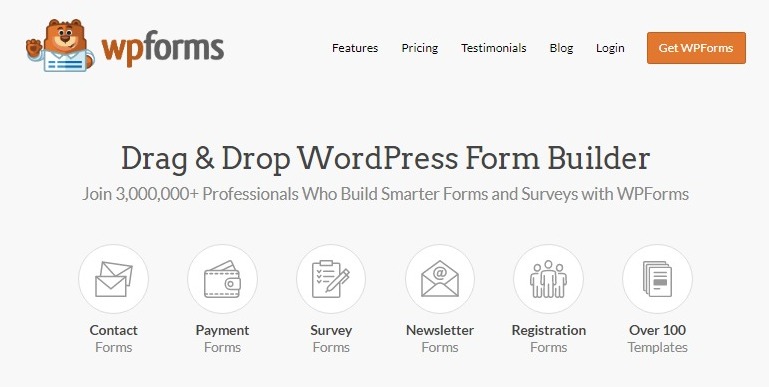 Wp Forms is one of the most popular and reliable solutions to create forms for WordPress. It has both a free and a premium version with regular updates, customer support, and import-export support.
The plugin makes it really easy to create fine-looking and eye-catching forms by having a drag and drop editor and an entire system free of coding. With over four million installations, the numbers speak for the quality of this plugin.
But just like any other plugin, if you want to be limitless and free in your creation you must go for the premium version of WP Forms with form templates, advanced options, unlimited forms, multi-page formation, and a lot more on offer.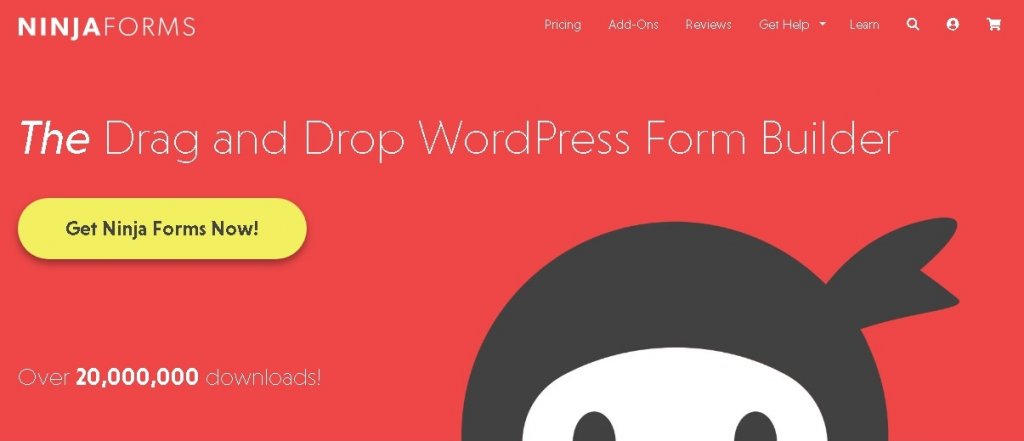 Ninja is another popular and reliable option to create forms on WordPress. Besides, it also comes with a drag and drop builder and allows you to enhance its tools and options using different addons.
Ninja Forms offers a basic version that you can use right away with options such as pre-built form templates that you can customize as well, form export-import, and form submission. While using the add-ons you can add a lot to the functionality of this plugin. However, they are not free to use and the pricing ranges between $19 to $129 annually.
We recommend you install the basic version of Ninja Forms and test out what features you need additionally. This will help you figure out your total cost. However, Ninja Forms might sound cheaper than other plugins but if you are looking for more than one advanced feature using add-ons, it can be highly expensive.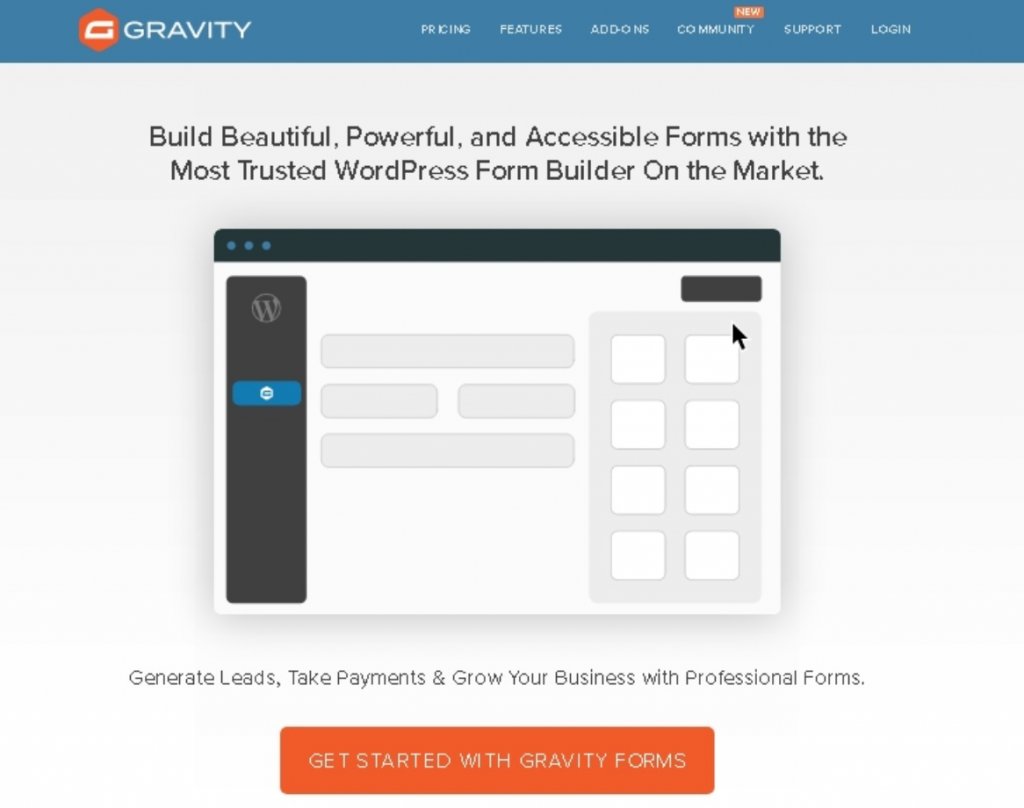 Gravity is yet another user-friendly plugin that works for both experts as well as beginners. It does everything from creating a simple form to building a complex multi-page. It also offers payment options and file uploads.
It also works using the drag and drop mechanism. To increase its functionality there are add-ons available categorized as basic, pro, and elite.
For email marketing services and their integration, most of the addons are categorized as basic. Pro add-ons include services such as DropBox, CRM, Paypal for payments, and more. Elite add-ons can be used for more advanced payment options and user registration.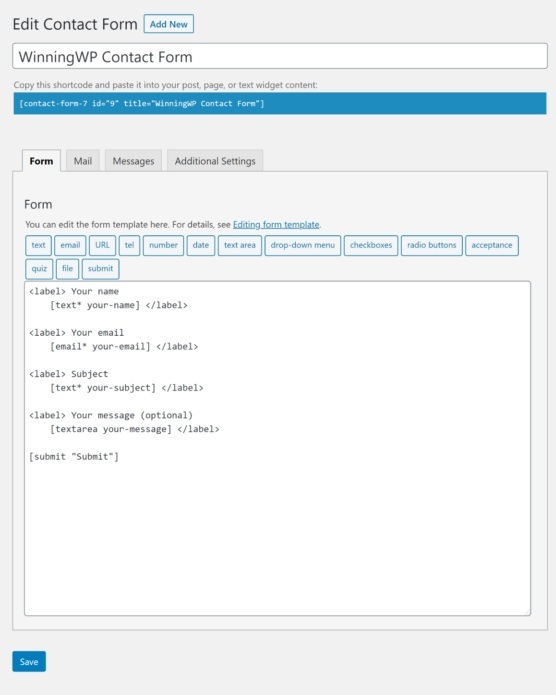 Contact Form 7 is by far the most famous form builder plugin out there even against the likes of WP Forms and Ninja Forms which seem to lead the market.
The plugin is free to use and this might be one of the reasons that it holds the position of the most popular contact form plugin with over 5 Million installations. Besides, when it comes to plugins with beginner-friendly interfaces and an easy-to-use editor, Contact Form 7 does not feature the list.
There are a number of add-ons that can be used alongside Contact Form 7 to increase its functionality. For a free solution, this is the most versatile and flexible option you have. There is no denying that the plugin isn't a masterpiece in design and feasibility but one can easily learn how it works.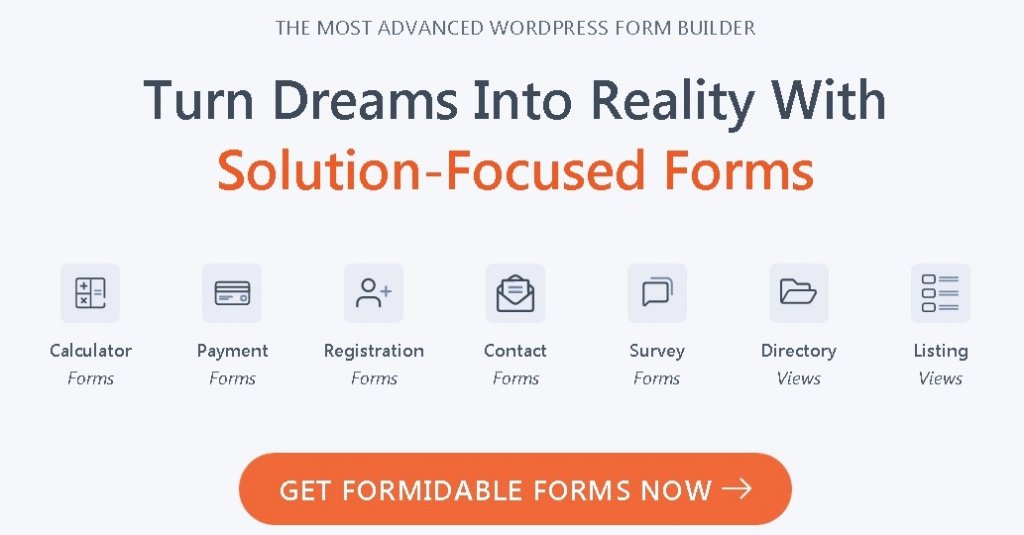 Formidable Forms is a high-quality contact form plugin using with you can build forms within minutes. It is equipped with a drag and drop builder making it easy for beginners to use.
The Free Version offers a reasonable range of fields including a drop-down menu, a website URL, HTML, and a spam-field reCAPTCHA. It also supports import and export and allows submission. It also has a style editor using which you can customize different aspects of the form.
Similar to the other freemium plugins, you will need to upgrade towards the premium version to access the more advanced features. However, for a free solution, it offers a lot to start with.
6. Form Maker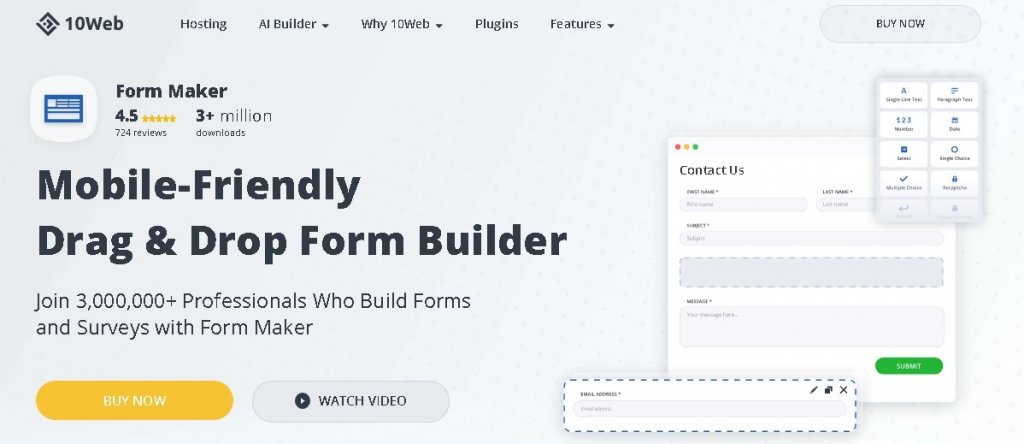 Form Maker is another decent solution to build Contact Forms using registration forms, surveys, quizzes, payment forms, and a lot more.
Using the free version of Form Maker forms can be built with the drag-and-drop editor. A wide range of important form fields and advanced fields such as password, date range, and ratings are also provided.
There are fifteen form themes, each of which may be customized into the desired look. Form Maker also saves all submissions, so that the WordPress Administrator may view them.
For six months support and updates are provided with the premium Form Maker, and over 40 field options and limitless form submissions are available. It also includes multi-page forms, integration support for google maps as well as PayPal, and a lot more. Everest is also a popular choice among many WordPress piers when it comes to creating forms. It is brilliantly designed, has a beginner-friendly interface, and is lightweight.
It is a freemium plugin which means it also has a free version using which you can 11 form fields and also customize them. You can save submissions and connect google reCAPTCHA to avoid spam.
With the premium version, you are offered 19 plugin add-ons that extend the features to a great extent. The add-on plugins can not be purchased separately and are provided along with the premium version.
These are some of the best WordPress plugins to build forms for your website. Using these forms you will be able to connect with your audience. By support service integrations you can increase your sales and bring in more traffic to your website.
Using the list above you can easily decide which plugins would work perfectly for you. This is it from us for this tutorial, you can get updated about our tutorials by joining us on our Facebook and Twitter.