Elementor Page Builder is the most popular and powerful page builder for WordPress. One that offers you limitless possibilities in what you can do with your website. With millions of users residing their trust in Elementor, just one plugin that gives you all you need. On the contrary, it saves you from extreme hassles of designing, savvy coding requirements, and time-wasting mechanisms.
To get you accustomed to how great Elementor is, we have listed below the 7 Best Elementor Tools for WordPress that will help you conclude why you should get Elementor Pro for your website.
7 Best Elementor Tools For WordPress
We have already spoken about the wonders of Elementor and how they can take your website to a whole new level. Let's go ahead and discuss the best of it in detail.
Create Amazing Websites
With the best free page builder Elementor
Start Now
1. Form Builder Forms on your website are a great way to encourage leads and increase conversions. Besides, it makes the visitors known for the longevity of your brand and increases their engagement on your website.
With Elementor Pro, you do not need additional plugins as it comes with its own tool using which you can create stunning and engaging forms for your website.
These forms can be integrated with all the tools MailChimp, ConvertKit, GetResponse, ActiveCampaign, and more. Moreover, the forms are fully responsive, highly customizable, and visually appealing.
2. Advanced Widgets With ELementor, there comes a huge library of advanced widgets that you can use to create amazing websites. The library consists of widgets for everything you might need in WordPress.
Moreover, these widgets are customizable to limitless lengths which means that you do not have to build a widget from scratch. You can also add tons of third-party widgets to enhance the library and have more options at your end.
3. Popup Builder Popups are a way to attain users' attention instantly. They can help you engage visitors while also help you make an announcement in a creative way.
With Elementor's Popup Builder you can create attractive and stunning popups that could lead you to more subscriptions, get your visitors to spend more time on your website, and market your products or make announcements.
With Elementor's popup library, you can choose to use ready-made popups or customize them to your fit your needs. You can also integrate these popups with marketing tools and grow your audience.
4. Theme Builder With Elementor Pro, you should not be worried about learning coding languages such as HTML, CSS, or PHP. As you can create terrific themes without using a single line of code.
With your creativity and design, you can create various theme parts such as footer, header archive pages, single posts, and more, just by using Elementor Pro.
With Elementor's drag and drop editor, the front-end designing of your website is easier than ever. When you publish the elements you have created with the theme builder, it automatically replaces the elements from the default theme. You can also choose to display the elements on a specific page instead of the whole website.
5. WooCommerce Builder Elementor Pro is also equipped with a WooCommerce builder. Creating an E-Commerce site with appropriate designs and functions has never been easier than it is now with Elementor.
As everything can be customized by drag and drop of Elements, within minutes you can create your online store. The WooCommerce builder of Elementor comes with a huge library of blocks that you can use right away.
The top essentials include product titles, product price, product image, product ratings, add to cart button, product description, breadcrumbs, stock update, product data table, upsells, and a lot more. Besides, you are not bound and can add these widgets anywhere on the page.
6. Elementor Template Kit Elementor Pro comes with yet another tool to make your life easier as you can use its huge library of template kits to design a website within minutes.
The library is filled with stunning and attractive templates suitable for every niche and all you have to do to create a website is, pick a template of your choice according to your niche and replace the existing content with yours.
It is that easy! Besides with Elementor editor's drag and drop option, you can customize the template and easily forge it into something much more desired.
7.Marketing Tools Elementor Pro comes with tons of features to help you secure your visitor's attention, increase them and your conversions alongside. Although it relies completely on you how you use these tools towards successful traffic, Elementor does make it very easy to use them.
Elementor's countdown timer can be used to push your users to take rapid actions. Besides using the action links it lets you connect with users through Whatsapp, Google, Waze, and others.
Testimonial Carousel Widget allows you to add the most supportive and trusted testimonials in a creative and professional manner. You can also Rating Star Widget to display the social standing of your website in the eyes of your visitors.
Conclusion
Elementor is the most trusted and powerful plugin out there to solve all your WordPress-related problems. It certainly eradicates a lot of disturbing hassle of creating, designing, and customizing.
All of the above-mentioned features can be used by getting the premium version of Elementor Page Builder. You can subscribe to three different plans which include Personal, Plus, and Expert.
The personal plan comes for $49/month for a single website, Plus comes for $99/month and can be used for 3 websites while the Expert plan can be used for 1,000 websites costing $199/month.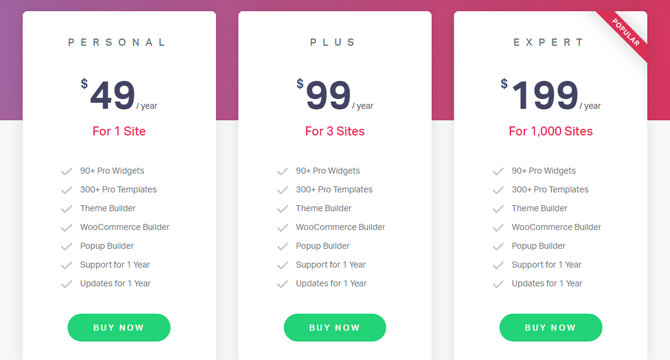 Elementor also offers you a 30-days money-back guarantee suggesting that if you don't like the plugin, you can get your refund within 30 days of making the purchase.
We hope this tutorial helped you in knowing what Elementor Page Builder is about and what it has to offer. Join us on our Facebook and Twitter to keep getting updates about our posts.