This collection will offer you everything you need to develop a fashionable online presence to exhibit your skills and market your services if you're seeking the top makeup artist WordPress themes.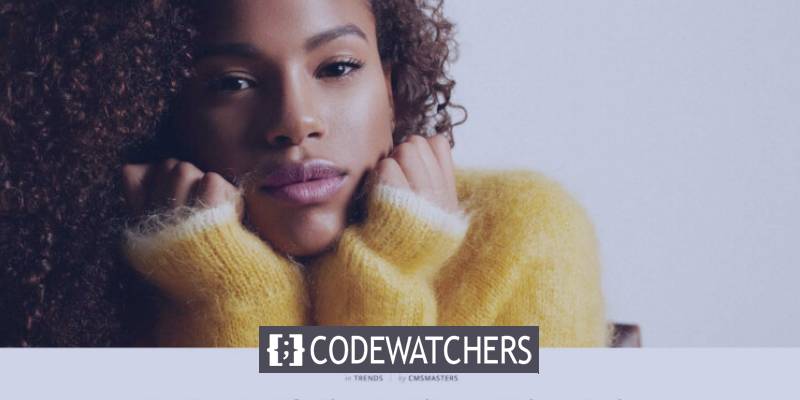 You'll be able to establish a fashionable and effective makeup artist website in no time thanks to the high-quality website designs. With a variety of homepage, portfolios, and service pages to select from, as well as a variety of other layouts, adding all of the necessary material to your website won't take long.
You won't have any trouble adding your personal logo to your site because these themes are incredibly adaptable and can all be readily adjusted. Other characteristics, such as colors, fonts, and other settings, are also easy to change.
You're sure to find the greatest makeup artist WordPress theme for your website here, with so many appealing demos to choose from.
Create Amazing Websites
With the best free page builder Elementor
Start Now
Ekko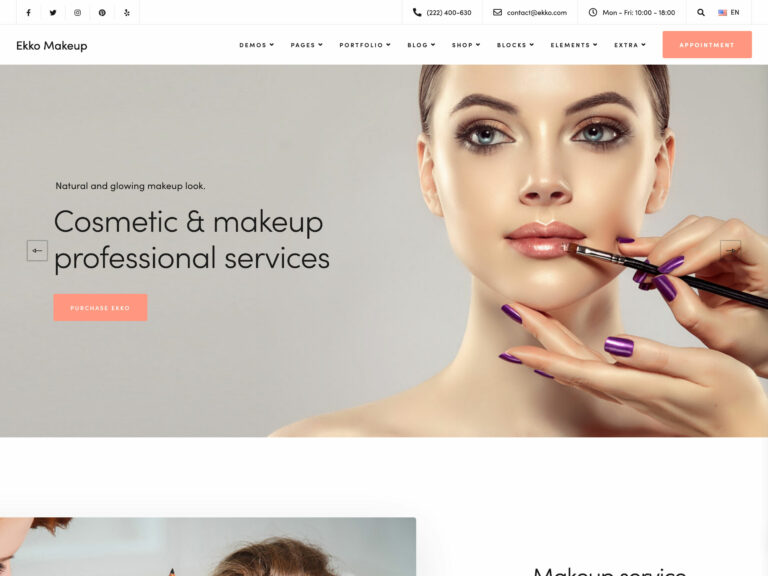 Ekko is a multipurpose WordPress theme with a trendy makeup artist demo for your website.
Despite the fact that Ekko can be used to build nearly any form of a website using WordPress, the ready-made makeup artist demo assures that this theme is a wonderful fit for anyone reading this article. The Ekko makeup artist demo contains a homepage design filled with handy features to help you efficiently promote your services and find new clients via your website.
If you look at the makeup artist sample that comes with the Ekko theme, you'll notice that the header slider may be used to display some of your best work. You can also use the services and rates section to highlight the most important options available to your clients, as well as their costs. Apart for displaying photographs that demonstrate what you can accomplish for your clients, a testimonials panel for sharing feedback you've received, and a section with an interactive map and space for your contact information are all included in the default homepage layout.
There are several other useful templates in the Ekko makeup artist sample, including multiple about, contact, and services page templates to select from. The Ekko theme includes a comprehensive number of portfolio templates in a variety of styles and layouts. This means that if you wish to use photos to sell your services, this theme will be able to assist you.
While all of the Ekko templates are professionally created, they are also totally modifiable. Because Ekko was designed to work with the WPBakery Page Builder plugin, you can use it to change all of the example material that comes with the theme. As a result, if you want to change anything about the templates, it shouldn't be an issue.
If you enjoy the Ekko templates, you'll discover that this theme contains all of the features you'll need for your new makeup artist website.
Parris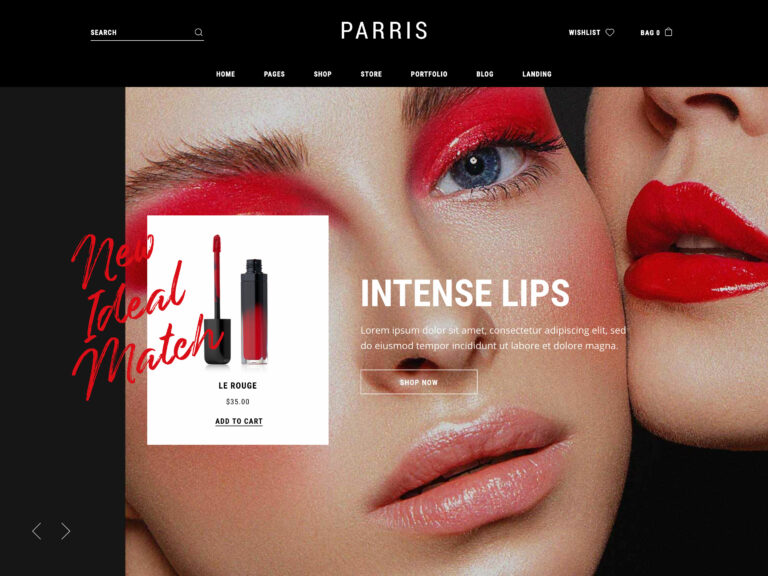 Parris is a WordPress theme with four unique website demos that focuses on beauty and makeup.
When you choose this theme, you get four genuine possibilities for your project because all of the Parris samples were intended for constructing websites in the beauty and makeup areas. Each of the four demonstrations is a fully functional website with all of the templates you'll need. While all of the demos should work for a makeup artist website, the main demo is probably the best all-around solution. The portfolio gallery, on the other hand, is an excellent option because it focuses on allowing you to display images of your work.
Regardless of which demo you choose as your website's base, you have a lot of choice over how your final product will look. Not only will you save time, but you'll also be able to choose which templates to use each time you publish a new page because each demo offers a variety of templates for all of the pages your website is likely to require. Because there are several about-page templates to choose from, you can pick the one that best suits your needs while disregarding the others. You can even remove those layouts from your site entirely if you feel your website doesn't require a blog.
Parris includes templates for writing makeup tutorials, which is a very intriguing feature. If you want to demonstrate your abilities while also assisting others, creating tutorials for your website is a terrific method to do so. You can develop this content using your favorite means of publishing because these templates enable both textual and video tutorials. Parris also offers complete eCommerce assistance. You can now post things for sale on your website as a result of this. If you mention any of the products you sell in your lessons, you can put a link to them on the same page, making it easier for your visitors to buy them.
Parris is a beautiful, adaptable, and retina-ready WordPress theme for developing a cosmetics professional website.
Divi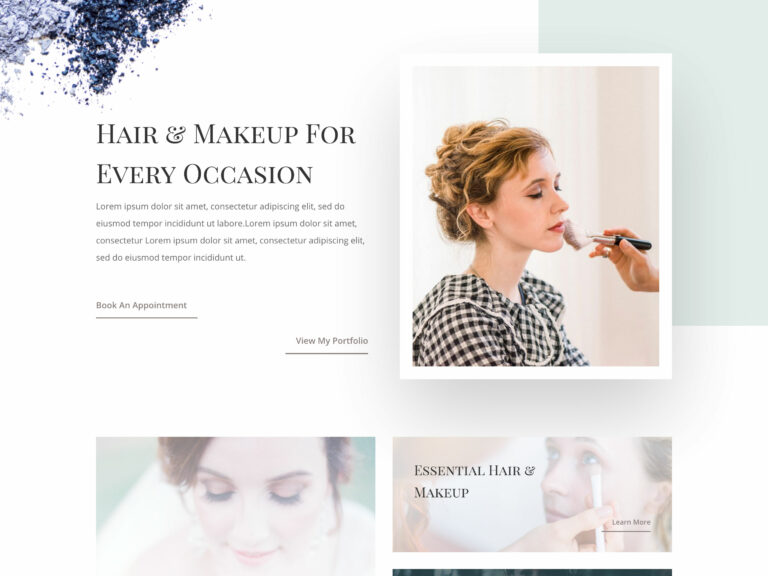 There is a website kit designed just for makeup artists among Divi's many website kits. The homepage, landing page, and services templates are among the eight templates included in the makeup artist demo. It also includes pre-made about, contact, and pricing pages to make adding this content to your website a breeze.
You can select between a regular homepage layout and a sales-focused landing page design for the front page of your Divi makeup artist website if you look at the Divi makeup artist templates. Both alternatives make it simple to introduce yourself to potential clients, show off your packages, and describe some of your most important services. If your visitors are interested in learning more, they may go to the various sites to see your entire portfolio, price list, and service details. When they're ready to contact you, they can utilize the contact information you've provided on your website or send a message using the pre-built online form.
Divi comes with hundreds of other website kits, many of which are geared toward the beauty business, as it is a genuinely multipurpose theme. As a result, you may pick and choose from all of the other Divi templates and use them as needed on your website. Divi also comes with an integrated website builder that offers you complete creative control over your website's design, typography, and color palette. While the Divi templates have the correct design for a professional beauty artist website, you can tweak them as much or as little as you need to make them fit your needs.
Divi's split testing tool is another great feature that allows you to execute experiments to improve your website and its content. The Divi Leads function can assist you in ensuring that your website is the most effective marketing tool for your makeup artist business.
Divi is a popular WordPress theme that continues to improve with each new release.
Cosmetista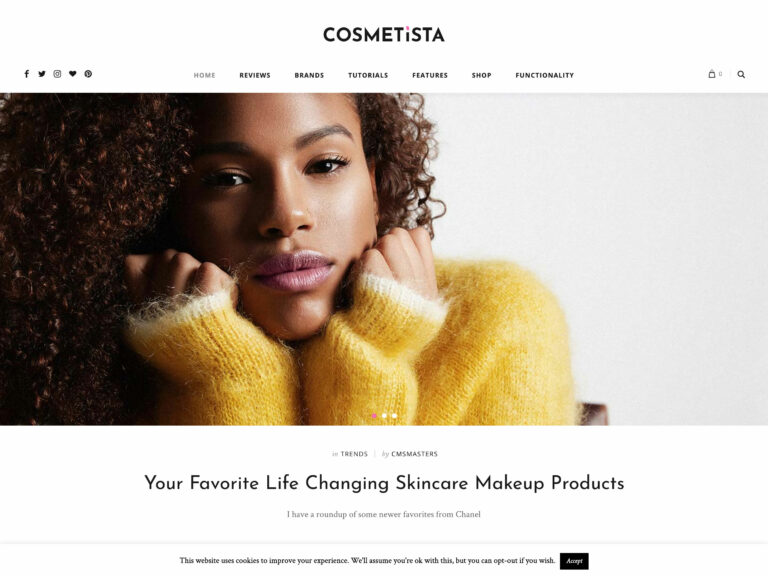 Cosmetista is a WordPress theme for cosmetics artists and beauty bloggers.
This could be the theme for you if you plan to publish a lot of articles about beauty and makeup on your website. You may publish your material in a variety of ways thanks to its templates, whether you're adding blog entries or tutorials to your website. You may publish your articles and tutorials in nearly any format you want because the Cosmetista themes enable text, photos, and video content. The review template is another type of template that you might be interested in for your website. This ready-made layout can come in handy if you want to share your thoughts on specific products or companies.
Cosmetista also features complete eCommerce capability and was built to work with the popular WooCommerce WordPress plugin. You can quickly create an online store to your website or simply list a few things for sale alongside your usual content thanks to this. You might produce downloadable cosmetics guidelines and tutorials and sell them directly from your website using WooCommerce, which can handle digital products just as simple as physical ones.
You may use the integrated page builder tool to make changes to any of the templates that come with Cosmetista. You not only have a lot of customization choices with this tool's UI, but you also gain access to a vast library of elements that you can use in your content. Notification boxes, sliders, image galleries, and other features are among the elements that allow you a quick approach to update your pages. Cosmetista's theme options panel also allows you to make several modifications to your site.
This theme is highly worth looking out if you want a blog on your makeup artist website.
Dalia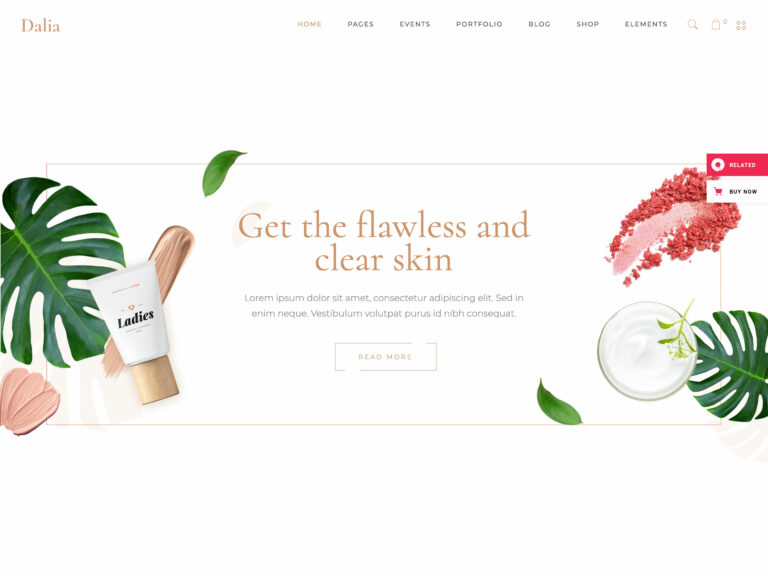 Dalia is a makeup website demo-ready health and cosmetics theme that's perfect for artists and bloggers.
The Dalia theme contains a stunning cosmetics demo that should have all you need, whether you want to share your beautiful artistry with the globe or promote your services in your local neighborhood. Other relevant demonstrations are included in the Dalia bundle, but the purpose-built cosmetics demo should be the obvious choice for most makeup artists. That isn't to imply that the other demonstrations can't be tweaked as well. If you come across a demo with a design that is a better fit for your project, it won't take much effort to incorporate it into your makeup artist website.
The homepage style features a space for showcasing some of your services and their costs, as Dalia's makeup artist demo has a heavy focus on helping you promote your services. You can also use the placeholders given to share your expertise by adding a lot of photographs to your site. A testimonials carousel for sharing feedback from delighted clients and a Google Maps integration for showcasing your location are two further features of the Dalia homepage design that can help you promote your services.
Dalia also includes a large number of distinct portfolio templates. There are numerous column layouts available in addition to the normal portfolio mode. As a result, you'll be able to present your material in the most effective manner possible, based on your objectives and target audience.
Dalia has a paid tool that adds these features to WordPress, so if you'd want to post your availability and schedule for your services on your website, you'll be happy to know. You can also utilize the pre-made reservation form to provide your visitors with an easy way to contact you and begin the booking process for your cosmetics services.
Dalia offers a variety of templates for a variety of content kinds, providing you a lot of alternatives for your beauty website.
Sana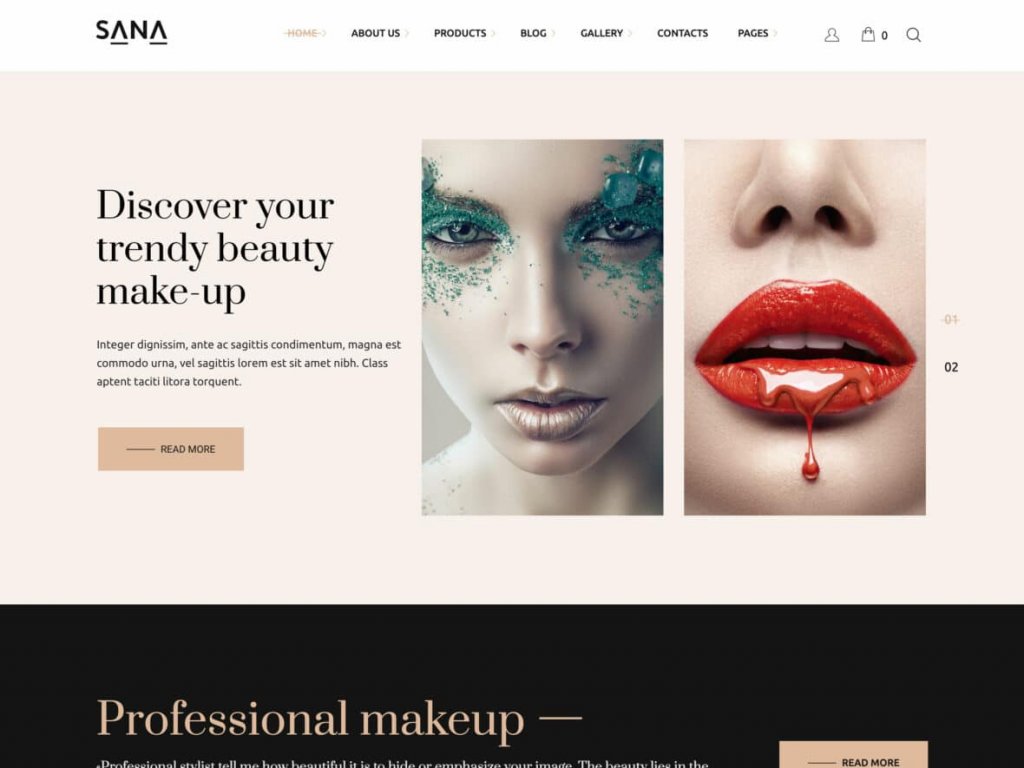 Sana is a WordPress theme for fashion stylists, beauty salons, and makeup artists that is SEO-friendly.
Sana easily gets a spot in this collection of themes thanks to its two cosmetics artist website demos. While both demos are geared toward makeup artists, one is more portfolio-oriented, while the other is better suited to individuals looking to sell their services online. That isn't to suggest that these demonstrations, or any of the other six demos included with Sana, can't be changed and tweaked to meet your individual needs.
One thing that all of the Sana examples have in common is that they all offer innovative layouts with plenty of room for photos. If you have a lot of images of your beauty work or have access to some high-quality stock photos, the Sana theme makes it simple to add them to your website. This applies to the design of your website's homepage as well as the templates for its internal pages. Because Sana offers a variety of portfolio layouts, you may use your website to display your skills in a variety of ways.
When it comes to personalizing your website, Sana allows you to change practically every aspect of it. The options are accessible from within your WordPress dashboard, allowing you to customize your cosmetic artist website without having to use any code. Using the bundled premium WPBakery Page Builder plugin, you can take this customizing work even further. By doing so, you'll be able to alter the Sana demos' individual templates using a modern drag-and-drop interface.
Sana, like all of the other popular WordPress makeup artist themes, is totally mobile responsive. This means that your website will adjust to the device being used to view it, making it just as easy for smartphone users to access your site as it is for everyone else.
Sana includes a number of well-designed demos that will assist you in getting your cosmetic professional website up and running.