In today's digital era of art, the term NFT which refers to Non-Fungible Tokens has become the most famous. To summarise, it's a type of digital material that's connected to the blockchain. Texts, photos, digital artworks, audio recordings, domain names, trade cards, and in-game objects are all examples of digital material for NFT.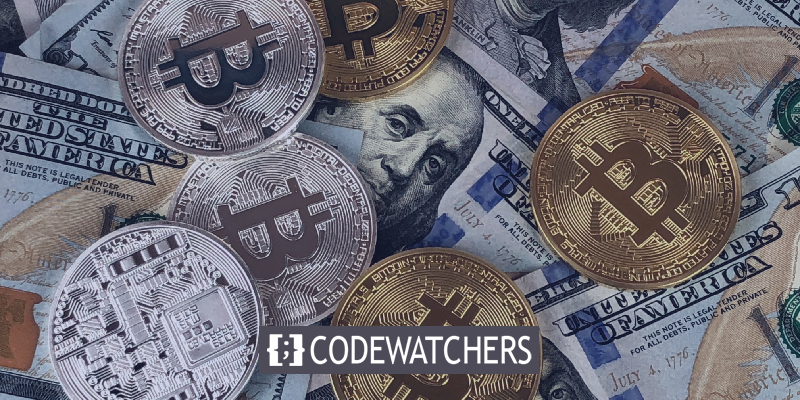 NFTs have certain distinct characteristics that you should be aware of. NFTs can not be sold in parts to anyone. The data about the developer and holder of each NFT token is stored in the token. Furthermore, these NFTs are not interchangeable.
Why Should You Create A WordPress NFT Website?
WordPress is the most reliable, trusted, and one-stop solution for creating any sort of website from the bottom up with the help of some fantastic page builders and plugins. The website building process with WordPress is not just easy but also quick and allows you incredible customization.
WordPress is ideal for those who are new to coding, whether they are novices or pros. To build a fully working NFT website from the ground up, you'll need no prior coding experience. You'll also get access to an infinite number of themes and template plugins, which you can effortlessly integrate into your site.
Create Amazing Websites
With the best free page builder Elementor
Start Now
Important Pages For A WordPress NFT Website
Now that you have understood why you should create a WordPress NFT website, here is the list of most important pages that you need to start with when creating an NFT website on WordPress.
1. An Aesthetic Landing Page
A landing page is essential for any website, whether it's an NFT marketplace or an NFT store because it allows you to quickly attract your visitors' attention by displaying your items or creativity. You may also promote the goal and vision of your NFT store by integrating different sorts of items on one page. As a result, you must develop a stunning landing page in order to convert clients and boost revenues.
2. Products Collection
The product page is crucial for any WordPress NFT website, but it must follow a consistent pattern to improve user experience. Before moving to the checkout page, customers may quickly explore all of your NFT items on the shop page.
3. Blog Page
For advertising, blogs are now largely recognized as one of the most efficient organic marketing tactics. Make sure you have a blog page for Consumer testimonials, product reviews, and comparisons. You can also improve your search engine rankings by optimizing each of your blogs for SEO.
5 Best NFT Templates For NFT Websites
Now that you've learned about the advantages of utilizing WordPress to build your website, it's time to look at the NFT templates available. We've compiled a list of the 5 Best WordPress Templates for the NFT website to assist you in selecting the finest one for your needs.
1. NFT Token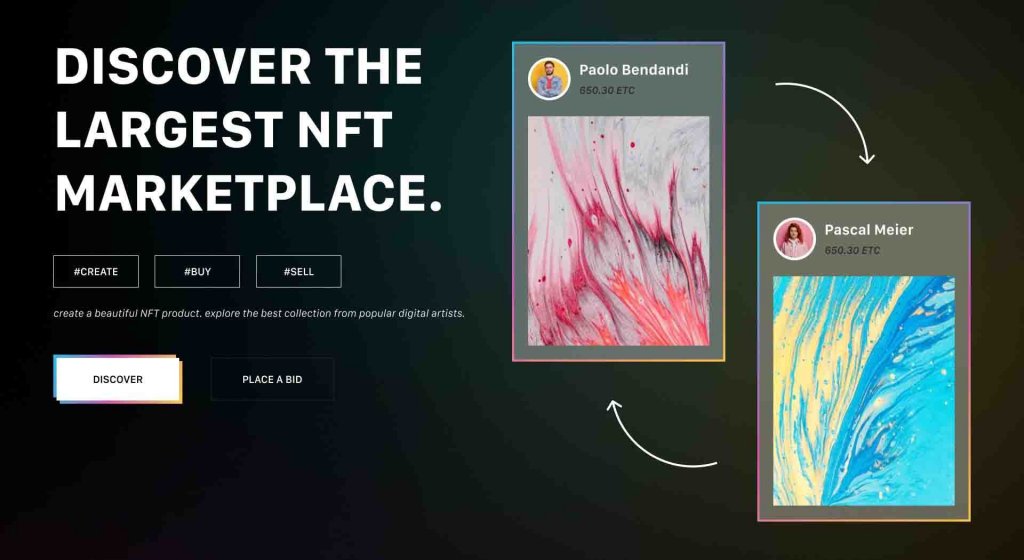 NFToken is a strong, stylish WordPress website template collection. This amazing template collection was created with the goal of assisting NFT agencies and enterprises in quickly launching their websites.
Stylish patterns, modern features, and bright, brilliant hues will grab your user's attention right away. Its 7 beautiful landing pages may be easily produced without any coding because it was built with Elementor and Essential Addons.
Key Pages
Home Page
About Page
Item Details Page
Authors Page
Create Item Page
Explore Page
2. RareNFT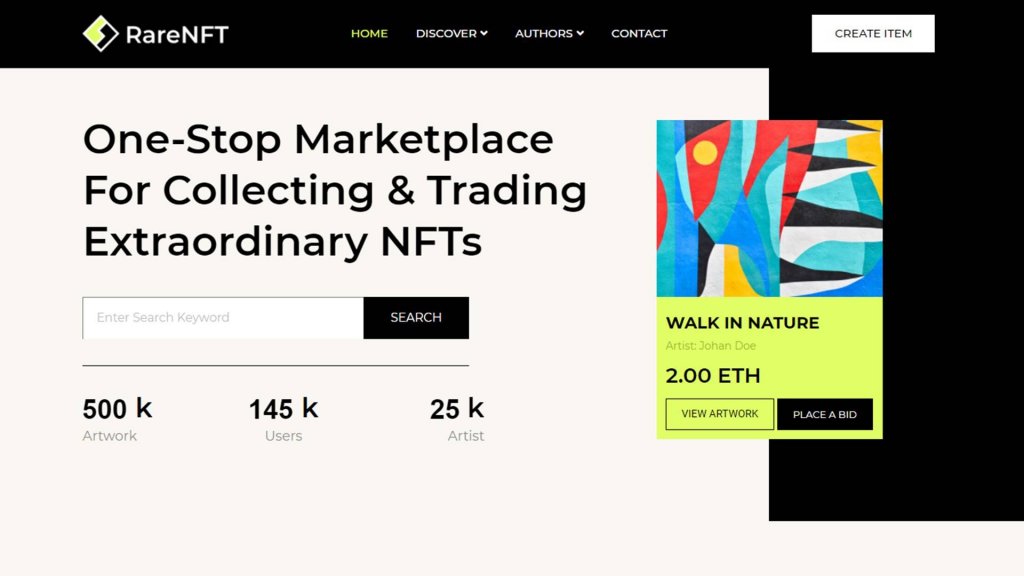 RareNFT is a strong, modern WordPress template pack that will assist you in creating an adaptable and appealing website for any NFT marketplace, agency, or business. The template features dynamic designs and a soothing color palette to easily highlight your unique NFT products to your site visitors.
Key Pages
About Page
Item Details Page
Authors Page
Home Page
Author Details Page
Contact Page
3. NFT Gallery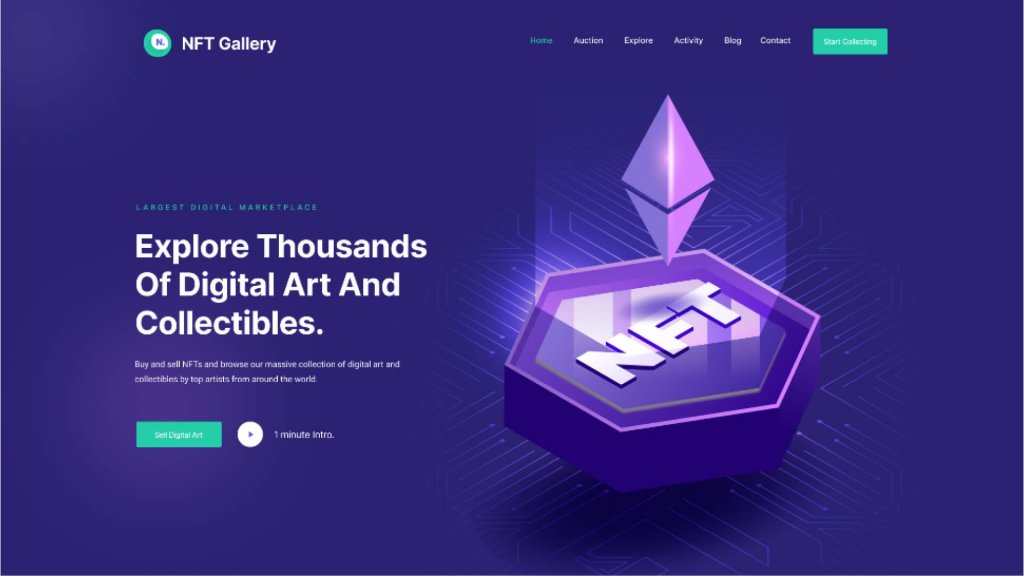 NFT Gallery is another amazing, aesthetic, and fully responsive WordPress website template that can be used to create websites related to NFT, Crypto, and Blockchain.
NFT Gallery also includes elegantly created Call-To-Action buttons, animated testimonials carousel, infoboxes, and much more. This template bundle may also be used to build websites or landing pages for NFT platforms, cryptocurrency exchanges, or NFT exchanges.
Key Pages
Home Page
Activity Page
Category Page
Browse Page
Details Page
Products Page
4. NFTrade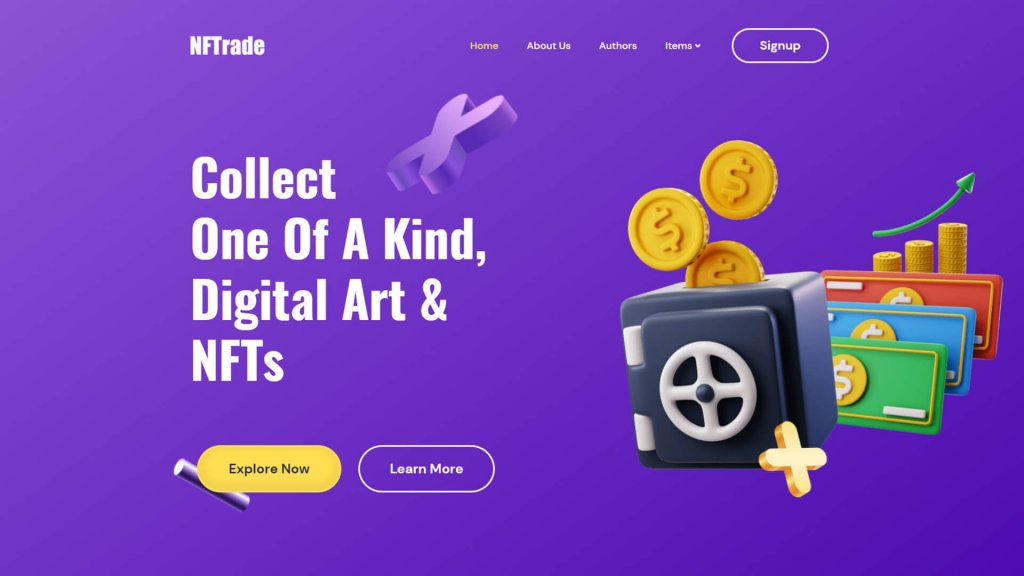 NFTrade is a WordPress website template collection that is strong, contemporary, and eye-catching. This exceptional template collection, including dynamic designs and appealing colors, was created specifically to assist NFT enterprises in quickly launching their websites and online markets.
The template is built with Elementor and add-ons which allows you to create a website on the go with no coding whatsoever.
Key Pages
Home Page
About Page
Items Page
Item Details Page
Authors Page
Landing Page
5. NFT Vault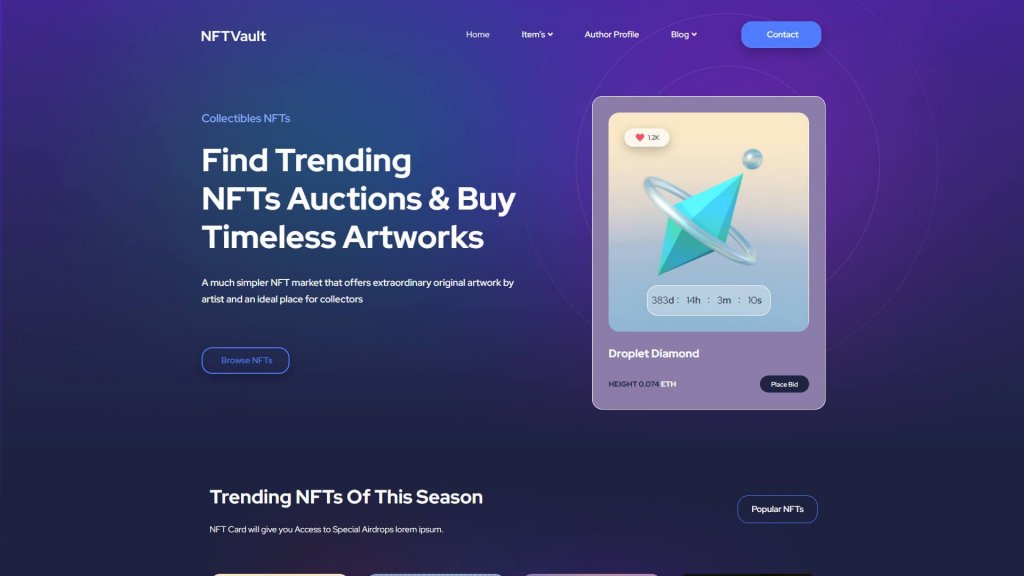 NFT Vault is a rich and creative templates bundle that can be dropped into any Elementor page builder with ease. These templates may be used to create a whole NFT website from the ground up, including eight interactive pages. To create a responsive, lightweight, and fast-loading NFT website, you won't need any coding knowledge.
Key Pages
Item Details Page 
Blog Page 
Single Post Page 
Contact Page 
Home Page 
Items Left Sidebar Page 
Items Right Sidebar Page 
Author Page 
How To Create A WordPress NFT Website
To apply these NFT templates, make sure you have a Templately account and that your WordPress website has both Elementor and Essential Addons installed. After that, you just have to follow the process alongside.
Create a new page in your WordPress dashboard by going to Pages and clicking Add New. Go to the top of your page and pick the Edit With Elementor option. Once the Elementor Editor has completed loading, click the blue Templately button. You should see a pop-up window that allows you to look at NFT website templates. Choose a template you want and copy and paste it into your website. Once you are satisfied with the template you have chosen, you can move ahead to the editing part. Simply play with the settings in the 'Content' and 'Style' tabs using the Elementor Editor on the left-hand side. Colors, images, text, and other elements can be tweaked until you're happy with the final outcome. When you're done with the editing, remember to click the Save Draft button to save your changes. Simply right-click anywhere on the page and select Save Page in Templately to save your NFT website design to MyCloud.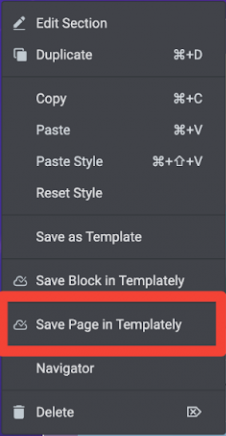 And you are done! This is how in a few minutes you can create your own NFT WordPress website with Elementor and Templately to showcase your items.
That's all from us for this tutorial. You can join us on our Facebook and Twitter to stay updated about our posts related to WordPress.